Tatiana Rafter is a pioneer — a professional hockey player for the Buffalo Beauts in the NWHL. A native of Winnipeg, Manitoba, she has uprooted her life to follow her dream of playing professional hockey on the other side of the continent. Surely the 24-year-old has been through ups and downs, highs and lows since the inaugural NWHL season started in October. Now, with the playoffs rapidly approaching, Rafter has agreed to give The Hockey Writers a small glimpse into her daily world, and will be penning a diary/blog for us.
Before the playoffs get underway, there were other matters that were going on as she had a big week this past week with the Beauts final regular season/home game and a few celebrations as well as she explains in her final entry before the race for the Isobel Cup begins.
It was hard to pick out some highlights to write about because believe it or not… things got busy in Buffalo this week! Mr. Rafter flew in for a visit, Linda Mroz hosted 'The Last Supper', I turned 24-years-old and we battled against Boston to finish off the regular season. I'm excited to take you through my week and also fill you in on what's next for the Beauts! Let's go!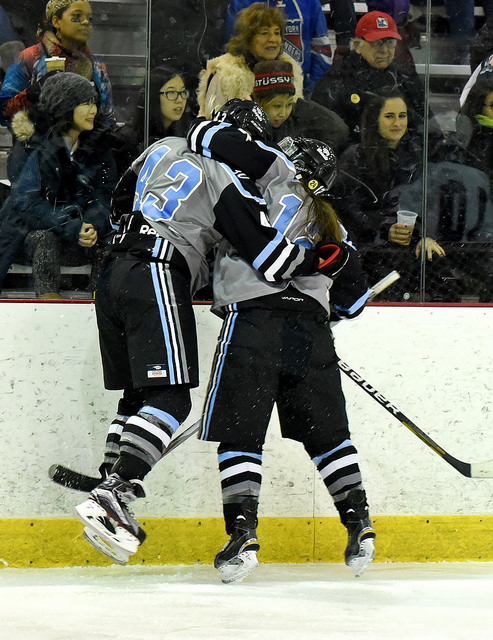 Thursday – 3 Sleeps 'Til Boston!
This week was so special to me because I was able to share it with my Dad. He flew all day from my hometown of Winnipeg, Manitoba. Let's just say I am in tune with my emotions because of my dad. He's always been my number one supporter and it means a lot to me that I was able to share a game with him. He stayed at an Air B&B in Buffalo and I picked him up to grab a bite at Pearl Street Bar & Grill after he was settled in. It was one of those nights I really got to cherish, simply because playing all the way in Buffalo means I'm not as close to my main support systems as I'm used to. It was such a good night and, I'm not going to lie to you, I definitely shed some tears (of happiness) on the drive home after dropping him off. Sometimes you just need a dose of your dad around. :)
Photo bombing @tatianarafter pic.twitter.com/FOKWIwYzct

— tim rafter (@TrafterTim) February 27, 2016
Friday – 2 Sleeps!!
Playing at home adds an extra element of comfort and a big part of that stems from having support from my GM Linda Mroz. I think she does a great job of making sure her players are comfortable, by ensuring they have what they need. A perfect example of this is nights like tonight. Linda hosted 'The Last Supper' because this is our last home weekend of the season. I headed over to her place around 4pm with Devon Skeats and we picked my dad up on our way! We also picked up a bottle of vino to show some appreciation to Linda for opening up her home to us.
Little did I know that in addition to cooking dinner, Linda had baked and decorated an Elsa themed birthday cake, which she surprised me with after everyone had eaten. There has been so much going on this week I think I almost forgot that it is my birthday tomorrow! Haha.
Special thanks to @BuffaloBeauts GM, Linda Mroz for making me a Bday cake fit for Elsa! Buffalove game strong💙 #MVP pic.twitter.com/rDh89EclmM

— Tatiana Rafter (@tatianarafter) February 28, 2016
After team dinner we headed to the Harbor Center for 8:00pm workout and 10:00pm practice. The late practices usually finish around midnight so I was head to pillow around 1:30am! Thank god we are at home this weekend because it would be a quick turn around if we had to bus to Boston tomorrow. Playing at home really does create a greater sense of comfort since you have the ability to personalize your preparation leading up to game day. There are a few specific aspects that stick out to me as advantages to playing at home.
It is a huge plus to be able to get treatments or an ice bath at the HC the day before a game. We really are blessed to have such a fantastic trainers and physical therapists at Impact gym and it can make a difference to have that extra treatment for fine-tuning the day before a game. I also find that sleeping in my own bed, and making pre-game breakfast at home before heading to the rink are really important aspects of game day preparation. Breakfast may seem like a minor detail but I am very routine about when and what I eat so it's so beneficial to be able to control that part of my prep.
Saturday – 1 Sleep to go!
I turned 24 today, which feels impossible, but here I am! I have been joking about the fact that my birthday was a well 'documented' affair because I was working with the 540 Films crew all day today! The film crew is compiling footage from the inaugural NWHL season to create a documentary showcasing what professional female hockey players lives are like. I've been working closely with Rachel Koteen this season and this morning I started my day off by doing an in-depth interview about my hockey career leading up to my signing with Buffalo. I was also asked questions about my experiences during my time with the Beauts. The crew stayed with me from 10am-8pm so it was a long day!
Going to have a pretty well 'documented' birthday today!Kicking it off with @540films :) @NWHL @BuffaloBeauts #24 pic.twitter.com/mY9SQTI2B9

— Tatiana Rafter (@tatianarafter) February 27, 2016
I went for some birthday sushi with my dad at the expo market in downtown Buffalo. I am absolutely obsessed with sushi; it is safe to say it's a staple in my diet. Since this is the first birthday in 5 years that I have been able to spend with my Dad, it was a pretty fantastic day. I carried on my day as usual and was looking forward to a birthday dinner with my teammates. AnneMarie Cellino, who is a solid defenseman on the Beauts I might add, made a reservation at Hydraulic Hearth for 8:45pm which turned out to be a pretty sweet spot. The restaurant is known for their pizzas since they are made in a traditional brick oven.
I have never really make a big deal out of my birthday so it was super heartwarming to have my teammates (aka my family) put in an effort to make me feel a bit more special than usual. I will put in a request for Hayley Williams to whisper Happy Birthday next year because her rendition was a bit cringe worthy (this isn't an exaggeration haha!) On the way home, I actually was hit with a birthday surprise… a flu bug and a sinus cold. So my day went from 0-to-100 pretty quick! I ended the day with a trip to Rite-Aid paired with some strange NyQuil dreams.
Sunday – GAMEDAY!!
Mr. Rafter Runs on @DunkinDonuts when it's @BuffaloBeauts game day!! #dunksrun #firedup pic.twitter.com/7oVGsSs3TG

— Tatiana Rafter (@tatianarafter) February 28, 2016
I will level with you, getting out of bed this morning was by no means easy haha. I was a complete bear. It's hard to be happy when you can't breathe out of your nose but it's GAMEDAY and that motivated me to get my day going. I went and picked my dad up from his Air B&B and since I know all my roommates Dunks orders by heart at this point, we went on a coffee run for everyone. When we got back to the house everyone was starting to "rise and shine" and we all pitched in to make a family breakfast.
Turkey Bacon, Omelets, Pancakes, you name it. I was pardoned from breakfast prep and clean up because I was sick and went to have a shower in hopes that I would begin to feel human before the game haha! I think that the shower saved me because I was feeling a lot better and ready to take on Boston after.
@tatianarafter @BuffaloBeauts T's pumped for the last regular season game!! @NWHL pic.twitter.com/peGYncDggn

— tim rafter (@TrafterTim) February 28, 2016
Vicks chest rub was my best friend on the ice today (sorry Beauts!), but only because it helped me breathe! I felt very positive about the game even though it was a tough 3-2 loss. I think we did a better job executing our systems and doing the little things right, primarily with regards to positioning. I think that we've improved defense greatly which has reflected in the success we experienced in the second half (of the season). Also we started to have more of a net presence in the offensive zone, which resulted in some great scoring chances. I remember at one point in the game, #43 had an excellent screen on Brownies' (Hailey Browne) goal (haha!).
After the game I went out to sign autographs and interact with fans and some unexpected events unfolded. Last weekend, a fan broke her wrist pounding on the glass after I scored a goal! The Buffalo fans are very high energy, and I know that this really encourages the team. She was sporting a black cast on her left arm and brought a silver sharpie for me to sign it! I guess that signing the damage was the least I could do!
This fan broke her wrist pounding on the glass after @tatianarafter scored a goal last game! Signing the damage! pic.twitter.com/yX1Cf0AiDY

— Buffalo Beauts (@BuffaloBeauts) February 28, 2016
Following this, one of the U12 Bisons girls I coach, gave me a HUGE birthday sign saying "#43 T.Rafter Brings the House Down", which I adore. Lyv may or may not have also given me some birthday treats… that will come in handy on the upcoming bus trip! ;) At the bottom of the sign she wrote a thank you note for always being there for her this year. Moments like the two I shared are so precious, especially since this was the last home game of the season. The fans have really added that 'home sweet home' element to my experience in Buffalo.
My heart.. Is melting. Thanks Lyv for the bday sign. I'm glad to have a positive impact on your life! 🏒💞 pic.twitter.com/B4WTjgA6Eu

— Tatiana Rafter (@tatianarafter) February 29, 2016
I want to take a moment to say how touched I am that young players feel comfortable to reach out and connect with me. I hope to continue that relationship into the off-season. It is special to me to be able to positively influence and inspire others. I really appreciate the support from all the fans that come out. Now that the regular season has wrapped up, it has really hit me that following playoffs, a platform for women's professional hockey will be established. The NWHL has also provided an end goal for young women to set their sights on. It's a powerful thing for young women to be able to dream and now that's a possibility for aspiring female hockey players.
So what's next??!!
Looking forward, the semi-finals for the Isobel Cup begin on Friday March 4th! I will be heading out to CT on Thursday morning after practice in Buffalo. The format is a best-of-3 series with the winner playing the victor of the Boston vs New York semi-finals. The Isobel Cup Final will take place in Newark, New Jersey the following week with the same best-of-3 format. First things first, the Beauts take on the Connecticut Whale on March 4th in Game 1! Puck drops @7:10pm ET at Chelsea Piers CT.
#IsobelCup FAQ (& logo) 🏆

🕒 https://t.co/2ajI9DSBtf
🎫 https://t.co/R8TH7WvTJ7
📺 https://t.co/Wl8ojmLPox pic.twitter.com/pKgExOo4vU

— NWHL (@NWHL) March 2, 2016
To follow my journey, I will be posting updates via Twitter @tatianarafter and my IG @tatsabeaut. 
New fan to the league? Toss @BuffaloBeauts and @NWHL a follow on Twitter!
Tatiana Rafter: My Life as a Pro, Behind the Scenes Part I
If you have any questions that you would like answered more in-depth, my fan mail address is:
Tatiana Rafter
100 Washington Street
Buffalo, New York 14203
Lots of Buffalove,
Tatiana
P.S. Purchase Playoff Tickets ———-> Here!!  (that is if there are some left!) ;)