With their backs against the wall and facing elimination the Buffalo Beauts came out victorious in Game 2 against the Connecticut Whale by a score of 4-1, forcing the first-ever decisive Game 3 in NWHL history on Sunday. After being shutout in Game 1 Buffalo was boosted by the return of Kelley Steadman who netted the game's first goal that the Beauts rode the momentum throughout the game. "I think we knew coming in we had a great chance against these guys," Steadman told the media following the game, Buffalo's first win over the Whale in eight games (0-4-3), "we've played them into overtime however many times (three) and obviously the game yesterday was really close as well."
The backbone of the Beauts was surely all-world goalie Brianne McLaughlin, who made 37 saves and was phenomenal for a second consecutive game — and got better as the game went on. "She was awesome. That was so huge for us. We wouldn't have won that game without her; I don't think we left our zone the entire third period," Steadman told The Hockey Writers. McLaughlin, a two-time silver medalist with Team USA, was locked in and stopped all 14 Connecticut shots in the third period and 29 of 30 over the final two periods.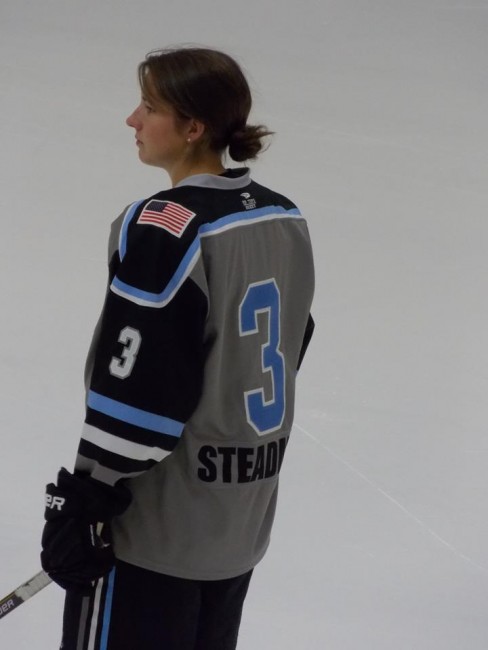 "She made some amazing saves, she was the first star of the game for sure in my book. Hopefully we can help her out a little bit tomorrow," Steadman added while smiling. Tomorrow would be Sunday, which would mark the third consecutive day that the two teams will face-off — and the first time in NWHL history that team's will play on three consecutive days. "It's obviously new for all of us, Connecticut as well. It will come down to who is in better shape and who wants it more. They obviously took it to us there in the third period so we have to come out with some fresh energy and make sure that we're starting off on the right foot."
So who has the advantage? Connecticut, who will be playing at home, and sleeping in their own beds or would the advantage be to Buffalo, who will have one of their best players (Steadman) only playing her second game in a row plus an additional lineup boost from the return of Meghan Duggan (out the last two games for personal reasons)? As Devon Skeats, who scored the eventual game-winning goal with 32 second left in the first period, was excited and smiling after the game with the prospects of inserting Duggan into their confident lineup. She also mentioned a couple of times, "Fresh Duggan", while grinning.
"The rest of my team will have played three games, I'll only be at two; I just have to make sure I do what I can tonight, to be ready to go tomorrow," Steadman said, looking ahead to Game 3. "I felt great in the first and the second periods (1g-1a)," she told THW, "but obviously with the momentum shift there in the third it was tough to get anything going (offensively). I felt great, and I'm hoping tomorrow I feel the same way."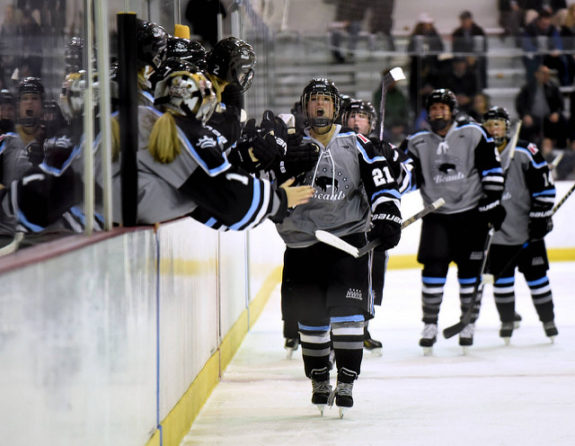 The Beauts didn't have the greatest start to the regular season obviously, as they were the final of the four franchises to pick up its first win. But they seem to be peaking at the right time and with another win over the Whale they will be moving on to the Isobel Cup Final to play the regular season champion Boston Pride. A hot goalie can go a long way and the prospects of a McLaughlin-Brittany Ott battle is possibly on the horizon next weekend if Buffalo can ride the wave of momentum from Game 2 into Game 3.
Following up on Skeats' late first period goal, Megan Bozek scored a power play goal just thirty seconds into the second period (assisted by Steadman and Lindsay Grigg) as the Beauts buffaloed their way to a 3-0 lead that stunned the Whale. Connecticut ended McLaughlin's shutout bid when Kelly Babstock scored just before the six-minute mark, but Buffalo clamped down defensively and killed off three penalties the rest of the way.
#WinOrGoHome #Game2 pic.twitter.com/QZR8Uwj9LC

— Buffalo Beauts (@BuffaloBeauts) March 5, 2016
Hailey Browne sealed the deal with an empty net goal with 1:58 left. Connecticut's Jessica Koizumi, Kelli Stack and Kaleigh Fratkin led all skaters with six shots on goal each, while Skeats was tenacious on the puck all night and led the Beauts with four. Shelby Bram, who had the lone helper on Steadman's goal, was a pest all night whether it was harassing the Whale blueliners, or forcing turnovers from their forwards, and really prevented them from getting anything going when she was on the ice. Jaimie Leonoff made 19 saves in the loss after a Game 1 shutout.
Puck drop for Game 3 is at 6:00 pm ET and can be watched here: Game 3 Buffalo v Connecticut
Dan Rice can be reached via Twitter: @DRdiabloTHW or via Email: drdiablo321@yahoo.com. 
Dan Rice is in his 9th year of reporting for THW & has covered NJ Devils home games for 15+ years at various websites. He began his journey working for legendary broadcaster/writer Stan Fischler from 2002-04 & completed an internship at the ECHL; he also has been writing features for the NWHL (nwhl.zone) website since 2016.