It's been some time since Coyotes' goalie Louis Domingue felt this good. In fact, it must feel like a great burden lifted, and formation of an unique ability to stop the bleeding.
Picking up his first win since Feb. 18, Domingue was particularly strong when his teammates most needed a lift. Mired with a seven-game losing streak, the Coyotes rode Domingue's coattails through a sluggish first period, but then affixed rockets to their skates and powered past the Florida Panthers, 5-1 before 14,825 Saturday in Gila River Arena.
The victory was only the third for the Coyotes in their last 17 games. Regarding any hope of gaining a seat at the Stanley Cup playoff table, the Coyotes record of 27-31-6 still leaves the team barely on life support. For now, the effort was more of a confidence boost for Domingue, who turned away 32 of 33 Panthers' shots.
While the season remains in flux, Domingue's recent games have been marginal. Never lacking from a strong streak of confidence, his ability to turn away nine, first period shots, and many from in close, enabled the Coyotes to remain competitive. When Jordan Martinook scored short-handed with Brad Richardson off for roughing just 23 seconds into the second period and a 1-0 Arizona advantage, Domingue sensed the moment, and took control.
"It's always easier playing with a lead," Domingue said, who raised his season mark to 13-14-4. "That's the type of game we wanted. Lately, we've been chasing games and by taking the lead, that relives the pressure. Playing with a lead is always better."
If Domingue kept the Panthers off the scoreboard, the Coyotes were busy forming their own French Connection line. In the history of the game, Richard Martin, Rene Robert and Gil Perreault formed the Sabres famed French Connection line in the 1970s.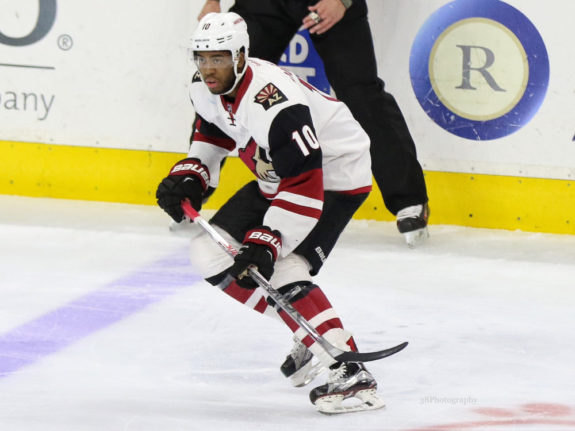 Forming The 100 Line
Here, Arizona coach Dave Tippett put together the unit of Anthony Duclair, Antoine Vermette and Alex Tanguay, all from Quebec province, and that line recorded a nine-point night. Coming over from the Avs in the Mikkel Boedker deal, Tanguay picked up a pair of goals and assisted on another. Vermette  recorded a four-point night on a goal and three assists, and Duclair added two assists. With Tanguay wearing number 40, Vermette number 50 and Duclair number 10, the Coyotes broadcast team told listeners they were watching The 100 Line.
The four-point game for Vermette tied a career best set. That was set when he played for Ottawa in a game against Toronto on April 3, 2008. More importantly, the Coyotes may have found a spark to their offense they desperately needed.
"There is so much skill on this line," said Tanguay. "Duclair is very smart with the puck and has great speed. Vermette likes to skate and find the open spot. Look, I'm not sure we'll be this productive each night, but hope to keep it going."
For his part, Tippett threw the line together as a composite of a strong skill set. While he explained there was no particular reason, the combination of skill and speed was evident.
"All three show a decent skill set," Tippett said. "They communicate well, and work well together. That line was hot."
While the Tanguay-Duclair-Vermette line generated a great deal of attention, the night had to be shared with Domingue. Going forward, the issue is consistency for Domingue, who turns 24-years-old Sunday, is now paramount. Showing a strong skill set and a healthy dose of confidence, the Coyotes need Domingue's swagger and temperament between the pipes.
After starting 11 straight games, Tippett rested Domingue last Thursday against the Ducks at home. Back-up net minder Niklas Treutle, since sent back to the minors, started and was fed to the wolves in a 5-1 defeat. In the end, Tippett seemed to sacrifice a game in order get a rested and healthy Domingue back in the crease.
"For us to win, (Domingue) has to play at this level," Tippett said. "He was sharp and that was good to see."
After splitting a brief, two-game home stand, the Coyotes hit the road for matches in Denver against the Avs, in Vancouver, in Calgary and in Edmonton. From this point, Arizona has six home games remaining of the remaining 17 contests. That seems far too much to ground to make up, and that includes a well-rest and productive Domingue playing at an elite, NHL level.
* Featured image was provided by Amy Irvin / The Hockey Writers