The Pittsburgh Penguins have dealt with their fair share of injuries this year and this shouldn't surprise anyone. They're a team that's routinely cursed with injuries and they've been one of the most injured teams since 2009, not only in terms of sheer many games lost but the quality of man games lost as well.
This season, their superstars Sidney Crosby, Evgeni Malkin, Kris Letang and Marc-Andre Fleury have all avoided the injury bug, but the same cannot be said of their bottom-six. For the last few weeks, the Penguins have had a bottom-six primarily composed of players from the Wilkes-Barre/Scranton Penguins.
This has left the baby Pens depleted and their record shows the lack of talent. Wilkes-Barre/Scranton also lost head coach Mike Sullivan to the Pittsburgh Penguins early this season and his departure was also the point where many players were called up.
However, not all of the skill players have left the WBS Penguins yet as Dominik Simon is seizing the opportunity ahead of him. Players like Conor Sheary, Scott Wilson, Bryan Rust, Tom Kuhnhackl, Kevin Porter and Josh Archibald have all spent time with the Pittsburgh Penguins this season.
At one point this season, the Penguins had 11 skaters up from Wilkes-Barre/Scranton and they currently have six on the roster.
Getting to know Wilkes-Barre/Scranton Dominik Simon
The Pittsburgh Penguins drafted Simon in the 5th round of the 2015 NHL entry draft at 137th overall. He was a fairly unknown player and most players outside of the first round a team is just taking a chance on because they saw something they liked in his game.
Well after watching Simon a few times this year, I can tell you he probably should have been drafted in a higher round. He's quick, has good hands, and most importantly has a very high hockey IQ.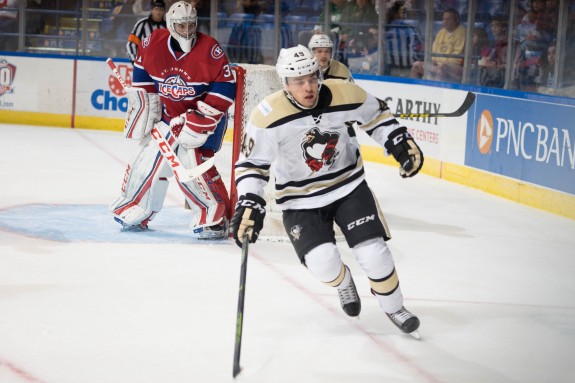 In 51 games played, Simon has 17 goals, 20 assists, is a plus+7 and is shooting at 15.7%. The biggest knock on him is he's not a very big or physcial player, but again this is only his first year playing professional hockey.
He stands at 5'11" and 176 pounds and it shows on the ice, but he is only 21-years old. I spoke with an NHL pro scout at the Wilkes-Barre/Scranton Penguins 3-0 victory over the Lehigh Valley Phantoms about Simon. Before I go any further, NHL scouts have a rating scale for prospects, and it's absolutely subjective, but the scale goes A-F, with A rated prospects being the highest possible.
Here's what the scout had to say about Simon.
From what I've seen of Dominik Simon, there's a lot to like in his game. He's got all of the tools to play in the NHL at least as a third-line player. But the thing that stands out to me is his hockey IQ. He's not a dumb hockey player, look at the move he pulled earlier, most players would have shot where he was on the ice. But he waited patiently, pulled a move to get around the defense and was looking for one of his linemates to get open. Simon has great hands, he's quick and his wrist shot is very impressive.
Although he did not give me his rating for Simon, from talking with him, I'd guess he would rate him as a B prospect with a lot of upside. While we were talking we brought up a few comparable NHL players that he reminds us of and here was that list: Tomas Tatar, Alex Galchenyuk, Gustav Nyquist and Tyler Toffoli.
While it's a long-shot that Simon develops into a player like them, even a "poor man's" version of one of them would fill a need the Pittsburgh Penguins will have in the next few years.
And it's quite funny, I spoke with the scout during the second intermission when Simon had scored a goal already and in the third period, he went on to score another goal.
Dominik Simon's second of the night puts the #WBSPens up 3-0 pic.twitter.com/edmaONtbfM

— WBS Penguins (@WBSPenguins) March 5, 2016
Wilkes-Barre/Scranton Penguins beat writer, for The Citizens' Voice, Seth Lakso joked with me and said this.
If Dominik Simon stays on the same line with Dustin Jeffrey, he's going to score a ton of goals.
Simon on Jeffrey: "I heard that he was a great player and just proved it. He made nice plays and I think our whole line felt good."

— Seth Lakso (@SethLakso) March 5, 2016
Jeffrey on Simon: "He's a highly-skilled kid, so with a guy like that, you know he's going to find the soft spots…

— Seth Lakso (@SethLakso) March 5, 2016
And what Seth said is completely true, Jeffrey is a high end AHL player and one of Wilkes-Barre/Scranton's career leading scorers. If Simon continues to play with Jeffrey and learn to "be a pro" we could easily see him get a chance with the Pittsburgh Penguins in just a few short years.
Thanks for reading! Feel free to leave your comments below.