Goalie Bruce Gamble pitched his second straight shutout as the Toronto Maple Leafs blanked Bobby Hull and the Chicago Black Hawks 5-0 last night in Toronto. In the other scheduled National Hockey League game, Montreal blasted Detroit 7-2.
Keon Scores Three
http://gty.im/502339125
While Gamble once again was a standout between the pipes, Dave Keon was the best Toronto skater. Keon scored three times, and none of the goals was a result of one of Davey's shots. Keon deflected shots by Bobby Baun, Kent Douglas and Larry Hillman for his goals. The slightly-built Toronto centre showed amazing hand-eye coordination that must still be giving Chicago goalie Glenn Hall nightmares.
Keon now has 21 goals on the season. George Armstrong and Ron Ellis had the other Toronto goals.
Bobby Hull meanwhile, went all out in his search for goal number 51 on the season. In an effort to set the NHL single-season goal-scoring mark, team mates were feeding the Golden Jet all night. Hull took an amazing 19 shots during the game. Fortunately for Gamble, he had to handle only six of them and did so flawlessly.
Gamble took away three sure goals from Hull, and made great stops on Eric Nesterenko, Ken Hodge and Ken Wharram as well.  He ended up with 33 saves on the night.
At the other end of the rink, Hall wasn't as sharp as Maple Leaf Gardens fans are accustomed to seeing. After Ellis' goal with five and a half minutes to play, he was lifted from the net in favour of rookie Dave Dryden.
After the game, Keon spoke matter-of-factly about driving Hall crazy with his goals:
"He can't be two places at once. If he's going to be where the shot is going, then he can't be where it's changed to."
Costly Win For Habs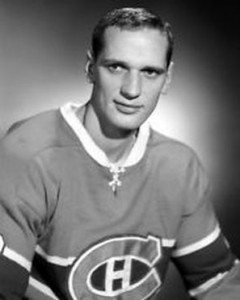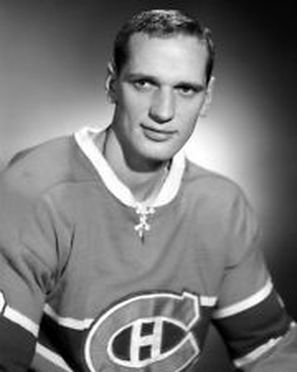 The Montreal Canadiens cruised to a 7-2 win over the Detroit Red Wings, but lost three regulars to injury in the process. Jacques Laperriere, Jean-Guy Talbot and Henri Richard all went down with knee injuries.
Laperriere is likely the most seriously injured of the three. He underwent emergency  surgery in a Montreal hospital last night to repair torn ligaments in his left knee. The lanky all-star blueliner may not return this season.
Richard and Talbot will be lost to the team for about a week. To bolster their defence, Canadiens have called up Noel Price from Quebec Aces of the American Hockey League and Jean Gauthier of Houston of the Central Professional Hockey League.
Jean Beliveau was the top Montreal marksman with two goals. Singles were netted by Jim Roberts, Richard, Bob Rousseau, Dick Duff and J.C. Tremblay. For Detroit, Bill Gadsby and Paul Henderson found the range.
It was the fifth straight loss for the Red Wings.
Canada Bombs Poland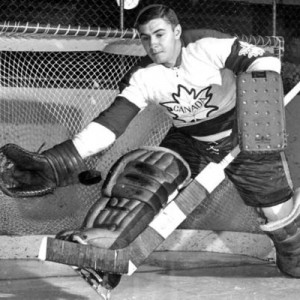 That headline might grab political attention, but in hockey, it's business as usual. The Canadian national hockey team lambasted the Poles by a score of 6-0 in their second contest of the World Hockey Championships.
Ken Broderick handled the goaltending chores for Canada and had a relatively easy time of it. Seth Martin was given the night off by coach Jackie McLeod in an effort to keep Broderick sharp in the event he's needed. This game couldn't have done much for that case, as the fine young B.C. University student was never severely tested.
Six players shared in the Canadian offence. Marshall Johnston, George Faulkner, Fran Huck, Lorne Davis, coach Jackie McLeod and Paul Conlin were the goal scorers.
Notes: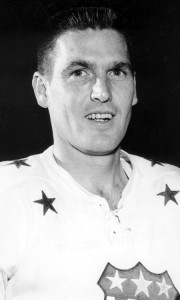 Victoria Maple Leafs trounced the Seattle Totems 6-2 in WHL play last night. Bob Barlow led Victoria with a pair of goals.
A Chicago entertainment writer says the Frank Sinatra is interested in an ownership stake in the soon-to-be-awarded St. Louis NHL expansion franchise.
Some in high places in the NHL are not happy that the expansion team awarded to Bing Crosby's group will be playing home games in Oakland instead of San Francisco.
Pittsburgh Hornets have traded Claude Laforge to the Quebec Aces for Terry Gray in an AHL deal.
Nick Libett led Hamilton Red Wings to a 4-2 win over Niagara Falls Flyers in a OHA game played in the Honeymoon City. Paul Chiarot of Hamilton received a match penalty in the third period for pushing referee Jerry Denomee while trying to get at Niagara Falls disturber Rosaire Paiement.