Derrick Pouliot's path with the Penguins has been anything but smooth. Drafted in 2012 with the eighth overall pick, which Pittsburgh acquired from the Carolina Hurricanes as part of the Jordan Staal trade, expectations were high right off the bat.
Maybe, expectations were too high.
Last summer marked the height of excitement surrounding the young blue-liner. With the departure of Paul Martin and Christian Ehrhoff via free agency, the Penguins were in need of young defensemen to step up and play a major role at the NHL level. Pouliot was pegged by many, including myself, as a shoe-in for a top-four spot in the lineup. Unfortunately, a poor training camp performance squashed any chance of that happening and Pouliot not only missed out on being top-four, he found himself relegated to the AHL.
The most common knocks on Pouliot are work ethic and defensive positioning. While I can't personally speak to his motivation or personal drive, it was disappointing to see that he looked out of shape and quite slow in camp after a summer of training with Gary Roberts. From a defensive standpoint, he has improved tremendously, which we'll discuss below.
Considering his performance since being recalled to the NHL in January, maybe more development in the AHL was exactly what he needed.
Exceeding Expectations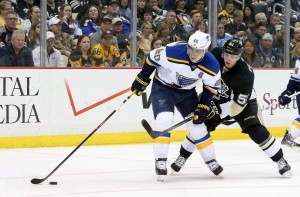 The Penguins were in a peculiar situation when they first recalled Pouliot almost two months ago. They had traded away depth defenseman Adam Clendening and were faced with poor play from Ian Cole. They desperately needed someone who could fit Mike Sullivan's system to step in.
Jim Rutherford and Sullivan decided Pouliot was ready.
You got the feeling when he was recalled that it was his last shot to impress this regime. Rutherford had said that the next time Pouliot was returned to the NHL would be the last. They wanted him to succeed here. They want him to be a pivotal piece in the future of this blue line and if he didn't excel this time, would they consider moving him at the deadline?
I guess we'll never know.
Since playing his first NHL game this season on Jan. 23, he has looked like he belongs at this level. He began this stint as a more reserved, stay-at-home style defenseman but is beginning to come out of his shell as of late. He looks confident. He's at his best when making plays with the puck and contributing offensively, which he's beginning to do again.
Pouliot has been better than most anticipated after having to spend much of the season in Wilkes-Barre/Scranton. He and Trevor Daley have transformed this blue line. The eye test has shown that he's ready for full-time NHL duty and the numbers back up that assessment.
Derrick Pouliot By the Numbers
Through 18 games with then Penguins this season, Pouliot has six assists. That isn't an overwhelming total but remember, he's playing third-pairing minutes with little to no power play time. According to stats.hockeyanalysis.com, his most common forward counterparts have been Bryan Rust, Tom Kuhnhackl and Scott Wilson.
He isn't going to light up the scoreboard with those forwards.
However, his WOWY data, which stands for with-or-without-you, is truly something to marvel and tells us a lot about his performance. It's also a telling metric when it comes to his defensive partners.
The above chart, courtesy of corsica.hockey, reflects each player's Corsi-for percentage with Pouliot while playing even-strength. In other words, the percentage of shot-attempts that occur while Pouliot and that individual is on the ice together.
As the legend reflects, blue dots represent where that player ranks with Pouliot on the ice. Green is Pouliot without that player and red is each player without him.
It's important to note how flat the green dots remain, as Pouliot has been consistently good at suppressing shots, while also creating offense during his 18-game stint. Also important, notice the boost that Ian Cole has recognized with Pouliot as his partner. Cole has been night-and-day compared to his showing earlier in the season.
While Sidney Crosby and company won't show on this chart due to a lower time-on-ice with Pouliot, consider that the Penguins account for just over 52-percent of even-strength shot-attempts with Crosby on the ice. When he's with Pouliot, that number jumps to 67.6-percent. The best defense is a good offense. Pouliot is providing the type of support this team needs while playing their aggressive, speed-centric game.
Justin Schultz being thrown into the mix on the Penguins' blue line will make things interesting down the stretch. Considering how well Pouliot and Cole have meshed, I'd prefer they leave things alone. Either way, Pouliot is proving that he deserves to be a mainstay.
Thanks for reading. Follow me on Twitter at @Michael29Angelo for more coverage of the Pittsburgh Penguins and everything NHL.