Fully entrenched in the dull overcast doldrums of March days, those in Hockey Heaven should be focusing their attention on what should be another exciting summer, even if the last seasons have not been.
At the end of this latest long road could be another big prize. Particularly, Jack Eichel needs a winger. Although Auston Matthews would be the ultimate lottery prize, Finnish prospects Patrik Laine or Jesse Puljujärvi would be the perfect wingman for Eichel.
World Juniors Statement
Going into the 2016 World Junior Championship, Puljujärvi was already at the top of most draft boards, but his linemate Laine is the one who quite possibly made the biggest impression in Helsinki, creating a debate as to which Finn should be selected first. But make no mistake, Puljujärvi also had a monster tournament. With his 17 points, Puljujärvi tied Wayne Gretzky (and only trails Jaromir Jagr) for the second most points in a World Junior Championship by a player under the age of 18.
Together, the two formed an unstoppable top line with Sebastian Aho, which carried Team Finland throughout the tournament when secondary scoring was sporadic at best. And not only was individual performances on full display, the team reaped success, capturing the gold medal. This is something that can't be understated. Having a championship pedigree can go a long way for a young player when it comes to building confidence and learning how to win.
The case in point can be made on the Sabres current roster. Both Sam Reinhart and Rasmus Ristolainen were loaned out for respective world junior championships and won gold. Since coming back, they have been completely different players, elevating their game to a new level. Although younger, expect the same from Laine and Puljujärvi.
Comparing Laine to Puljujärvi
So the question remains, who's a better fit for Eichel? Let's take a closer look at the games of Laine and Puljujärvi.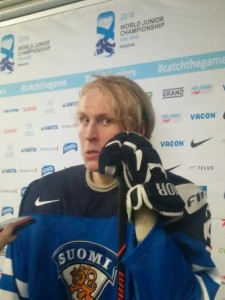 Pujujärvi is the better all around talent, excelling in all three zones. He's primed to be a better two-way player than Laine and is more of a playmaker. Laine on the other hand tends to use his large frame more to his advantage, playing a more physical game. Laine is more of a finisher, possessing a strong shot. Both have great hands and stick-handling skills. While Puljujärvi has the better hockey IQ, Laine is the quicker skater.
Looking at the current makeup of the Sabres, there are plenty of two-way forwards such as Zemgus Girgensons, Johan Larsson, Marcus Foligno and Ryan O'Reilly. What the team needs are wingers who can put the puck in the net. This would make Laine the best partner for Eichel, as Eichel is a play-making center who can be the catalyst to generate scoring chances. Laine simply would need to find the open space on the ice and let a rip once Eichel gets him the puck. The two of them would be difficult to matchup against defensively as they both effectively use their large size to battle for and protect pucks.
Either way, Puljujärvi or Laine would be an excellent addition to the Sabres roster and could step in and make an immediate impact alongside Eichel. Here's to hoping the Sabres can reach this season's Finnish line.