From May 1-31 NWHL teams can re-sign players from their 2016-17 roster and their draft picks during the restricted free agency period, and beginning on June 1 any unsigned players left will be free to sign with any team. The third season of the NWHL will begin in October as the Buffalo Beauts begin defense of their Isobel Cup championship, and with up to 12 players unable to participate in the league this season due to their selection for Team USA's 2018 Olympic team, this will be the most competitive season yet.
My colleague Nathaniel Oliver will keep THW readers up to date on Buffalo and Boston's signings throughout the summer, while I post updates on Connecticut and New York. 
Whale and Rivs Kick Off NWHL Signings
Whale Watch
The @CTWhale_NWHL have signed 2016 Draft Pick Sydney Rossman, the 2015-2016 ECAC Goalie of the Year from @QU_WIH. pic.twitter.com/pZl9F5hhGu

— NWHL (@NWHL) May 15, 2017
On May 15 Connecticut signed goaltender Sydney Rossman from nearby Quinnipiac University, which probably signifies they are going in a different direction next season after two seasons with Nicole Stock and one and a half seasons with Shenae Lundberg. Rossman was an astounding 52-13-11 during her four seasons with the Bobcats and pursue an MBA at Quinnipiac while tending goal for the Whale and serving as a mentor to goalies at Pro Crease Goaltending.
"It was a really cool thing to get the contract offer to join the Whale and the NWHL," Rossman, the 19th overall (5th round) selection in the 2016 NWHL Draft said in a press release. "I was hoping to play for the Whale this season, but it wasn't reality until I got that email. It's really great to continue my hockey career at a high level."
Rossman joins Cydney Roesler and Kelly Babstock as former Quinnipiac players on Connecticut's roster.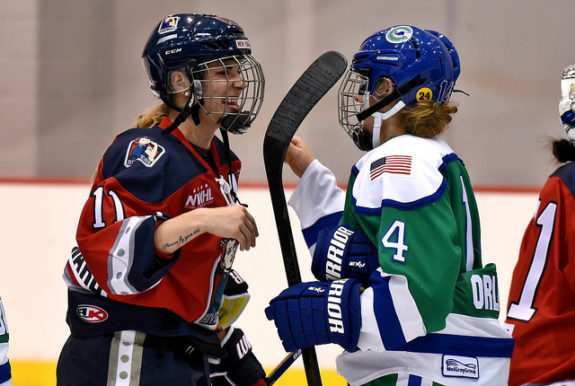 Three days later the Whale added another player from Quinnipiac (shocker!) when they re-signed defender Elena Orlando who played with Connecticut last season after spending the inaugural one with the Riveters. She was one of the recipients of the 2016-17 NWHL Foundation Award and currently also works overnights as a nurse at an HIV/AIDS facility in New Haven, CT. In 29 career games in the NWHL, the soon-to-be 25-year-old has one assist and is still searching for her first pro goal.
"I loved my time in the NWHL and I'm excited to play another season," Orlando said in a press release. "I played on boys' teams because there weren't any programs for girls near me, and I dreamed of playing in the NHL because there wasn't an NWHL at the time," the California native added. "I feel so blessed to have this opportunity."
On May 22 Connecticut inked another blueliner when they agreed to terms with Shannon Doyle, who like Babstock has been with the team since it's inception in 2015. Her seven assists led the Whale's D-corps last season and in 33 career NWHL games, she has amassed 12 points (2g-10a). Last season the Whale had a few defenders leave the team midseason and this offseason management has clearly targeted that area, quickly re-signing three defenders. Last season both Doyle and Orlando were practice players who were pressed into regular action with the departures of Molly Engstrom and Ivana Bilic.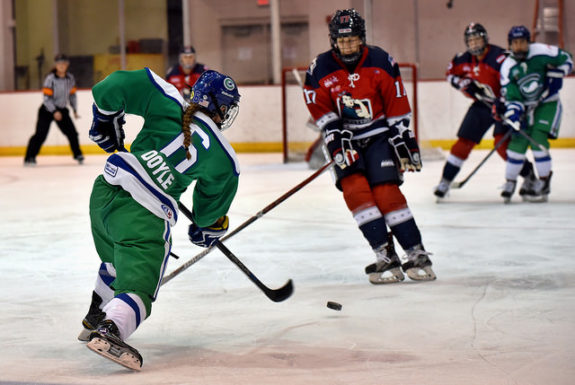 "I'm incredibly excited to be a part of the NWHL and the Whale for a third season," the 25-year-old Doyle, who is also a second-grade co-teacher and coaches two youth teams in Greenwich, Connecticut, said in a press release. "Season three brings with it new challenges and opportunities for us as players and ambassadors for the game. Being able to have the opportunity to play women's hockey at an elite level and be a role model that younger female athletes can look up to is a dream I am very thankful I can continue to live."
Rivs Recap
Fan favorite and NWHL Fastest Skater Rebecca Russo re-signed with the Riveters on May 16, ensuring that one of the faces of the league will continue to wow crowds near and far. The energetic Russo was the first player in league history to become an All-Star after attending a Free Agent Camp and in her rookie season compiled 16 points (3g-13a) which was third on the Rivs and tenth in the NWHL.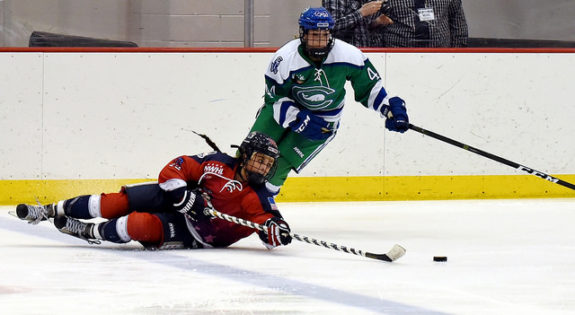 "Playing for the New York Riveters has been one heck of an experience, and I am looking forward to another fun and successful season with this great organization," said Russo who trains in the offseason with Cam Atkinson, Kevin Shattenkirk and Jonathan Quick in Stamford, Connecticut under the tutelage of Ben Prentiss. "I am extremely fortunate that this league was formed for athletes, like myself, that are not done playing the game we love the most."