From May 1-31, NWHL teams can re-sign players from their 2016-17 roster and their draft picks during the restricted free agency period, and beginning on June 1 any unsigned players left will be free to sign with any team. The third season of the NWHL will begin in October as the Buffalo Beauts begin defense of their Isobel Cup championship, and with up to 12 players unable to participate in the league this season due to their selection for Team USA's 2018 Olympic team, this will be the most competitive season yet.
My colleague Dan Rice will keep THW readers up to date on New York and Connecticut's signings throughout the summer, while I post updates on Buffalo and Boston. 
Whale Ink a Trio, Russo a Riv Again
Whale and Rivs Kick Off NWHL Signings
The Pride Come Calling
Coming out of Brooklyn today, the NWHL's Boston Pride have gotten three of their restricted free agents under contract for the upcoming 2017-18 NWHL season.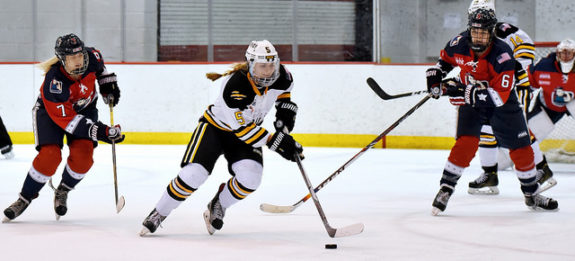 Arguably the most notable of the three signings is blueliner Lexi Bender. The native of Snohomish, Washington is a workhorse on the back end and one of the Pride's most dependable skaters. Appearing in all 17 of Boston's regular season games, Bender finished third in scoring among team defenders with two goals and four assists. She also appeared in both of Boston's postseason games.
What is perhaps the most noteworthy statistic of Bender's, though, is that she led the entire league in plus/minus for defenders and was second overall in that category for all skaters. Needless to say, Bender will continue to serve as that aforementioned workhorse in 2017-'18. Look for her to increase her performance and her numbers exponentially.
Two Forwards
Forward Michaela Levine is one of those players who could easily take a major step forward in the league's third season of play. Without the U.S. national team players helping to comprise the four squads, there will undoubtedly be players who will rise up and solidify new cases of star factor for each club.
Levine has demonstrated a knack for scoring at the college level. At her alma mater Williams College, Levine had sophomore (10 goals, 10 assists in 28 games) and senior (10 goals, 11 assists in 25 games) seasons of double-digits in goals. This past season, Levine appeared in six regular games for the Pride plus one more in the playoffs.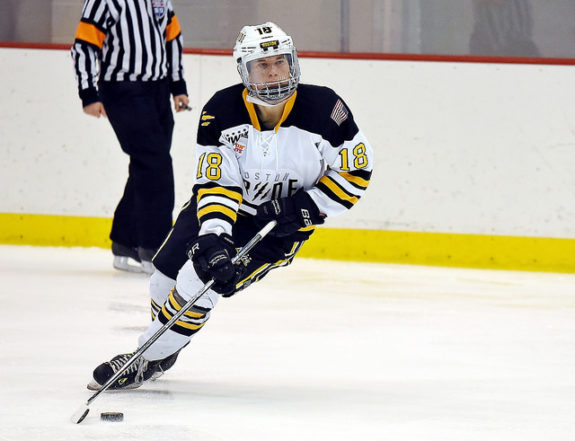 In addition to Levine, Kathryn Tomaselli is another forward who has re-upped with Boston. Tomaselli actually hails from more of a non-hockey market in Cape Coral, Florida, and had a superb collegiate career at Union College. During Tomaselli's senior campaign she was named captain of the Dutchwomen.
In addition to leading her college team in the locker room and on the bench, she also oftentimes led them statistically. After tying for the team lead in goals during her sophomore season, she was tops in goals and points during her junior and senior seasons. While she went pointless in eight games for the Pride this past season, Tomaselli is another player who is ever-capable of making a big splash in the upcoming season.