Welcome back to our Blue Jackets offseason roundtable.
In Part 1, we talked expansion draft and entry draft. Now we shift our focus to potential moves the team could make. Our Blue Jackets writers (Kenyon, Jeff, Dan and myself) return with answers to those questions and more. Let's jump right in.
Salary Cap Troubles?
Question 4: Is the salary cap a legitimate concern in your mind when it comes to the Blue Jackets? Why or why not? If so, what would you do to rectify it?
Kenyon: The salary cap is somewhat of an issue. They need some space to ensure restricted free agents like Anderson, Wennberg and Korpisalo get new contracts. But the league's salary cap is going up again next season so the Jackets shouldn't have to worry much. Now if they wanted to make a big move such as splashing in the trade market, the salary cap could become an issue. But as the team currently stands, I think there is no reason to fear.
Jeff: Yes, largely due to some of the key players needing new contracts this offseason(Wennberg, Anderson) and next(Atkinson, Jenner, Calvert, Karlsson, Murray). Seven players(Saad, Dubinsky, Foligno, Hartnell, Jones, Savard, Bobrovsky) carry a combined cap hit of $39.175 million through 2018-19, hurting the team's flexibility when it comes to re-signing those players, most/all of whom will be due raises.
As far as fixing the situation, there aren't a lot of options. A trade to dump a big contract seems unlikely and would probably cost the team draft picks or prospects. Another option is a buyout, with Scott Hartnell the most obvious candidate. If I'm the Blue Jackets, I don't want to lose Hartnell's veteran presence and experience, along with his pretty impressive production in a limited role this past season(37 points in 78 games while averaging just
12:03
of ice time per game). Still, it's hard to justify his $4.75 million cap hit, especially now that he's 35. Again, I really don't think Columbus wants to cut Hartnell loose, but it could be one of the few options for the team to get immediate cap relief.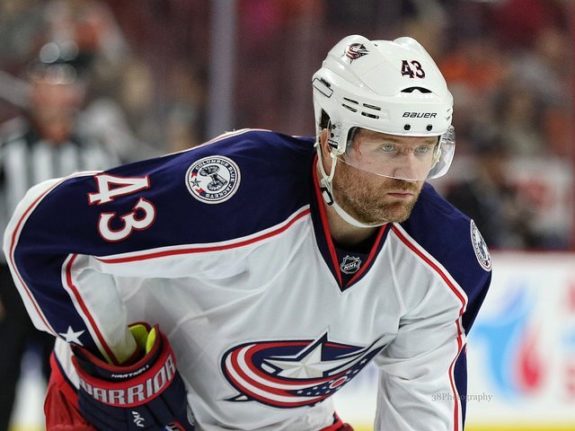 Dan: It is, sure, though it's in much better shape than it was going into last summer. Dubinsky's contract specifically looks to be problematic – he's signed at $5.85M through 20-21 and is already 31. Plus, the Jackets have many significant upcoming RFA's that they'll want to take care of this and next off-season. Wennberg and Anderson are RFA's now, and Murray, Nutivaara, Bjorkstand, Karlsson, and Jenner are all RFA's after next season, to say nothing of Atkinson becoming a UFA next July 1.
GM Jarmo Kekalainen will have his work cut out for him, no doubt about it. Lastly, if I'm Jarmo, I'm thinking long and hard about buying out Scott Hartnell's contract even if he doesn't waive his NMC for purpose of Vegas expansion. That would give the team some reprieve heading into a huge season, both on the ice and from a salary cap perspective.
Mark: As of this writing, I'll say it's a concern. According to Cap Friendly, the Blue Jackets now have about $2.94 million in projected cap space for 2017-18 with RFA's Alexander Wennberg, Josh Anderson and Joonas Korpisalo to sign. That's not enough space if all three stay with the Blue Jackets. The Expansion Draft could help with some of this, but we just don't know now.
Will the cap go up? We don't know that either, although there are rumors that the escalator could raise the cap upwards of $76 million. That's an extra $3 million if it happens. That helps, but I suspect other moves will happen. I'll elaborate on that in question five.
Here's the other thing. In my mind, the Blue Jackets have to be a cap team. Remember when the Blue Jackets assigned Wennberg to Cleveland last season as a paper move? It was to get the most from putting David Clarkson on long-term injured reserve. As long as that contract is on the books, the team will continue to hover around the cap to get the most relief. As long as you are near the cap, it will always be a concern. It limits what the team would like to do otherwise.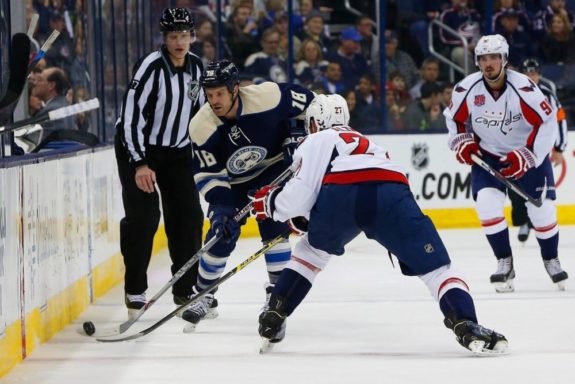 Trades?
Question 5: Trade talks always pick up as we approach the draft and the offseason. Do you foresee the Blue Jackets making any significant trades this offseason?
Kenyon: Speaking of the trade market, I don't think the Jackets will be actively searching for a big deal. Jarmo has always said they are willing to listen to any phone call and will make the move if they feel it is the right one. If they did pull the trigger, I think it would make the most sense if the player they acquire is a top-line center.
Back near the trade deadline, I was thinking that trading for Matt Duchene would be an awesome move. However, the Jackets were playing well enough with the team they had that they didn't need to mix it up in any way. Not to mention the asking price from Colorado was too high. In the offseason though, the price will likely come down and the Jackets should at least consider a deal such as that to acquire Duchene. I don't think they do anything major but you never know. Jarmo is far from afraid to make a move.
Jeff: I don't. Even though the Blue Jackets morphed into contenders this past season, this is still an incredibly young team. I don't believe they've reached the point when it's time to add a veteran or two as "final pieces" of the team. Rather, the improvement should come from within the organization via development of young players.
Wennberg, Anderson, Jenner, Nutivaara, Murray and Oliver Bjorkstrand are all still 23 and under. Jones and Werenski, who seem destined to be Columbus's top defensive pairing for the foreseeable future, are just 22 and 19, respectively. The development of those young players alone could make the Blue Jackets a different-looking team. Then there are players like Carlsson and Sonny Milano, who saw limited action with Columbus and are potential candidates to make the big club. That potential for internal growth combined with the aforementioned salary cap situation makes me think the Blue Jackets will not make a big splash in the trade market.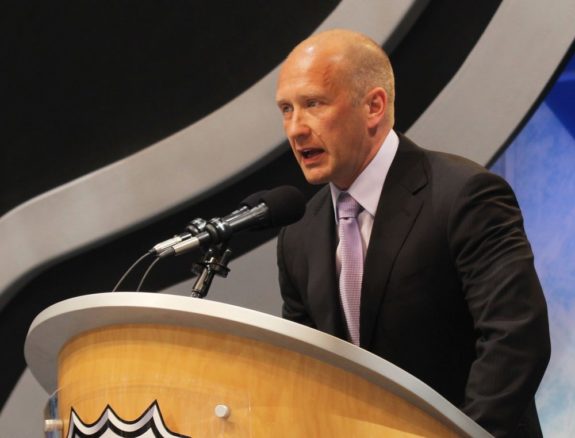 Dan: I do, yes. Kekalainen is clearly not afraid to make a splash (Marian Gaborik, Saad, Jones, etc.) and I think he knows that this team is missing something up front. Between Jones, Werenski, Murray, Markus Nutivaara, Gabriel Carlsson, and Gavrikov, the Blue Jackets have for the first time in franchise history a surplus of legitimate 23-and-younger defenseman on the roster and in the pipeline. That is to say nothing of Scott Harrington, David Savard, or Jack Johnson.
I could absolutely see a scenario where GMJK could look to move a defenseman (Murray?) and a mix of picks and prospects (Milano?) in exchange for a top-six forward, preferably at center. Do they target Matt Duchene? Definitely wouldn't rule it out.
Mark: I do expect something given the cap situation. The thing I wonder is if the Blue Jackets will try something creative with Vegas. Jarmo Kekalainen and George McPhee are good friends. Vegas could help the Blue Jackets especially with cap relief. But that might require some pieces the Jackets might not want to give up.
Given the cap situation, I wouldn't expect a major free-agent signing. This points to trades. Not saying this would happen, but would you consider trading a Cam Atkinson or Jack Johnson knowing both are unrestricted after 2017-18? You'd get some relief and pieces coming the other way. Atkinson is due a raise with his next contract. If the cap is a concern, the team wouldn't want to lose him for nothing. This is just an example of what could be discussed.
Now one thing I am watching closely is Sonny Milano. He was almost dealt at the draft last season. He doesn't seem to have a guaranteed spot on the team this season. He's vastly improved as a two-way player. Would the Jackets include him in a package to get cap relief or another player? It's possible. Stay tuned.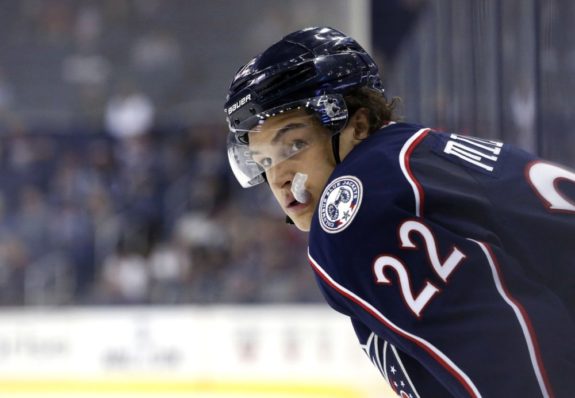 Who's the Pressure On?
Question 6: Finally, look into your crystal ball. Which current Blue Jacket has the most to play for in 2017-18? Why did you choose that player?
Kenyon: I would say the player with the most to play for next season is Ryan Murray. He has had a tough go of it so far in his career with injuries and I think that has dwindled his confidence a little bit. He has been unable to pan out the way most thought he would. As a former #2 overall pick, he was expected to do big things and I don't think he has lived up to those expectations at all. In order to live up to those expectations though, he must be healthy and playing, which he hasn't done for the vast majority of his first four seasons.
The good news is that his career is still young. He's only 23 years old and has a lot to look forward to. Murray could enjoy a lengthy career in the NHL with the way he plays. The last two seasons, he has given off bright spots in his game that make you feel good about his progression towards elite status. Even if he doesn't reach that level, I believe the Jackets are looking for him to prove his worth as a top-four defenseman. Jack Johnson's contract is up after next season and so is Murray's. If Murray steps his game up, maybe they can afford to not resign Johnson and resign Murray to play top-four minutes. Also, if the Jackets use one of their three defensive spots on their expansion protection list on Murray, he has to make management proud that they did so. It'll be a big year for Ryan Murray.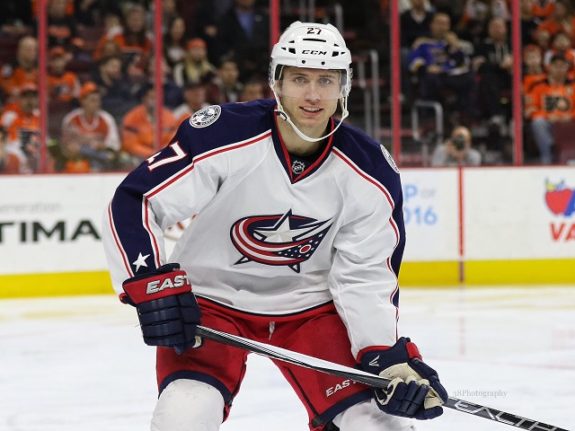 Jeff: Ryan Murray. For starters, 2017-18 is a contract year for him, which is always cause for motivation. Murray has also had a hard time staying healthy in his young career, missing playing time in three of his four NHL seasons. It's unfair to blame him for his bad fortune, but it is fair to be at least little concerned about that string of injuries.
Perhaps the biggest reason the upcoming season is important for Murray is his spot in Columbus's lineup. In 2016-17, Murray was a third-pairing defenseman. To me, that's not an indictment of his play but rather a credit to Jones, Werenski, Johnson and Savard – the way those four played throughout the season, there simply was no room for Murray in the top four.
While being forced to play a former second overall draft pick that low on the depth chart is a good problem to have, it's not a stretch to say he could and should be playing more than 20 minutes per game, like he did in 2015-16. While Murray is just 23, he's older than Jones, Werenski, Nutivaara and Carlsson. If he doesn't find a way to play a larger role, his time with the Blue Jackets could end in the not-too-distant future.
Dan: It's a tossup for me to between Cam Atkinson and Oliver Bjorkstrand, but I think I'll go with Bjorkstrand. The 22 year-old has yet to play his first full season in the NHL and, like I referenced before, will be an RFA after 2017-18. There's no doubting his skill, but at some point, he'll have to prove that he can play at a high-level consistently for an entire 82 game season.
He definitely could be the scoring winger the Jackets need in their lineup, and would get a nice pay bump after the season if he's able to prove it. Also, Bjorkstrand's potential ascension up the lineup would properly bump down players into a more comfortable position in the lineup. He could without question be a 30+ goal guy in this league.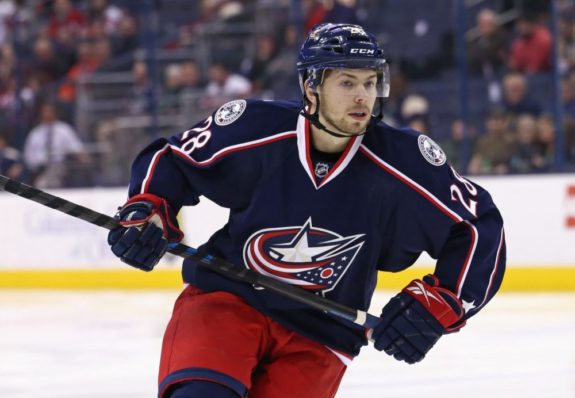 Mark: I actually have two players for this. The first is Ryan Murray. Guy can't catch a break on injuries. He also played a third-pair role for most of the season when he was healthy. He played fine in that role. But he's a restricted free-agent after the season. Is he a big part of the Blue Jackets future? I believe this season dictates that.
The other player is Sergei Bobrovsky. Yes he was fantastic this past season until the playoffs. He has to take the next step to get the team victories in the playoffs. He's capable, but has to overcome the mental hurdle. Here's the other thing. He has two seasons left on his contract. He's turns 29 just before the season. How much longer can he go playing lights out in the regular season?
Suddenly given his World Championship performance, Elvis Merzlikins is in the conversation as a potential heir to Bobrovsky. If Bobrovsky starts to falter for any reason over the next two seasons, Merzlikins could slip in and become the starter. That's not to forget Korpisalo or Anton Forsberg also. Bobrovsky needs to continue his brilliance while getting over the playoff hump.
There you have it. Our writers have spoken. Now it's your turn. How would you answer those questions? Feel free to leave your comments below.