During regulation game time, a referee will make about 300 decisions.
Although a small fraction of those calls will actually stop play, each decision he makes directly affects the game. It's a large responsibility to take on, the role of referee, and it's one that often goes without any consideration.
To compensate for ranging skill levels in the NHL, guidelines are set to make sure that less-experienced players can meet the demanded level to compete. Of course, obeying the rules does not play a major role while a player develops; rather, it allows the game to keep its speed and fluidity.
A vast grey area looms over the more well-known penalties; guidelines dictate different conceptions about what warrants a penalty. For example, goaltender interference has become arguably the most widely contested call, when in reality, it should be black and white. Under review, it's obvious whether or not interference occurred.
I agree with the no goal call although I don't know what goalie interference is anymore.

— Mark Stepneski (@StarsInsideEdge) May 24, 2017
Consistency is Key
Emotions and adrenaline run higher in the latter half of a game, which makes consistency with calls throughout harder to achieve. Steve Henderson supervises registered USA Hockey officials across the State of Texas, serving as a liaison between referees and the public. After translating his passion for hockey into officiating, he offers a unique perspective:
It's all about where you are on the ice," Henderson said during a phone interview on Monday. "You always do your best to make consistent calls during the game but it is something that is very difficult to pick up and it comes from experience. [Consistency is] what you strive for, every game you go out and do the best that you can.
Consider the amount of time and investment in the sport that is required for someone to become a referee for a professional sport. Not just anyone with a striped jersey skates the ice or toes the turf. It makes sense to disagree with some of the calls a referee makes, but at the end of the day, his word will pull rank.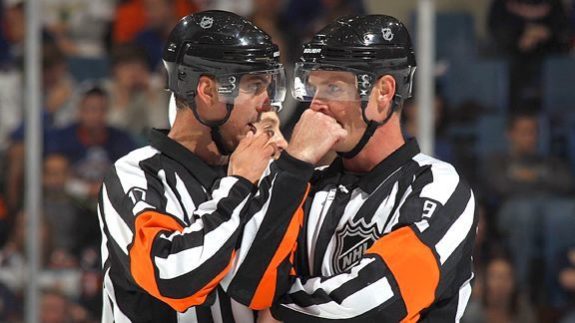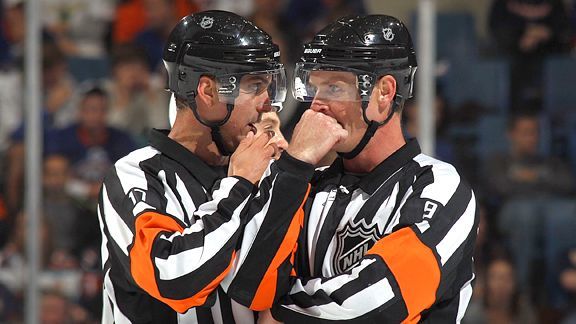 To be one of the elite 66 NHL referees, hopefuls must conquer the uphill battle of stomaching heckling spectators and coaches, improve on their own skating and physique, keep up a working knowledge of the game's evolving rules, all while remaining true to their instincts.
Ken Reinhard, an NHL off-ice official and Referee-In-Chief for USA Hockey's Rocky Mountain District understands the struggle. He described his 38-year on-ice officiating career and his experience as a certified USA Hockey training instructor, attributing his current off-ice position to his dedication and passion.
Eight years ago I was selected to fill the off-ice position in Dallas," Reinhard said during a phone call interview on Monday. "And I'm not on the ice but I am part of the NHL officiating team and I wouldn't trade it for anything. When they told me I got paid for it, I couldn't believe it. I'm very proud to be a part of the best professional sports league in the country.
Referees Are Not the Bad Guys
The guys in stripes are trying their hardest to create an environment for each player to grow. By nature, hockey is a rough sport. As time progresses, gameplay diverges from the wholly accepted standard of the rulebook. Both teams want to win, so at the points, the victory goes to whichever is willing to push farther past their limits.
Plenty of instances from the 2017 Stanley Cup Playoffs prove that hard work, given time, beats talent when talent doesn't work hard. Early in the final game of their series, the Nashville Predators found themselves being outplayed by the Anaheim Ducks but were able to pull together their efforts to advance to the Stanley Cup Final. A similar situation occurred during Game 6 of the Eastern Conference Final, where the Ottawa Senators avoided elimination from the competition.
A champion has yet to be crowned for the Eastern Conference.
In the heat of the game, it's easy to disregard the 117 different types of game infractions, delineated in the NHL Hockey Handbook.
Reinhard believes that the line to stop play is drawn when a player uses an extra variable to overcome an opponent.
Anything that impedes the progress of a player, wherever he's poked, grabbed, tripped him or any play that takes away his scoring opportunity," Reinhard said. "The game should be free-flowing and open, it's supposed to be something that challenges you to use your size, talent, positions or skill to stop another player.
The Best Seat in the House
Hockey moves with such tremendous speed. For any hockey fan, watching the game is thrilling whether it's from next to the ice or from the nosebleeds. Referees have a difficult job: making sure the players' environment promotes fair and entertaining gameplay.
If we come off the ice and nobody says anything, we did a great job," Henderson said. "We want the referees to do their job and not be seen or necessarily even heard from. It means that the manner that we conducted ourselves on the ice was professional, that we spoke with coaches and they understood what we ruled and then, everyone forgets. We are content to watch the game from probably the best seat in the house, which is on the ice.
Despite the many negative implications towards their job, referees are proud of what they do. It's a dangerous environment to skate around in, especially wearing significantly less protection than the players themselves.
Pursuing the NHL's toughest job is a long and rigorous road. Even though they do not gain the recognition they probably deserve, the referees remain humble. Perhaps there's a lesson to learn from the men in the stripes.