The St. Louis Blues have added another former player to their coaching regime with the signing of Barret Jackman as the team's development coach. Jackman, 36, spent 14 years in the NHL after being drafted by the Blues in 1999. Last October, he announced his retirement after signing a one-day contract to end his career with St. Louis.
The announcement comes just a week after Jackman's former teammate Steve Ott was hired as an assistant coach. According to the Blues, Jackman will "primarily be working with prospects and draft picks, whether they're playing at the college, junior or American Hockey League Level."
He will also be joining the Blues for the 2017 NHL Entry Draft in Chicago later this month. St. Louis currently holds the No. 20 and No. 27 overall picks in the first round. Jackman, a former 17th overall pick, should provide great insight into the discussions Blues management will have when pondering their selections.
Jackman played in 876 regular season games (186 points) and 53 playoff appearances in his career. He was known for his tenaciousness in the defensive zone. The British Columbia native's strongest off-ice qualities were his dedication to the game and gaining respect from his fellow teammates as a leader. A hockey figure like him is extremely valuable in this day and age. Hiring Jackman to assist with prospects and their ascension into the National Hockey League is a bright move from Blues general manager Doug Armstrong.
A Mentor for Prospects in St. Louis
At the big-league level, the Blues are arguably one of the deepest teams on the back-end in the Western Conference, boasting the likes of Alex Pietrangelo, Colton Parayko, Jay Bouwmeester and Joel Edmundson. Head coach Mike Yeo's defense has size and a lot of it. At 6'2″, Carl Gunnarsson is the shortest blueliner on the roster. Parayko and Edmundson head into their third NHL campaigns next season; they hold the skills and confidence to further become a solid second line pairing.
Beyond their top six, the Blues have several defensemen lined up in the American Hockey League who can make the next step if handed the right guidance. Jordan Schmaltz, Vince Dunn, Petteri Lindbohm, Tommy Vannelli, and Jake Walman stand out as the leaders among the pack in this regard.
Out of these five, Dunn and Lindbohm resemble Jackman. They both possess a hard-nosed element to their game that Jackman implemented into his style throughout his career. Dunn, 20, made headlines around the hockey world after his off-ice fight with Minnesota Wild prospect Kurtis Gabriel.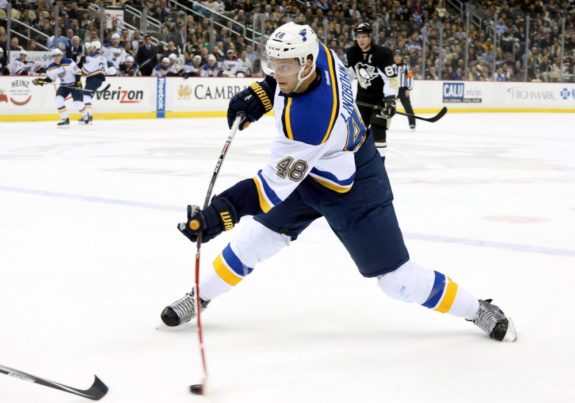 At 6'0″, Dunn is the same height as Jackman and plays with a similar edge. He's not afraid to throw the body, but he can also contribute at the offensive end of the rink. The Lindsay, ON native scored 13 goals and added 32 assists in 72 games with the Chicago Wolves in his first pro season.
Lindbohm, 23, has appeared with the Blues in a pair of stints over the last few seasons. However, after being beaten out by Parakyo and Edmundson in training camp two years ago, he's been unable to consistently hold a roster spot with the Blues. He's three inches taller than Dunn, which gives him an extended reach on forecheckers and oncoming attackers.
The Finnish defenseman doesn't shy away from physicality, either. Jackman can assist these two by teaching them composure and how to manage it properly in high-octane situations such as playing in the NHL on an everyday basis.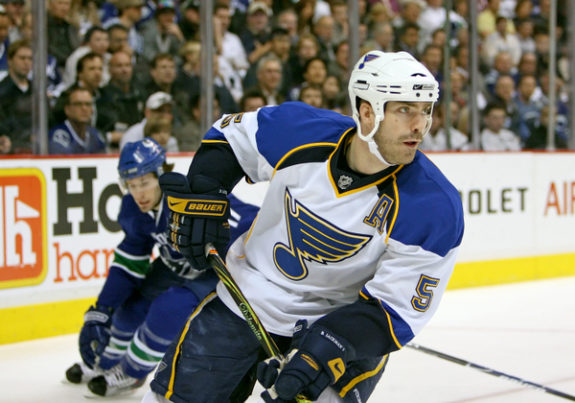 For Schmaltz, Walman and Vannelli, Jackman will educate this trio of offensively-minded d-men on the significance of making decisions in their own zone first, rather than joining the rush too quickly. Jackman understands this concept firsthand. He learned to responsibly defend and keep his opponents to the outside/away from scoring areas during his NHL tenure. Many forget Jackman won the Calder Memorial Trophy as the league's top rookie during the 2002-03 season.
A Blues Fan Favorite
Many, many hockey fans in St. Louis remember Jackman's time as a Blue an enjoyable one. He developed his own cult following among Blues faithful with the nickname "Jax." To go along with the name, fans would cross their arms in the shape of an x. It became a familiar gesture on the Blues bench and in the locker room whenever Jackman made a big play. He himself broke it out after scoring an improbable goal from center ice with just over a minute to play in a tied game in 2015:
In July of 2015, Jackman was not re-signed by the Blues. Fans knew he was at the tail-end of his career and that it was the right decision, but were still devastated by the move. He struck a deal with the Nashville Predators for one final year before retiring last October, as previously mentioned. Jackman's relationship with the Blues and their fanbase remained as strong as ever, especially after he signed his one-day contract with St. Louis.
When he appeared at several Blues home games this season, he was met with a raucous ovation from the Scottrade Center crowd when he was shown on the jumbotron each and every time. It will be no different after he is introduced next season as the team's development coach.
Having him back in the fold does wonders for morale among fans, but Jackman hopes to find success in his new role and mold young defensemen into future superstars that can one day hoist the Stanley Cup wearing the blue note.
But for now, all that can be said is Jax is back and Blues fans are excited about his return.
Cristiano Simonetta is in his third year studying broadcast journalism at the University in Illinois at Urbana-Champaign. He is also the executive producer and lead play-by-play broadcaster for Illini Hockey's ACHA DI club. Follow him on Twitter at @CMS_74_.