From May 1-31, NWHL teams can re-sign players from their 2016-17 roster and their draft picks during the restricted free agency period, and beginning on June 1 any unsigned players left will be free to sign with any team. The third season of the NWHL will begin in October as the Buffalo Beauts begin defense of their Isobel Cup championship, and with up to 12 players unable to participate in the league this season due to their selection for Team USA's 2018 Olympic team, this will be the most competitive season yet.
My colleague Dan Rice will keep THW readers up-to-date on New York and Connecticut's signings throughout the summer, while I post updates on Buffalo and Boston. 
Whale Ink a Trio, Russo a Riv Again
Whale and Rivs Kick Off NWHL Signings
Pride Ink Their First Three RFAs
Riveters Re-Sign Captain, Complete Goalie Puzzle
Pride's Emily Field Back For Third Season
---
Both the Buffalo Beauts and the Boston Pride made significant signings this week—signings that may be indicative of an arms race to see which team beats the other one out for the 2017-18 Isobel Cup.
Boston Pride: Jordan Smelker
The Pride went first, re-signing one of their steadiest performers the past two seasons in Jordan Smelker. The Alaskan native who will turn 25 in a couple of weeks has been with the Pride since day one. But it is Smelker's penchant for winning championships that is arguably her most regal of all her intangibles.
Smelker is one of only a handful of female hockey players who have captured both the NWHL's Isobel Cup and the CWHL's Clarkson Cup. In fact, she did so in back-to-back seasons, winning the Clarkson during her rookie season with the Boston Blades and then following it up with Isobel the following year as a member of the Pride in the NWHL's first season.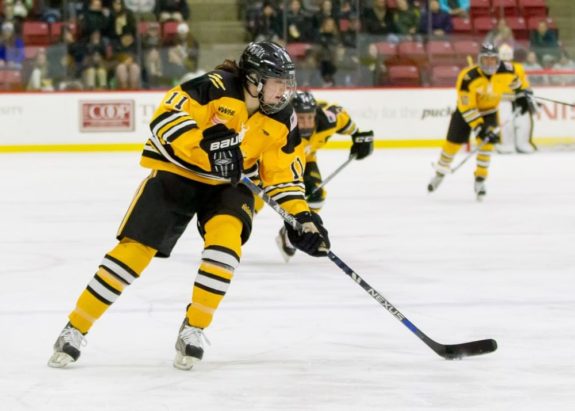 Across her two seasons with the Pride, Smelker has tallied 12 goals and 15 assists for 27 points in 32 career regular-season games; in the postseason she has picked up a pair of assists in five games. On top of that, Smelker was named an NWHL All-Star during the 2015-16 season.
For the upcoming 2017-18 season, look to see Smelker take a large chunk of the scoring responsibility for the Pride in addition to playing her normal aggressive, tenacious style of play.
Buffalo Beauts: Corinne Buie
As if to place themselves neck-and-neck with the Pride (if not one-upping them), the Buffalo Beauts re-signed another highly decorated hockey player in Corinne Buie. If there is anything to be said for experience, then one would think that the Beauts will uphold their Isobel Cup title for a second straight season.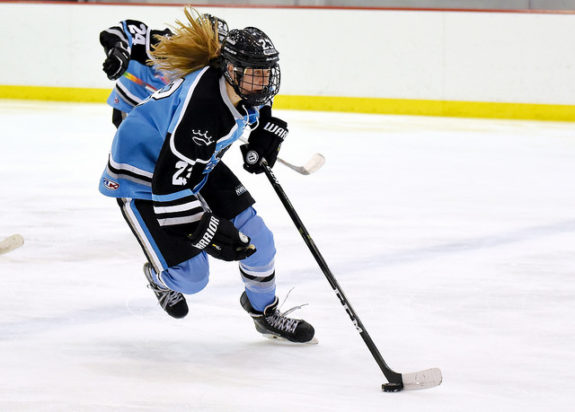 This is namely due to the fact that Buie, a former teammate of Smelker's in both the NWHL and CWHL, is the only player in the NWHL to have won the Isobel Cup in each of the league's first two seasons. If that were not enough, Buie has won a major championship three years in a row; the Clarkson Cup with the Blades and Smelker in 2014-15, followed by the two consecutive Isobel Cups with the Pride and Beauts respectively.
In her two NWHL seasons, Buie has scored 12 goals and seven assists in 35 regular season games. However, her biggest tally was undoubtedly the Isobel Cup-winning she scored in this past season's Final for the Beauts against the Pride.