The San Jose Sharks are up next on our list of players that fans of the Vegas Golden Knights should know. Arguably there is no team with a more complicated expansion draft landscape to navigate than the Sharks.
Blame it all on Joe Thornton and Patrick Marleau. Both entered the NHL in 1997, both will be free agents, and both may or may not be exposed in next month's expansion draft.
Both Sharks officially become free agents on July 1. They're unlikely to sign deals before then, meaning they will not be protected and technically will be up for relocation to Nevada.
That said, I'm of the opinion that Vegas fans needn't worry about whether or not one of these guys will become a Golden Knight. Forget for a second whether or not that's an addition you'd like to see Vegas make. Can it happen? Sure. Will it happen? I really doubt it. Smart money says they stay in San Jose. Even if it's not that, I'm skeptical that guys who have been to the playoffs in all but two of their NHL seasons will want to start over with an expansion franchise.
So we're not going to talk about them. Focus on the other possibilities, Golden Knights faithful. Here are four Sharks Vegas fans should know.
David Schlemko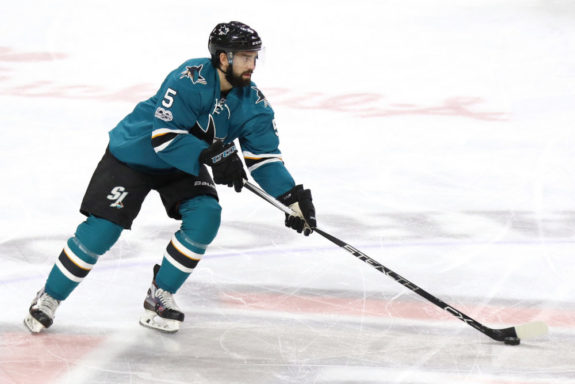 David Schlemko has bounced around quite a bit in his nine-year NHL career, so a relocation to Vegas may suit him more than others.
He's seen the ice in Arizona, Dallas, Calgary, New Jersey, and San Jose. This season, the 30-year-old blueliner found the back of the net just twice. He then matched that production in San Jose's first-round series against Edmonton.
He's a depth pick and not a particularly exciting one. I suspect a more-than-$6-million cap hit total across the next three seasons for a player like Schlemko may be a little more than Vegas general manager George McPhee wants to spend. If he ends up being the Vegas pick it's because the Golden Knights were impressed with the improvement he showed this season, and they're looking for him to eat up the minutes.
Justin Braun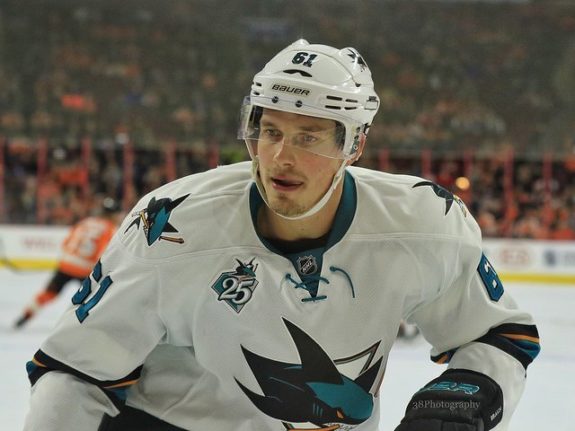 Justin Braun moves the needle a little bit more than Schlemko, if only slightly.
He's big. Big is good on the blue line. He could stand to be more physical, though. Braun took a minor step backward offensively this season, logging four goals and nine assists versus four and 19 a year before. He's reliable. In three of the last four seasons, he's appeared in at least 80 games.
And he may not even be available. Whether the expansion draft strategy includes three or four defensemen, the only sure bets to avoid exposure are Brent Burns and Marc-Edouard Vlasic. Convincing arguments can be made for everyone else. Braun is owed over $4 million per season through 2020. I actually don't think that's too bad, but the third season may be enough to turn off McPhee.
Brenden Dillon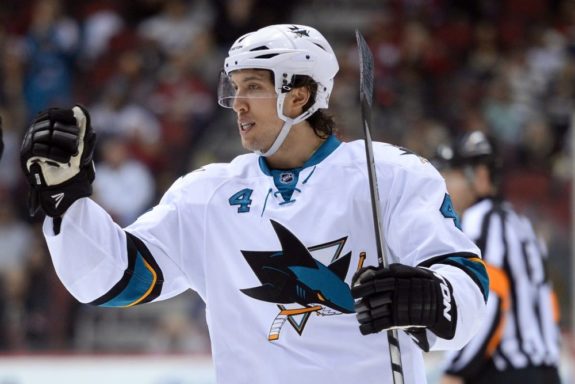 Another defenseman. Spoiler alert, the last name is going to be a defenseman as well.
At 26 years old, Brenden Dillon is the youngest Shark we're advising you to educate yourself on. Like Schlemko and Braun, there's a good chunk of his contract remaining. Dillon still has three years and $10 million left on his deal.
He's a big dude. 6-foot-4 and 230 pounds can help you forget that Dillon doesn't fill up the stat sheet. He improved considerably this season, and his increased ice time is an indicator that San Jose sees him as an important part of their future. I wouldn't be surprised if he's protected by the Sharks. I also would be pleased if he ends up being the Vegas pick.
Paul Martin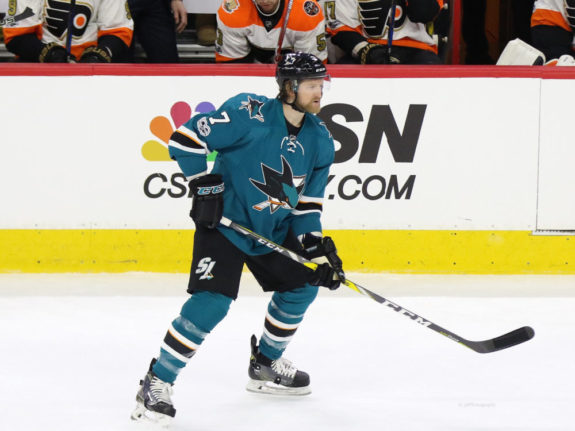 This probably isn't going to happen.
But we're going to get plenty of surprises in June. Maybe this is one of them. Now on the back nine of his 30s, Martin put together his best offensive performance in five seasons with four goals and 22 assists in 81 games. Defensively, he's prone to getting outmuscled. His best attribute is probably his locker-room presence. Martin is known for being a great teammate, a quality that the Golden Knights are going to need to get somewhere.
For about $10 million Vegas can get that quality for two seasons. I really doubt Martin ends up being the pick, but he is the sort of player the Golden Knights need to get somewhere. Vegas needs a lot. Good contracts, of course. Talent, obviously. But there also needs to be a grownup in the room. Maybe it's Martin.