On May 20 in New York City four of the New York Riveters were back on the ice, playing in a charity game organized by Hockey Fights Hate. Michelle Picard, Miye D'Oench, Sarah Bryant and Lauren Wash joined 28 other women on the ice (even one that flew in from New Mexico for the game) for HFH which raised over $3,000 that went directly to Planned Parenthood, an organization that provides crucial access to affordable health care to low-income women, men and families. With players of all levels and ages playing in the scrimmage, the quartet of Riveters were split into duos and smiled all throughout the game (a thriller that ended in overtime) as they battled against their friends and gave others the opportunity to skate on the ice with professional women's players.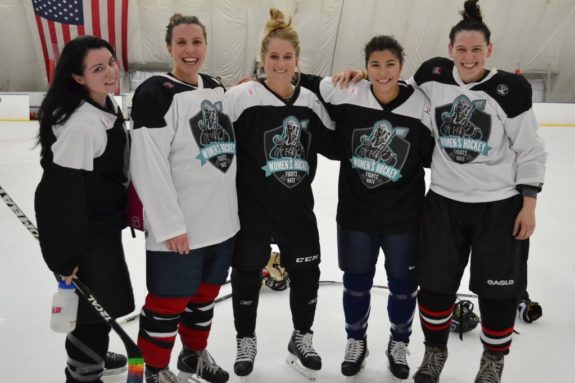 Sandra Velasquez created Hockey Fights Hate on a whim in late November last year and the fundraising hockey games have now evolved into something more than she could have expected. "The current political and social climate in the US has motivated many of us to act, myself included," said Velasquez. "What started out as (what I thought at the time would be) a one-time scrimmage fundraiser for the ACLU in January has blossomed into a bit of a movement which so far has successfully combined the good of sport and fundraising for social good, for a great cause. HFH's momentum has happily surprised me as much as everyone else involved, we've been able to channel $11,340 of direct donations to three separate organizations so far, and hope to keep going in the future!"
Ahhhhh Ali Cat (@OvyBackyHoltby) came all the way from New Mexico to play at @HockeyFightsH8 charity game !!! pic.twitter.com/LhWK3ZZcfE

— Dan Rice (@DRdiabloTHW) May 20, 2017
Bryant, who tends goal for the Riveters, played defense in the scrimmage and like a true netminder she often used a poke check to thwart incoming scoring chances. "It was a blast for me. All the ladies were so nice and it was a good chance to catch up with my teammates and support a great cause!" she said. "It's the least I could do."
HFH raised over $3,000 before any of the skaters even touched the ice on Saturday at the City Ice Pavillion in Long Island City. "I wanted to use the HFH platform as a way to showcase women's rec hockey in New York City," Velasquez said. We were able to send $3,640 of total donations directly to Planned Parenthood, and we were able to show that women rec hockey players can come out in full-force in our area for a good cause."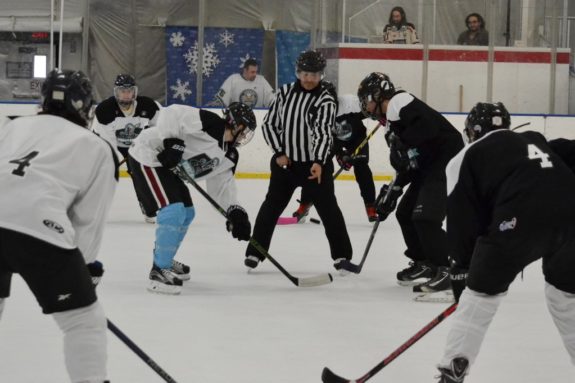 "These charity games are always a blast, but this one was for such a unique cause that I've never played for before," said Wash, who also added that she'd be open to playing in more scrimmages like this in the future. "Playing for Planned Parenthood was something right up my alley; the vibe and energy among all of us who played was so fun, and it was cool how it was all women."
Not only was there a great game on the ice, but the stands also filled up nicely from local and non-local supporters and donators, cheering all of the players on. The organizer said she'd love to set up another game, but that likely won't happen until after the summer (and after some much needed mental rest) when hockey seasons are getting ready to launch again.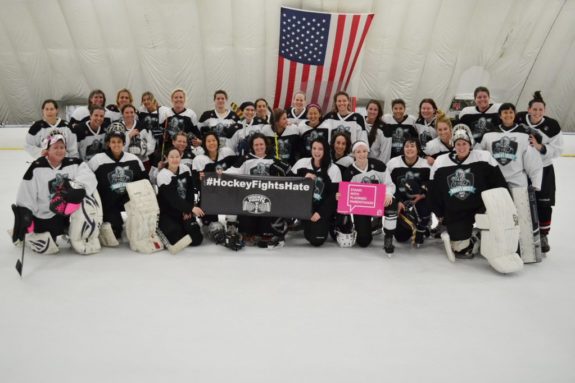 In total, they received 66 total individual donation receipts (including the on-ice participants) totaling the aforementioned $3,640; not too shabby for something that was supposed to be a one-time thing a few months ago.
You can watch the entire game here
"I personally had a wonderful time on Saturday," said an emotional Velasquez, "and was so happy to see so many women of different skating experience levels on the ice. I'm grateful for the participation, and I also want to extend a special thank you to the players from the New York Riveters who participated as well."