Even though she'll tell you that she had no chance, just the fact that Sandra Velasquez was even invited to an NWHL Free Agent Camp – she was already a success story. Not only were the 70-80 women who played in the league's inaugural season last year pioneers and trailblazers, but now Velasquez can include herself in that class too. Like Gabie Figueroa (who played for the New York Riveters) last season, Velasquez just kicked down the door that will give up and coming Latina hockey players the belief that they too can strive to play professional hockey if they set their mind to it.
And now, that opportunity is also there because of what the NWHL has started. "I actually applied last year, and I didn't get the response I wanted," Velasquez told The Hockey Writers with a laugh. "This year I applied again honestly, not expecting them to pick me. I think the fact that I played in the PanAm Games probably helped, but regardless of why they picked me to come I'm very grateful. This has been a very exciting and awesome experience."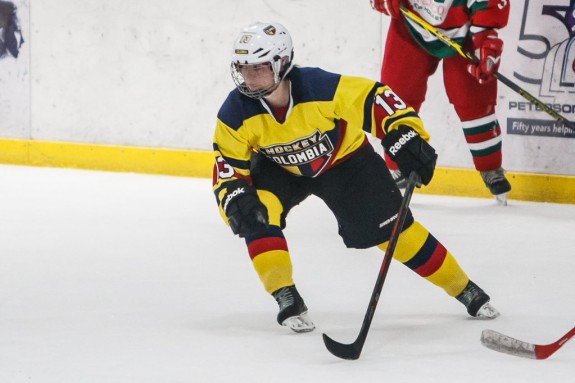 Honestly, we didn't know Colombia had a hockey team before Velasquez showed up on our radar, let alone one that was playing in a tournament. "I became involved with the PanAm games when I contacted the GM of the Colombian National Team, Carolina Fierrot, via email last February to see if they had room for one more player on the Women's Team," she said. "Sure enough they did and they invited me to come down and skate with them in Mexico City. The 3rd Annual PanAm Ice Hockey Games took place this past June 6-12, and four countries participated: Colombia, Brazil, Argentina, and Mexico."
"The Women's team made it to the Bronze medal game but we lost against the Mexican B team (the Mexican A team won the Gold). The Men's team won the Gold against the Mexican A team. Colombia was the only country that only brought one team per gender," she explained. "Mexico and Argentina each had two teams, and Brazil only brought one Men's team. The sport is still so young in South America that other countries that were invited (Venezuela, Panama, Jamaica, etc.) just don't have the resources to field enough skaters for their teams. The fact that Colombia made it that far is HUGE."
Christmas in Buffalo
https://twitter.com/hockey_wench/status/746474491371524096
Although she left Buffalo without a contract, that didn't dampen her spirits one bit. In fact the impact that it will have on her life is still to be determined going forward, if anything is sure, it is that her love of the game is even more enhanced. "I feel good. Surprisingly. I'm pushing 40, but I think I keep myself in good enough shape that I wasn't dying totally," the 38-year-old told THW with a smile following an early Saturday evening scrimmage at the camp. "I'm not going to lie, it definitely was a challenge – two, thirty minute periods, and a very, very short bench. It was tough, but I feel surprisingly pretty good."
Growing up in Queens, New York she became a fan of the sport at 14-years-old with roller hockey, switching to the ice at age 19 and never looking back; and that's where she generally can still be found on a rink more than half of the days during each week.
"I play for two (recreational league) teams, so I normally have two games per week, and I also throw in a clinic or a drop-in game mid-week to keep my legs fresh. So I'm on the ice average 3-4 times per week. Sometimes more. Right now though I'm taking a much-needed break though, I have been going non-stop since the Nashville Women's Tournament I skated in back in April (which my team won, BTW! Go Team: Just Add Ice!)"
She reiterated a few times that she didn't believe she had a chance for a contract with one of the four NWHL teams, but the idea of possibly going one of the practice squads is definitely one she is open to and intrigued by. "Well realistically I don't foresee that happening," Velasquez said of her chances. "Just because I'm up against an extremely high-level of skill. These girls have been doing this most of their whole lives. I'm not necessarily holding my breath for a contract, but if it does happen it would be amazing," she said as her face lit up like the sun on a clear day. "It would be a dream come true to be honest."
"Absolutely, I know that (practice squad) could be an option; if that was something that they are willing to make room for me to do – I'd be more than happy to be a part of that. Just coming here (to the free agent camp in Buffalo) in itself is a dream come true. This is a great experience for me."
Part of the Cool Kids Club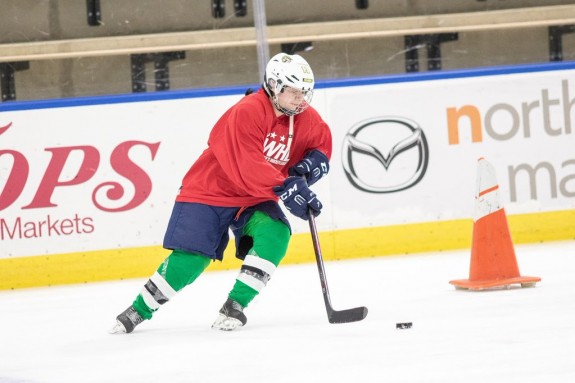 Over the weekend she did get to share the ice with four women who played in the league last season: Hayley Williams and Amanda Makela from the Buffalo Beauts and Sydney Kidd and Taylor Holze from the New York Riveters, and a host of amazing former collegiate players that were also hungry for a job. But their presence didn't dampen or sour her experience; it was the opposite, despite the fact that they were all there competing against one another for an exclusive and elusive roster spot.
"Once you're in the locker room, you just feel like you're all part of the same squad," Velasquez said of the other girls she was competing against and with for a possible contract in Buffalo. "I wouldn't say I was starstruck, but I was definitely in awe on the ice — once I'm out there and seeing what they do out there with the puck. It's ridiculous," she added with a grin. "It's pretty amazing just to be on the ice with them."
https://twitter.com/hockey_wench/status/747198622165569536
After some much-needed rest and relaxation Velasquez will be back on the ice again as she said, and who knows what the future holds. If she isn't offered a practice spot for a team, we'd be willing to bet that she would apply again next year for the same opportunity; a year wiser, more experienced, perhaps knowing better what to expect. Without question, she has achieved so much already and with her great attitude the sky is the limit as to how much impact she could have on a younger generation of female hockey players. She could find herself back at the PanAm Games again, an opportunity that she would jump all over, "If I'm invited to," she said, "absolutely!"