The Calgary Flames had a bounce-back season in 2016-17 in two big ways. First, they rebounded from a lackluster 2015-16 season that cost Bob Hartley his job. Then they managed to survive the steep learning curve of Glen Gulutzan's new system and a start that saw them dead-last in the National Hockey League standings by mid-November, eventually ending up in the playoffs for the second time in three seasons. But after a summer of big moves by general manager Brad Treliving, expectations are raised for the Flames for 2017-18.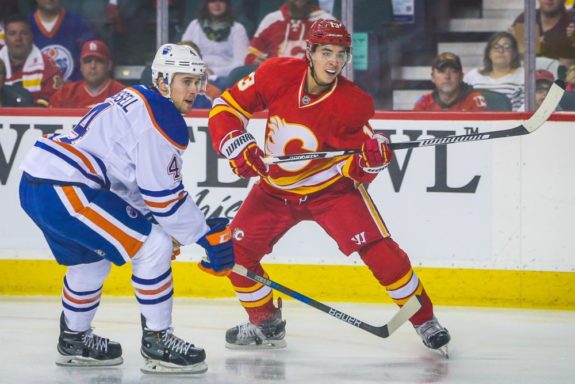 As the players prepare for training camp, here's an early projection on the 23 men that will open the regular season on the club's roster. The group features a handful of newcomers to the team, but only one rookie.
Goaltenders
Eddie Lack
Mike Smith
There are no decisions to be made in net. Smith is the undisputed starter and Lack is his backup.
Defensemen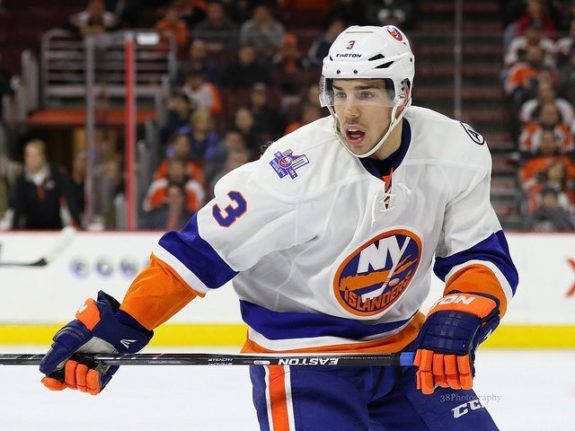 Matt Bartkowski
T.J. Brodie
Mark Giordano
Dougie Hamilton
Travis Hamonic
Brett Kulak
Michael Stone
Five names are absolute locks for the blueline group: Brodie, Giordano, Hamilton, Hamonic and Stone. Kulak has spent chunks of the past three seasons on the NHL roster, making the team in each of the past two falls out of camp. He's the best stylistic match to Gulutzan's system and so he'll have to play his way out of a spot. Bartkowski is a solid veteran presence who can step in if needed, but won't be hurt by sitting in the press box if it comes to that.
Forwards
Mikael Backlund
Sam Bennett
Troy Brouwer
Micheal Ferland
Michael Frolik
Johnny Gaudreau
Freddie Hamilton
Garnet Hathaway
Mark Jankowski
Curtis Lazar
Sean Monahan
Matt Stajan
Matthew Tkachuk
Kris Versteeg
As with the defensive group, there are a lot of forwards that are locks: Backlund, Bennett, Brouwer, Ferland, Frolik, Gaudreau, Monahan, Stajan, Tkachuk and Versteeg. Lazar is on a one-way contract and is seen as a project, but he's basically a lock as well due to his waiver status. Hamilton and Hathaway are veteran enough that their development probably won't be stunted if they sit for a few games here and there (and they give the Flames a couple right shot players they can rotate in). And Jankowski becomes the fifth Flames first rounder to land on the NHL roster after a really strong AHL season in 2016-17.
The Projected Lineup
Gaudreau – Monahan – Ferland
Tkachuk – Backlund – Frolik
Bennett – Jankowski – Lazar
Versteeg – Stajan – Brouwer
Giordano – Hamilton (D)
Brodie – Hamonic
Kulak – Stone

Smith
(Lack)
Extras: Hamilton (F), Hathaway, Bartkowski
The top two lines and three defensive pairings are pretty close to being locked down, particularly if Kulak cements himself as the sixth blueliner in the rotation. From there, the Flames have some decisions to make. Jankowski had a strong year playing exclusively up the middle in Stockton, so he gets the edge over Bennett and Lazar on the third line (but the benefit of that trio is any of them can play center). The fourth line is arguably a bit long in the tooth, but Versteeg showed enough energy in the playoffs that he should be able to provide a spark in that role.
Presuming Bennett's contract comes within the vicinity of $2.25 million, the Flames would have $2.69 million in cap space to deal with mid-season injuries or to add a body at the trade deadline. This space comes as a function of the bottom parts of the lineup being filled by players on league-minimum deals (or close to that) in Kulak, Bartkowski, Hathaway and Freddie Hamilton.
Ryan Pike has covered the Calgary Flames and the NHL Draft extensively since 2010 as a Senior Writer for The Hockey Writers and Senior Contributing Editor of FlamesNation.ca. A member of the Professional Hockey Writers Association, he lives in Calgary.