The Los Angeles Kings are going to be one of the most interesting teams in the league this upcoming season. Playing with a new style under a new coach, they expect to be a better offensive club.
The team is caught in the middle, so to speak. They look like a bubble team in a tough Pacific division. Even if more things go their way this season, it'll be a very tough road to get back to where they want to be.
Carter Will Lead the Team in Scoring
Jeff Carter carried the Kings offensively last season with 32 goals and 66 points overall. He unseated Anze Kopitar as the team leader in points for the first time since the 2006-07 season. And I think he'll do it again.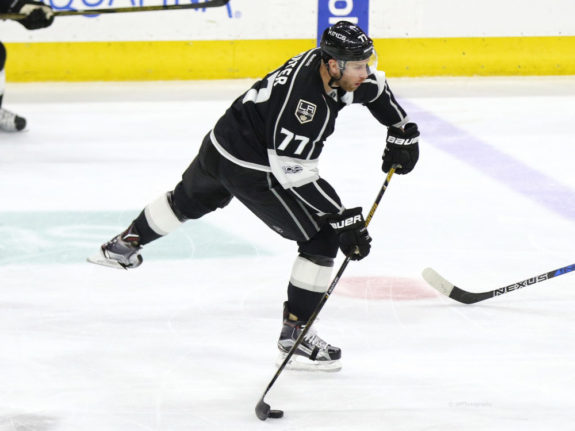 I wrote previously about Kopitar returning to form this season, but I think Carter still outpaces him. Carter's skill set matches the new system perfectly. He's still got one of the most dangerous wrist shots on the team, but not all of his goals were pretty. Last year he seemed to be more comfortable in the dirty areas on the ice. Combining that with his skating where his long, deceptive strides make up for some of the speed he may have lost from his younger days.
This year he looks set to reunite "That 70's Line" with wingers Tanner Pearson and Tyler Toffoli. Watching them play together the past few seasons it's clear they have great chemistry. The advantage Carter has to keep his top point pace is it seems his offensive production stays consistent no matter who plays with him. He drives the team to chances when he's on the ice. His linemates were shuffled a lot last season in an effort to get struggling players going, and he still produced. I see that happening again.
Doughty Gets All the Attention
Drew Doughty is the best player on the team and one of the top defensemen in the NHL. Here at THW, my colleague Gavin Corcelli wrote a terrific, informative piece about what makes him so great.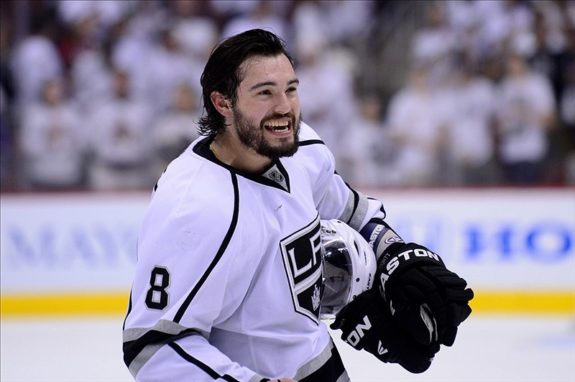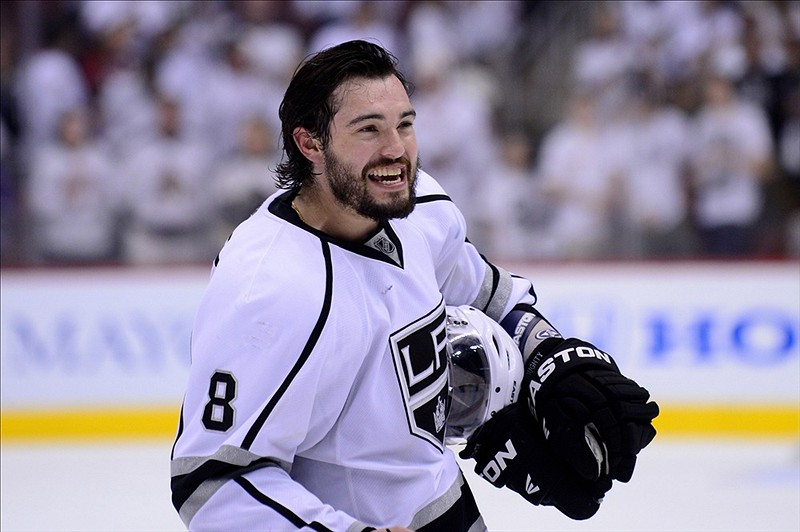 Outside of the numbers though, Doughty is just as valuable. He's a skilled on-ice communicator. And I'm not just talking about trash talk. (Though he certainly enjoys that as well.) If you get a chance to see the Kings play live and happen to sit in the lower bowl, you'll probably hear Doughty from the ice. He communicates through entire shifts, talking constantly. Whether it be telling his defensive partner how much time he has or his center when he joins the rush, it's easy to see why he plays so many minutes. He makes the game easier when he's out there.
He also makes up for a lot of mistakes and gives the team flexibility. Aside from being the best odd man rush defender on the team (he always seems to get his stick on the puck), he has spent most of the past two seasons carrying young defensemen on his pair. He doesn't get to normally play 5-on-5 with either of the Kings' number two defensemen, Jake Muzzin or Alex Martinez.
Within the new system, he's gonna get more offensive opportunities. An unleashed Doughty joining the attack more is going to lead to more points–and undoubtedly, more attention.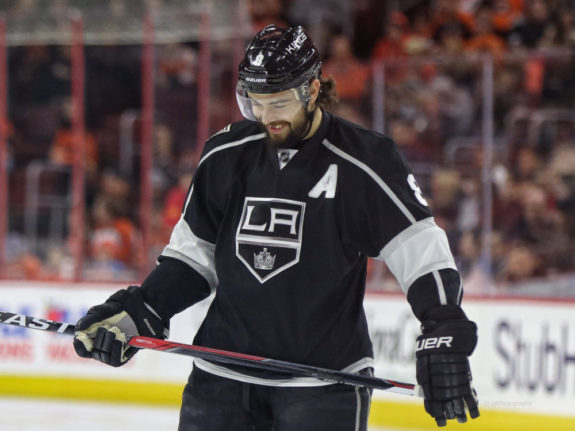 Any time the Kings struggle during the season, there's going to be rumblings. The Kings only have two more seasons with him under contract, and there is the potential (albeit unlikely) chance that the best way to reboot the team would be to move him. Not only would the Kings get a great return, they could try and get a team to take a bad contract along with him like Dustin Brown or Marion Gaborik.
Kempe Will Impress
Adrian Kempe may not have put up gaudy numbers in his Kings debut last season, but he looked the part. He brought some much-needed skill and speed to the team. That allowed him to stand out. He can be a spark for the team in a full-time role this year.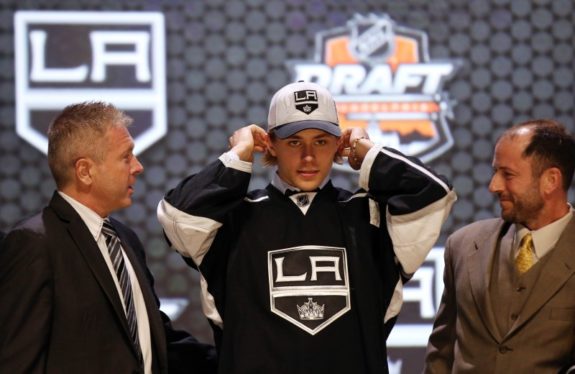 Former coach Darryl Sutter preferred veterans, but under John Stevens, it seems the kids are going to get more chances to prove themselves. Kempe, in my opinion, is going to be the top 'kid' involved. He's poised to have a coming out party this season, following a few seasons as the team's top prospect.
Again, it's all about playing in the context of a more offensive system. This makes Kempe with his speed, the best bet of the young guys to break out. In fact, I think he'll play his way into a top six role with the team. The team allowed Nic Dowd to settle in as the third line center last season, which gives Kempe a path to produce as a winger. And if he plays to potential, he'll find his way to Kopitar or Carter's wing by the end of the season.
It Still Ends in Disappointment
This is the part where Kings fans might get a little angry…
Despite seeing good seasons for guys like Kopitar, Carter, Doughty, and Kempe — the Kings just don't have the depth of their championship runs of the past. Unfortunately for Kings fans, this isn't their year.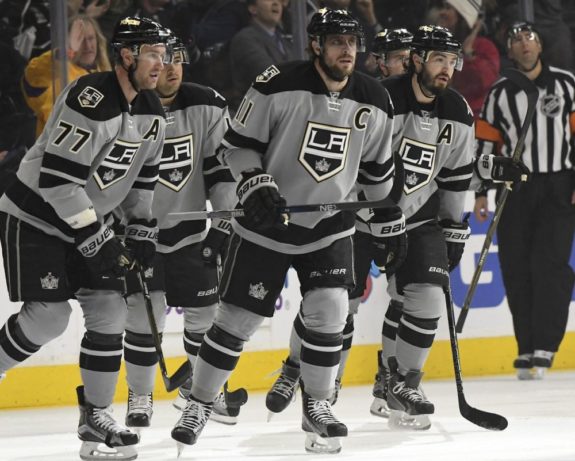 It's going to be extremely difficult to break into the playoffs, and even if they do they don't have the depth for a deep run. The division is too good around them and is getting stronger. Edmonton, San Jose, and Anaheim all got better in the offseason. Putting more emphasis on offense probably means taking more chances, and allowing more goals. They'll need to find themselves within the new style, and forge their new identity on the fly, without the guiding hand of Sutter. Changes take time to figure out. Time that they don't have.
This is going to be an incredibly interesting year, but it doesn't look like a fairytale waiting to happen. Even if the Staples Center faithful see it that way.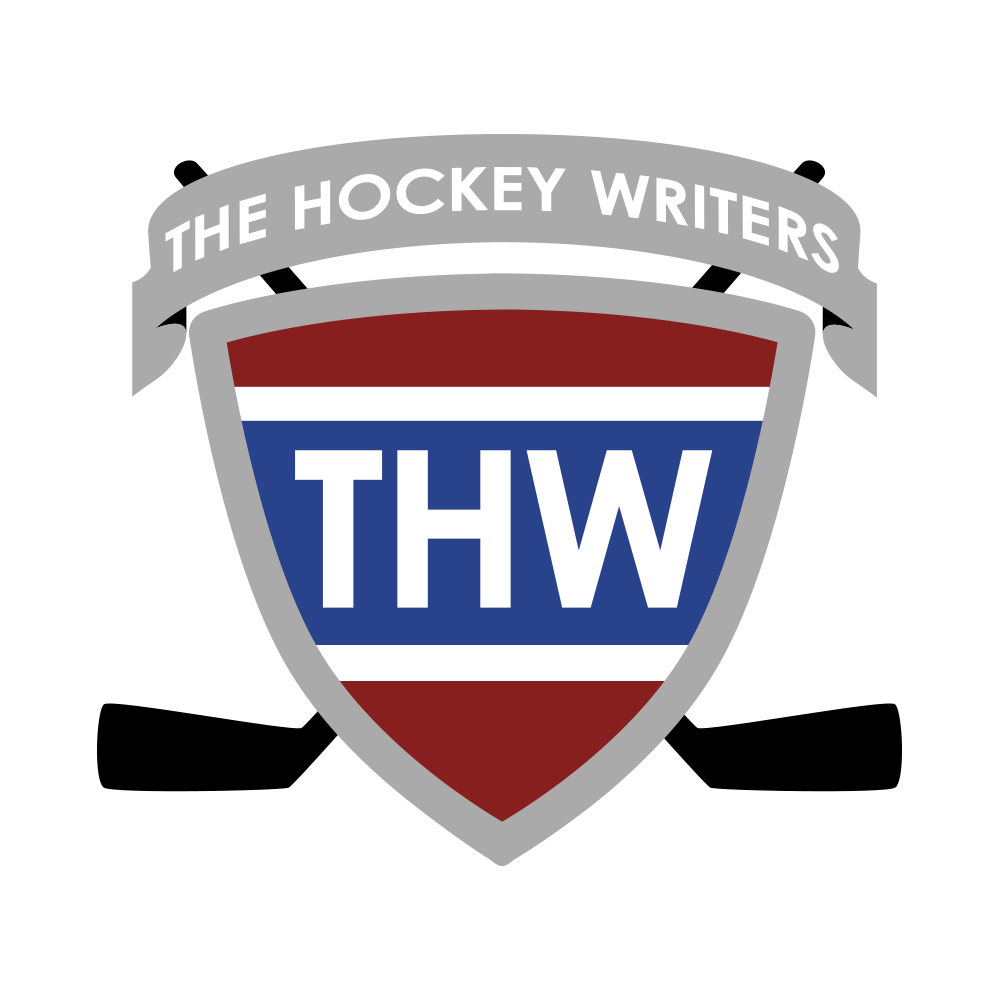 The Hockey Writers is:
1) A top-tier hockey media company delivering a top-notch, in-depth look at the NHL
2) A collective of some of the best hockey writers anywhere
3) A multimedia provider with daily podcasts and YouTube shows
4) Well-respected and widely-cited NHL prospect and draft resource