For the Los Angeles Kings and their fans, the past few seasons have been disappointments, to say the least. For Anze Kopitar, in particular, last season was a nightmare. He finished with 52 points — only 12 of which were goals — his lowest point total outside of the lockout shortened season in 2012-13 where he finished with 42.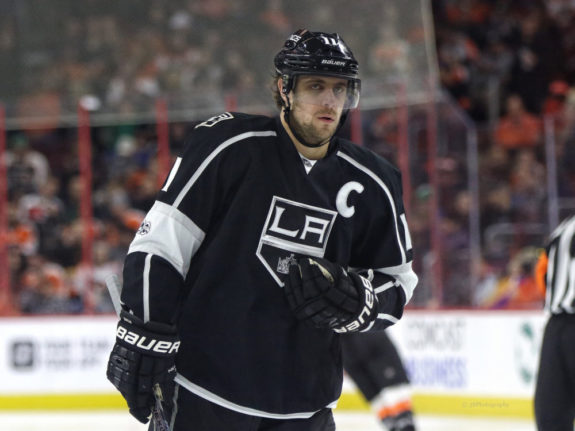 The Kings themselves have troubles. They've fired their head coach and general manager, and are looking to play with a new system. Their cap restrictions have held them back from adding significant pieces to help compete against a Pacific Division that's getting younger, faster and all around better.
Forget about all that for a second, though. Let's look at this from a less complicated perspective.
Despite a clearly down year last season, the Kings still finished at 39-35-8, which resulted in them missing the playoffs. Their leader and best player had his worst year.
Perhaps the difference really is that simple…so goes Anze Kopitar, so go the Los Angeles Kings.
If they want to compete, then they're going to need their number one center to get back on track. Many believe he can't, or that his recent decline is simply an indication of the player he really is.
I don't. This year, Kopitar bounces back.
It's On Kopitar's Shoulders
Perhaps the biggest reason I believe he'll get back on track, is that he'll have to. New GM Rob Blake has branded the offseason as a shift in philosophy toward scoring more goals. However, outside of free agent Michael Cammalleri, they didn't add any significant pieces. So, the offense is going to have to improve, largely, from within.
And that starts with Kopitar. He's the best player on the team, and when he's right, one of the best players in the NHL. He'll be in a 'prime-age' season with his trademark power game and high-quality ice vision. He's a smart passer who likes to use his reach and big frame to possess the puck, often drifting behind the net while looking for options. If you take away last season as an outlier, and the lockout shortened season, Kopitar has averaged 71 points a year. A return to form, or at least back to the mean, is warranted.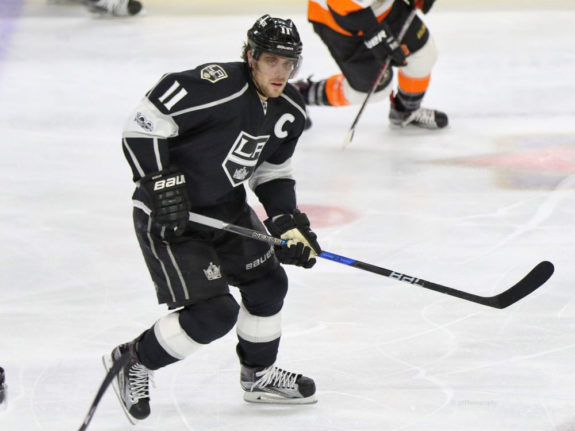 For the past few seasons, the Kings' game has been structured — yep, pun intended — around keeping the puck out of their own net. Kopitar has excelled at that, but it's been to the detriment of his offense. This year, new head coach, John Stevens, and newly appointed offensive coordinator, Pierre Turgeon, want to flip the script. Within their new system, Kopitar is going to have the potential to thrive. Looking for more offense, his versatile game could flourish in a new attacking style system.
You Have to Shoot to Score
Besides that, the new system might offer up a way for Kopitar to improve his goal scoring in the simplest way — he needs to take more shots. Over the past few years, it's apparent that Kopitar's become a pass-first player.
In the past three seasons, he's taken 134, 177 and 150 shots. In the five previous full seasons (not counting the lockout year) he took 234, 259, 233, 230 and 200 shots. Part of this has been settling into a balanced, 200-foot game where he has put more energy into the defensive side, but it's also been Kopitar becoming pass happy. That unselfishness is something you traditionally want and need from your best player.
However, that unselfishness has opened up some holes in the Kings' game. The wings that have played with Kopitar, for whatever reason, haven't had the shooting touch the Kings need. More so, they need to find a way to get better shots.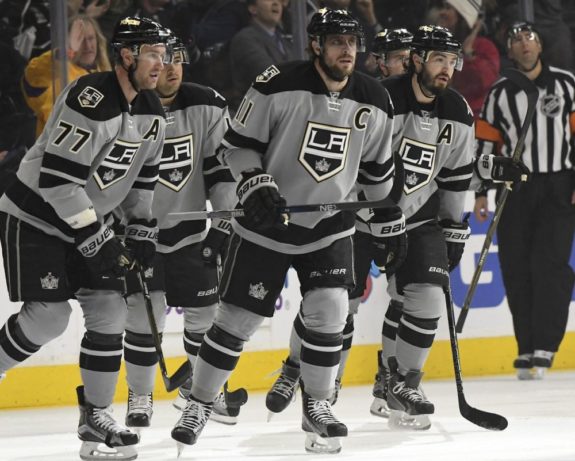 Kopitar shooting more could be the catalyst for this and set off an improved offense. The Kings' attack over the past few seasons has been from the outside. Opposing teams haven't had to worry about the middle of the ice as much. By getting defenses to respect Kopitar's shot, it'll open up other areas of the ice. His linemates will be able to get into the slot and other dangerous areas on the ice with the focus on Kopitar.
The Kings seem to dominate the shot game on a nightly basis so it's easy to not think of this as a problem, but that's not as important as it once was. It's all about the quality of the shots now, and giving Kopitar a more balanced shot/pass approach is only going to lead to higher quality chances.
New Faces on the Wings
This season could see the inclusion of some new linemates for Kopitar as well. Mike Cammalleri is most likely going to pair with him up top. Though getting older and coming off injuries, he's got a nose for the puck and some finishing skill. Something the Kings have excessively lacked.  If he stays healthy they'll make a nice pair.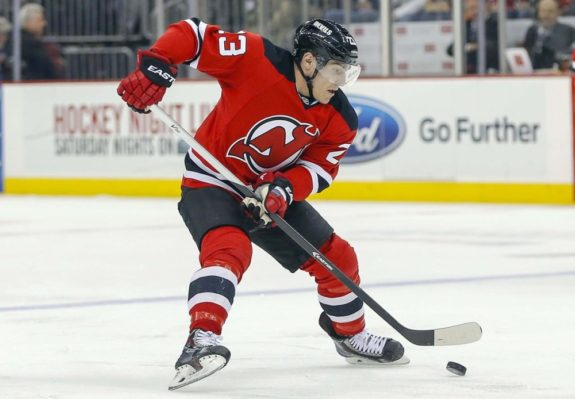 Alongside them, there's an opportunity for one of the young players to grab a top line combination spot. Guys like Jonny Brodzinski and, in particular, Adrian Kempe impressed in their time last season.  More importantly. they both flashed something the Kings desperately need: speed. Pair one of them with Kopitar's skill for a full season and the Kings could find more scoring. Kopitar's best offensive years were when he had a younger, faster Dustin Brown by his side — and they now have some in-house kids that fit the mold.
Increased Energy
Health and rest will also be key factors, as he comes into this season fully rested. Last year he played in the World Cup, captaining Team Europe to the finals. In the previous years, he's lead Slovenia in various International Hockey tournaments and Olympic Qualifiers. Beyond that, the Kings haven't played deep into the playoffs in three seasons.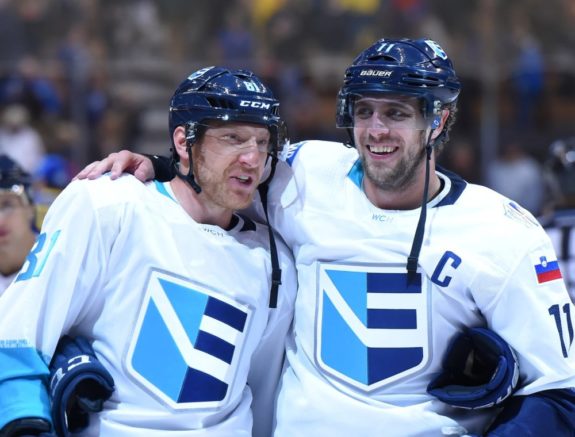 All of these factors lead to perhaps Kopitar's biggest under-the-radar advantage coming into the new year: fresh legs. If there's been one flaw in his game, it's skating. Combine fresh legs with Jeff Carter shaving off some of Kopitar's time on ice, and he'll sustain the advantage deeper into the year.
The Mental Aspect
When it comes down to it, everyone from within the organization to the fans, want their Captain to have a big year. He's a high character guy who might have been pressing and reaching to live up to his contract and his newfound Captaincy. A year removed from it, after learning how to deal with those things, he'll put that behind him and focus on his game.
At the end of the day, there is no way to know whether Kopitar really rebounds this year until he hits the ice, but my money's on him.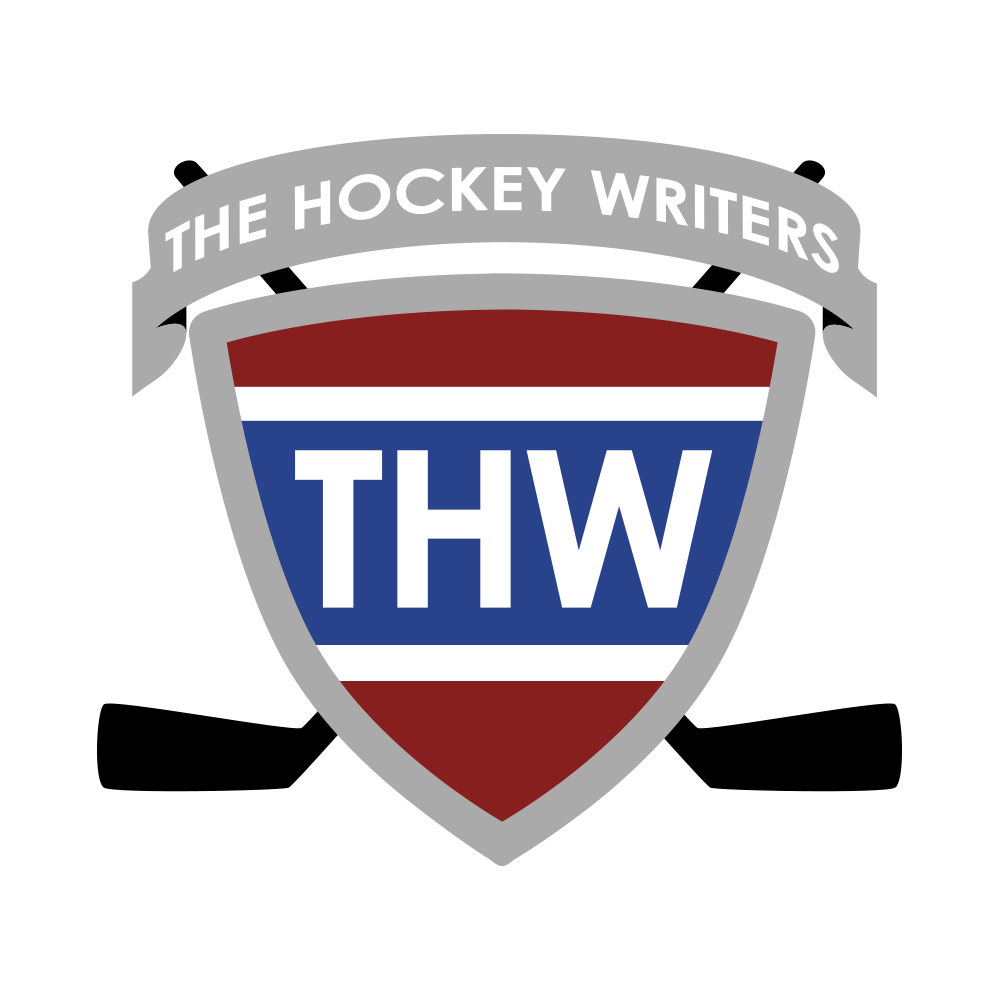 The Hockey Writers is:
1) A top-tier hockey media company delivering a top-notch, in-depth look at the NHL
2) A collective of some of the best hockey writers anywhere
3) A multimedia provider with daily podcasts and YouTube shows
4) Well-respected and widely-cited NHL prospect and draft resource