It was a chance to make a good impression and that's exactly what Bobo Carpenter did in attending the New Jersey Devils Development Camp as an invitee. Carpenter went undrafted, twice, but that hasn't deterred him from trying to force his way into an NHL franchise just yet.
"I got a call from Mr. Fitzgerald (Devils Assistant GM Tom Fitzgerald)," the 20-year-old recalling how this tryout came to be. "I play lacrosse with his son Casey, and he gave me a call one day, let me know that I was invited – so I was really excited then. This is where my dad had a lot of success, so it's pretty special to hear that."
Family Ties
His dad would be Bobby Carpenter, who won two Stanley Cups with the Devils: one as a player in 1995 and one as an assistant coach in 2003. The younger Carpenter smiled when The Hockey Writers asked how cool it was to be at a rink where Cup banners hang and a picture of his father hangs in the hallways.
"Yeah '03 seems like forever ago but it's pretty special being back here; seeing some familiar faces around the rinks. Being able to put on the same jersey that he had is pretty cool," he said. "I have his (Devils jersey) hanging up in my bedroom so it's cool for me to finally be able to put one of those on and knowing that I'm that much closer to reaching where he was."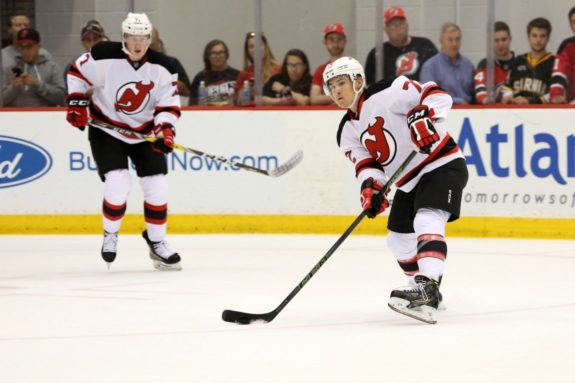 Carpenter just completed his sophomore season at Boston University and the Devils camp he attended was actually the second that he was a part of over the span of three weeks; he was also at the Pittsburgh Penguins Development Camp on a tryout. So did he have a slight edge in conditioning at all over the other participants in New Jersey?
"I'm feeling pretty good. I took a little time off (after BU's season ended), but we had a summer session (of training) so I was a little prepared for this," he explained. "They helped me out a lot at school. That was good for me to kind of just flow into the camps, so I kind of felt pretty good here the last few weeks."
Robert Carpenter is making the most out of his #NJDevCamp invite! pic.twitter.com/zOhzWjqJUw

— New Jersey Devils (@NJDevils) July 14, 2017
Once the camp was over Carpenter was heading back to the Boston area to continue his studies at BU. "I definitely want to get back to college. It's been a good fit for me and it's a great team atmosphere and it's really enjoyable there. I'm just going to take things slowly," he said.
"I'm not really sure yet," he replied when we asked if the Devils could be a possible destination once he decides to leave college. "It's been a great week for sure, but I don't want to say too much about that. I have some time to think about it, (and) hopefully I have a couple of options. It's been a good process so far."
Family of Champions
His father isn't his only famous family member either. You also may have heard of his sister Alex Carpenter who is an all-world talent. All she's done thus far in her hockey career is win a silver medal at the Winter Olympics, three World Championship gold medals and last season as a rookie in the NWHL she led the league in assists (20) and was second in points (29).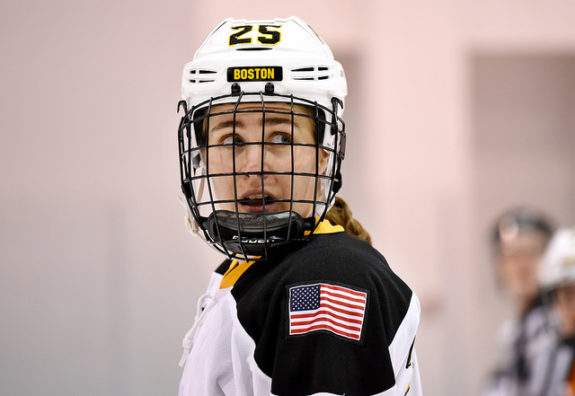 Oh, and Alex finished her career at Boston College as the school's career leader in points (278), goals (133), assists (145), power play goals (26), game-winning goals (27), and plus-minus (+180). So yeah, she's kind of a big deal too. With her attending BC and Bobo attending BU their sibling rivalry added some new material, but at the end of the day, the two players really push one another.
"Yeah for sure," he said with a grin, "there are some jokes here and there, but overall we definitely help each other out. We do have some good laughs over that though. When we can we try to get on the ice. We'll definitely give each other some tips here and there, when we can watch each other's games we'll help each other out – say like 'I think I notice this in your game' or something like that," he added. "I think we have a good relationship where we're definitely pushing each other to be the best we can be."
Taking the Next Step
Despite the trip down memory lane, there was a lot to be gained and learned from his week with the Devils and Carpenter admitted he was trying to be like a sponge and soaking it all in.
"Learning about the organization and definitely how many resources they give you. They're here to help you get to that next level, that's the reason they do these things so now I have a lot of different contacts to ask any questions and that will be a huge help," he said.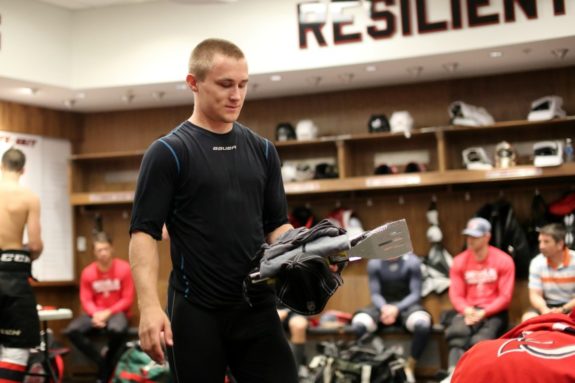 Carpenter definitely left a good impression on both of the sessions that were open to the public. He didn't try to overdo things and was able to just play his game, just do what he does best. Never give up.
"Definitely that I just like to work hard, I think that's what I can control and I wanted to prove that to them for sure," he replied when asked what he thinks he showed New Jersey's management and fans. "No matter what it is, on and off the ice, how I take care of myself or even if it's just a little stick-handling. Everything contributes to your overall game, so I just wanted to show them that everything matters (to me). Work hard. That's all you can control and have fun most of all."
So once he heads back to school in September what's on the agenda on and off the ice for Carpenter?
"You can always work on everything but I just definitely think my speed. Just moving and reacting off the puck, getting above the puck and making sure that my plays are a little bit faster above the other guys. I can make those adjustments," he stated of what he will work on with the Terriers this upcoming season.
And in the classroom?
"Communications. I've been told I'm pretty good with people and it's a good Plan B if something happens or playing hockey doesn't work out," he said while holding court with a plethora of reporters. "It's been a great fit for me at my school."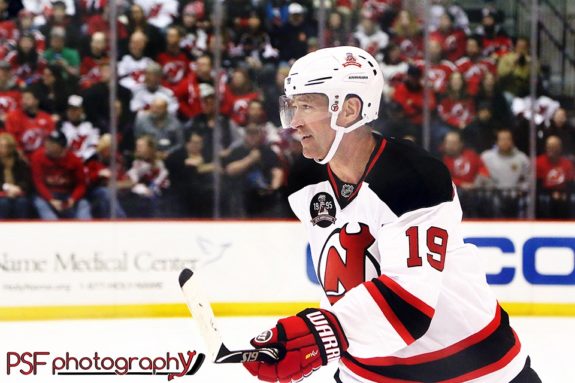 On a personal note, this was a really unique experience for me to meet and interview Bobo after doing the same with Alex this past season following an NWHL game and their father Bobby in 2015 following a Devils' alumni game.
Alex Carpenter: Not Your Average Rookie 
Bobby Carpenter at 1995 Stanley Cup champions reunion game
Talk about a trifecta.