When Sam Bennett was drafted fourth overall by the Calgary Flames in the 2014 NHL Entry Draft, it was initially met with great praise. At the time, he was rated as the top North American skater of the draft class and easily was projected to be at a minimum, a top-six centerman.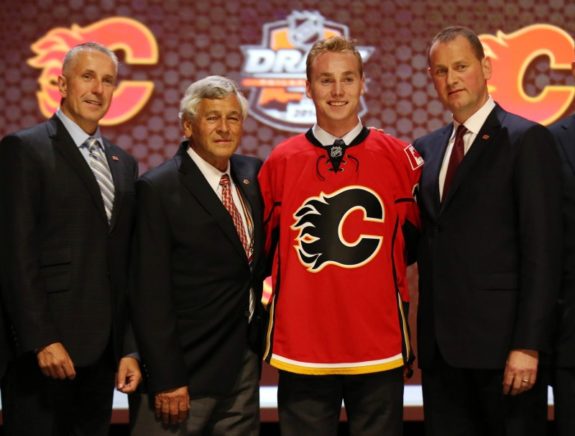 Yet, after two complete seasons with the club, Bennett has yet to reach the statistical output that many thought he would achieve by now. In fact, his overall production actually decreased his second season in the league, so it is easy to comprehend why the team is worried about his development.
A Tale of Two Bennetts
In Bennett's first complete season with the Flames in 2015-16 , he registered a respectable 36 points in 77 games. The playmaking center displayed that season that he does have the ability to put up decent numbers while managing to score 18 goals in the process. The main negative of his game that season was that he was a minus-11 on the year and was not very present in the physical side of the game. However, even with this, he showed signs that he would end up being a success because of his offensive abilities.
Yet, the 2016-17 season was a down year for Bennett in every area of the ice. He played in all but one game for the club but saw his goal total drop to 13 and his points go down to only 26. While struggling offensively, he also was very unreliable on the defensive side of the game. Bennett was tied with T.J. Brodie with a team low minus-16, which is something he needs to eliminate from his game next season. With all of this, Bennett also saw himself drop to the third line behind teammate Mikael Backlund.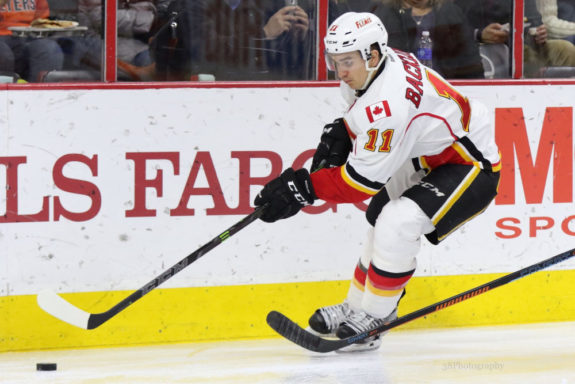 Needless to say, Bennett's 2017-18 could very well determine if he legitimately can become the elite forward he is expected to be.
Bennett Needs to Make Top Six
For Sam Bennett to thrive, he needs to find his way back on the second line. Playmakers primarily find success when they are given top-six minutes, so he either has to be given another chance by Flames coach Glen Gulutzan or he will need to win his spot back.
Putting all competition aside between these two centers, from a traditional hockey standpoint, switching their positions in the lineup would make perfect sense. As previously stated, Bennett is primarily a playmaker and would benefit immensely playing with natural scorers, such as Michael Frolik. Meanwhile, Backlund would better fit in a third-line role as he is a two-way forward who is far better defensively.
Bennett being on the third line very well could have been the main factor behind his struggles this past season. If he is to reach the potential management knows he has, he needs to be given better opportunities with the club. He is far too offensively driven to be playing on the checking line and will only continue to struggle in that position on the depth chart.
Will Bennett Succeed in 2017-18?
It is hard to believe that Bennett will not improve from his sophomore slump season in 2016-17. He is far too talented of a player to go through that sort of rough patch once again. If Bennett is playing on the second line, this could very well be a career year for the once highly-touted prospect.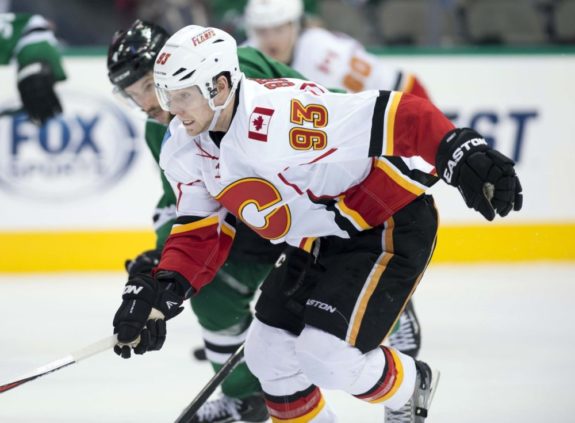 Yet, the main issue at hand is that if Bennett is given an incorrect role again this season, it could end up hindering his success and overall development. The Flames should strive to assist Bennett in becoming an elite talent in the league, and that cannot happen if he is playing in a defensive role.
At the end of the day, Bennett still has all the tools to grow into a legitimate star in the league. He is still young enough at 21 to become a far better player and if his 2017-18 gives him more to work with, then it seems all but likely that he will. However, if he has another down year, his value very well could drop dramatically. The process will begin once October comes around.