The Nashville Predators are well-known for their talented homegrown players. In particular, the Predators highly acclaimed defensive unit largely stems from the AHL-affiliate Milwaukee Admirals. But the path to greatness isn't always easy and can take time.
Several ways exist for a player can get noticed and get a shot at an NHL roster spot. One way is with pure high-level talent and a solid work ethic. This could lead to purely out-dueling other athletes for the position at hand or make them next in line in the face of an injury.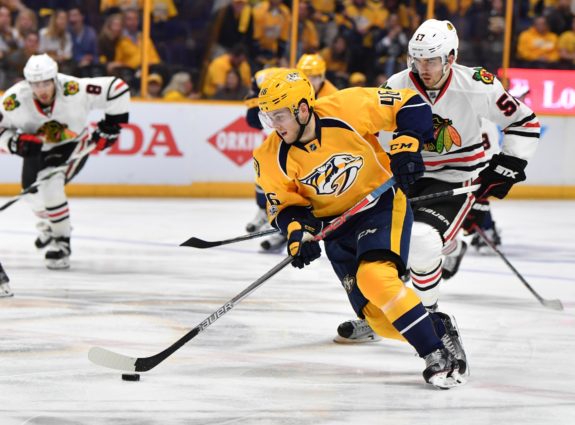 Another potential route of getting noticed is to do something special during the playoffs. Whether it be an overtime goal to seal a victory, a point-per-game pace, or effort that doesn't necessarily show up on the stat sheet. These instances will catch attention and carry over to the following season.
In the 2016-17 season, the Predators reeked of inconsistency making for a wild ride. In the end, however, they were able to secure a playoff spot and shock the world by making it to the Stanley Cup Final. Several players increased their stock and could make an impact in the upcoming season.
1. Colton Sissons
A shifty center from British Columbia, Colton Sissons saw great success in his time spent with the Admirals. Over the course of three seasons, Sissons amassed 105 total points (58 goals and 47 assists). Before splitting time with the Predators, Sissons had back-to-back 25 goal seasons.
In the 2016-17 regular season, Sissons saw increased playing time with the Predators — a reward for his success in Milwaukee, no doubt. While not posting outrageous numbers, Sisson was able to tally 10 points (eight goals and two assists) in 58 games. This was good enough to earn his keep for the playoffs.
https://youtu.be/_XpwKurfmC4
With just half the number of games, Sisson was able to top his regular season scoring notching six goals and six assists. Of his goals, two were game-winners and three of those six came from a hat-trick. These are certainly moments that will get people to call his number next season.
2. Austin Watson
The toothless grin of Austin Watson is hard to forget. Also hard to forget, Watson had 127 points (68 goals and 59 assists) during his time with the Admirals. What's more, his plus/minus was a plus-7 showing that his team was scoring, rather than getting scored on, while he was on the ice.
With his largest chunk of time with the Predators, Watson put together a solid season posting 17 points (five goals and 12 assists). In addition to his offensive contribution, Watson enjoyed delivering 143 bone-crushing hits putting fear in his opponents eyes.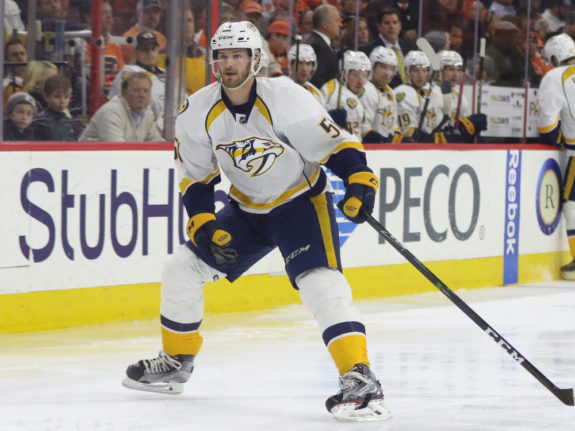 In his first trip to the playoffs, Watson scored his first playoff goal with a spicy one-timer (with a little help from an opponent's head). This would ignite Watson's offensive prowess and help him get three more goals in the Western Conference Final. Who's to say this won't carry over to next season?
3. Kevin Fiala
What can you say about Kevin Fiala? This kid just oozes with talent and potential. In his first season with Milwaukee, Fiala had a 20 point season (11 goals and nine assists). He then followed that performance up with an even better one tallying 50 points (18 goals and 32 assists) for the Admirals.
Fiala finally got his chance to log major minutes with the Nashville Predators in the 2016-17 season. He continued his trend and put up 16 points (11 goals and five assists) at the high-level of play in the NHL. Impressively, Fiala had as many shots as players who had played in considerably more games than him.
Kevin Fiala's overtime goal gives the @PredsNHL their first ever 3-0 #StanleyCup Playoffs series lead! @WestJet pic.twitter.com/DXpMEKR89x

— Sportsnet (@Sportsnet) April 18, 2017
Fiala's second playoff appearance with the Predators saw him score two goals, including a beauty of an overtime winner against the Chicago Blackhawks. Sadly, Fiala broke his femur in the following round and his playoffs were cut short. Regardless, Fiala is poised to explode and could do so next season.
4. Pontus Aberg
One of the many Swedes in the Predators' pocket, Pontus Aberg has had large success with the Admirals thus far with 126 points (72 goals and 54 assists) over three seasons. Worth noting, each year his goal-scoring has increased — a trend that every coach and GM loves to see.
Aberg saw fairly limited time with the Nashville Predators during the 2016-17 regular season. In 15 games, he only managed to get one goal and one assist. While his numbers weren't that impressive, Aberg got a chance to shine in the playoffs as a result of the Predator's revolving-door third and fourth lines.
With his chance to impress, Aberg showed up in the later rounds of the playoffs. Scoring two goals, including one game-winner and this filthy goal in the Final, Aberg made everyone see why he could be the next breakout player for the Predators.
5. Frederick Gaudreau
Nashville Predators fans are least likely to know Freddy Gaudreau relative to other names. In Milwaukee, Gaudreau saw success, as many players do, totaling 101 points (44 goals and 57 assists) over three seasons. He also recorded four points in two games played for the Admirals in the playoffs.
Gaudreau didn't get much playing time in the big leagues in the 2016-17 season. Only playing in nine games, Gaudreau registered a single assist with an average time on ice of 8:40. Needless to say, he likely wasn't turning any heads with the Predators' higher ups.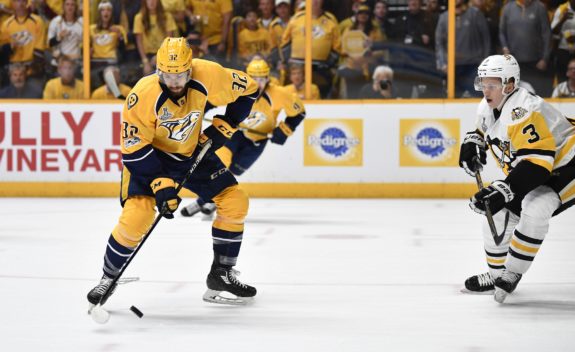 A string of injuries at the center position late in the playoffs gave Gaudreau a chance. When the Predators were getting smoked in the faceoff dot, Gaudreau came in and turned that around. Not only that, but he had three goals in the Stanley Cup Final shining the light brightly on himself and his future.
Ben is an Ohio State alum born and raised in south Jersey. Currently calling Nashville home, he has been covering the Nashville Predators since 2014. Initially drawn to hockey as a kid by the FoxTrax puck, he now despises the idea of such a thing.