This season, The Hockey Writers will have a recurring "Three Takeaways" feature after every Columbus Blue Jackets matchup, meant to serve as postgame quick hits.
1) Nick Foligno at Center
The Blue Jackets are only nine games into the 2017-18 season, but it is already hard to remember captain Nick Foligno's strong play on the wing now that he is excelling in the center spot.
Blue Jackets head coach John Tortorella said it best after Wednesday's 5-2 win over the Buffalo Sabres.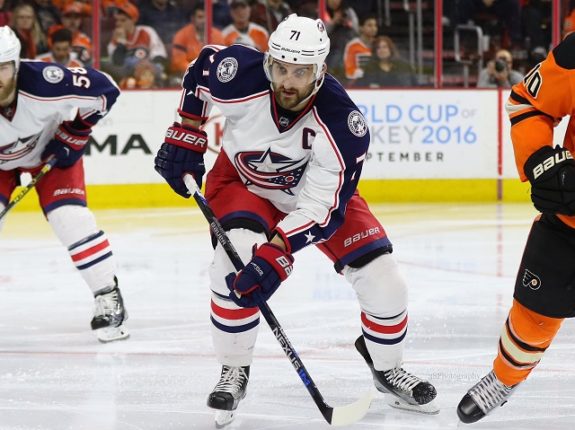 "Is he a better winger or is he a better center?" Tortorella asked himself after Wednesday's game. "He's playing some good hockey — not only with the puck, but away from the puck. He's confident [right now] and I think he feels more and more comfortable in that leadership role. He's been impressive."
Tortorella added that while other centers have struggled so far, Foligno is leading the charge and helping alleviate the pressure on Alexander Wennberg and the struggling Brandon Dubinsky.
"We've had some struggles up the middle," Tortorella said. "Putting [Foligno] there has put us in a situation where we are still scoring goals. He's just done a great job there in all situations."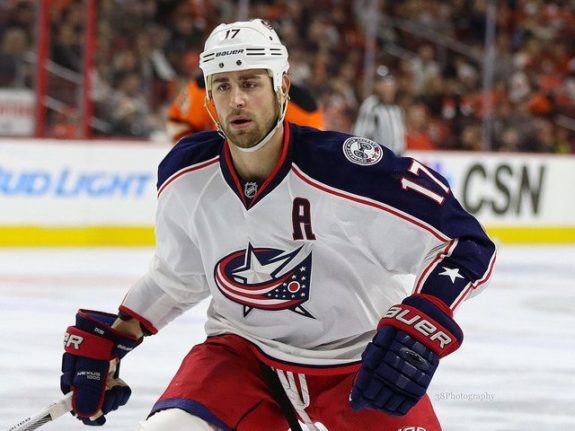 While it's great that Foligno has seamlessly segued into his role, is it time to be concerned about the play of Dubinsky and Wennberg? Tortorella took away Dubinsky's alternate captain role to allow him to focus solely on playing hockey and getting out of his funk, but it looks like it will take more than simply removing a letter from his jersey.
Something in the middle position needs to be addressed sooner than later, and before the team really starts struggling to score.
2) Make-or-Break Momentum
Wednesday night was a perfect example of how much momentum matters in a sloppy hockey game. When both sides play ugly hockey, it makes the difference between two points or zero.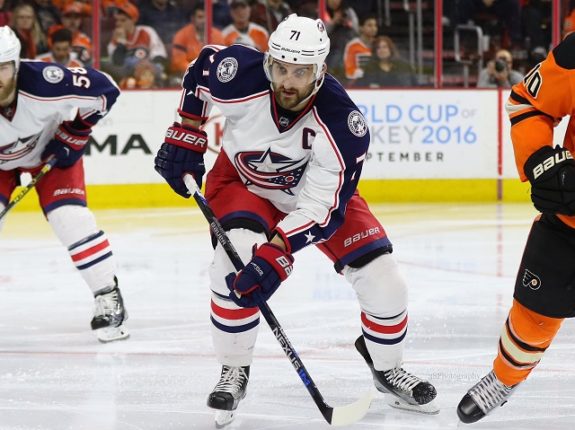 "It's a very big part of winning and losing in the National Hockey League," Tortorella said. "It's a concentration and something we talk about before games—momentum and surges and how you handle them; how they go against you or when they're on your side. When you score a goal, you can hear the guys on the bench saying 'the next shift is a big one, let's come in behind it,' so you're always trying to get it."
When the Blue Jackets get that momentum, they really grab ahold of it. They have scored three or more goals in a single period four times in their first nine games this season — part of the reason the team has a 6-3-0 record.
#CBJ lead 4-0 after 40 minutes thanks to a 3-goal 2nd period. 4th time the club has recorded 3 or more goals in a period (MR: 1st, 10/21).

— CBJ Public Relations (@BlueJacketsPR) October 26, 2017
Nick Foligno added how important momentum swings are for keeping the energy up on the bench.
"That momentum when guys are feeling it and seeing other lines doing it, they want to jump in and join," Foligno said. "It starts the ball rolling for everyone to jump in and contribute."
Based on what Foligno and Tortorella said, the team actively discusses momentum swings and how they can maintain it after a great shift or after a goal, and how they can prevent other teams from gaining an edge. It is a smart game plan and one that will likely serve them well moving forward.
Related – Blue Jackets Three Takeaways: Overtime & Second Periods
3) Line Combination Blender
Tortorella knows he is criticized for how quick he is to change up lines and find new combinations to light a fire under his team. Wednesday night, it served the Blue Jackets well and they likely have a few new lines moving forward.
At this point, the Blue Jackets skaters know that is what to expect.
"They yell my name and I'm ready for it," forward Oliver Bjorkstrand said. "There are a lot of good players on the team, so I am enjoying playing with a lot of different players. I just come to practice, look at the board, see where I am and we go from there."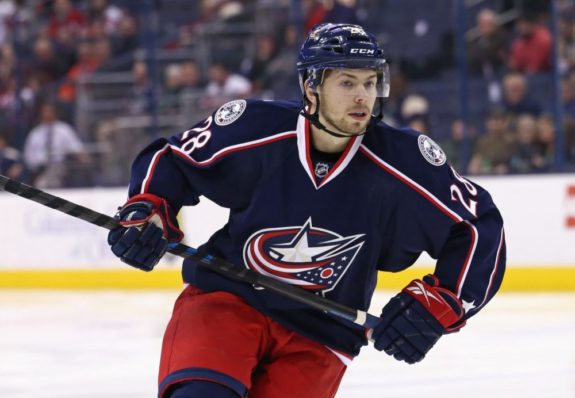 Blue Jackets forward Matt Calvert said that being able to find chemistry with so many different skaters is a great thing for him and the team.
"For everyone to be able to gel no matter what line they're on, that's a big asset for us," Calvert said.
It paid off Wednesday, as 10 different skaters cracked the scoresheet.
Tortorella had a message to his haters.
"I'm not going to sit there and watch lines struggle to make plays, or overpass or a number of different things that go wrong," Tortorella said. "I get criticized for changing the lines… but it's about trying to find ways to win."
As long as the Blue Jackets keep stringing together wins, it could be tough for Tortorella to find too many critics of a method that is working for his team.