The exciting part about a new season is that it resets every team. Win and loss columns are all brought back to zero. Each team is full of potential and hope.
But slow starts out of the gate can kill a team. Failing to be even a mediocre team can be deadly in the NHL. Points in October mean as much as those available in March. With three-point games more common than ever, playing catchup and leapfrogging over teams is harder than ever.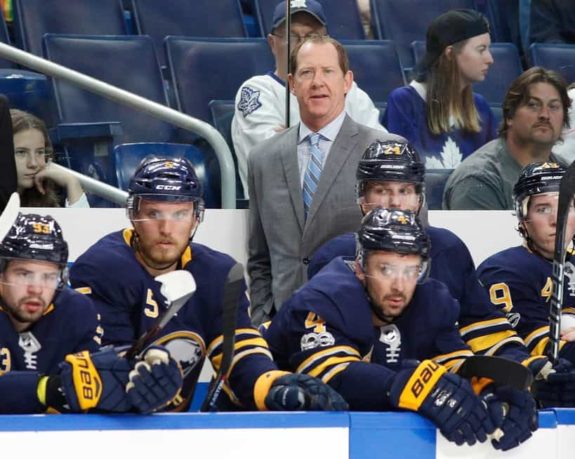 This year, just like last year, was supposed to be different for the Buffalo Sabres. The new front office put what they thought were foundational building blocks into place and filled out a roster with what was supposed to be plug-and-play depth players throughout the lineup. It was going to be the year to move up in the standings and contend for a playoff spot.
Sabres' Record After 10 Games
After starting with a lethargic and almost unwatchable effort that produced a 0-4-1 record, the Sabres are a promising 3-1-1 in their last five games. They're 3-5-2 out of the gate, with a minus-10 goal differential. It's nothing to write home about. But, it's not necessarily something to worry about either.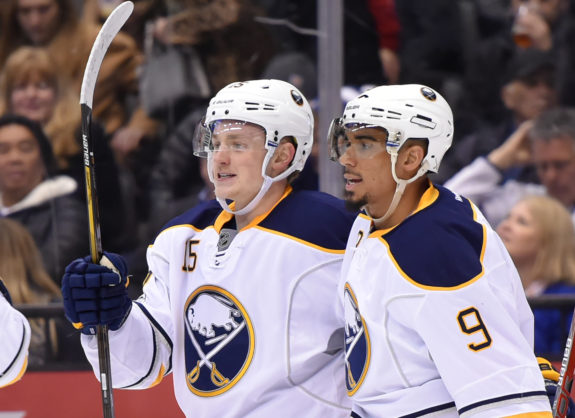 This team is still adjusting to a new system and to one another. And they've already had a series of injuries, albeit mostly to defensemen and bottom-of-the-lineup players.
Can 10 Games Predict an Entire Season?
Ten games can't knock any team out of the playoffs, especially with the advent of three-point games in 2005. With an 82-game season, there are still 72 remaining games–144 possible points in play.
Reaching the 95-point mark is typically enough to get into the playoffs. Since 2005, only three teams have reached that total and failed to make the postseason: the 2014-15 Boston Bruins and 2010-11 Dallas Stars fell two points short, while the 2006-07 Colorado Avalanche missed by just a single point.
A Historical Look Back
The Sabres have missed the playoffs in seven of the last nine years. In the two years they made the playoffs, they started very strong in 2009-10 (a near-perfect .850 points percentage) and sub-mediocre in 2010-11 (an unimpressive .350 points percentage).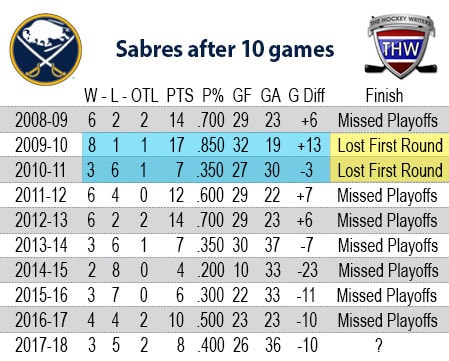 Last year, Jack Eichel went down with an injury the day before the puck dropped in the opener. Still, the Sabres managed to grind it out in October, managing a 4-4-2 record (and .500 points percentage). They finished the season a woeful 33-37-12 stat line (.476 points percentage). Their 78 points were paired with a despicable minus-32 goal differential. The drought reached six years. Head coach Dan Bylsma and his 95-point goal never materialized. He and architect Tim Murray were shown the door.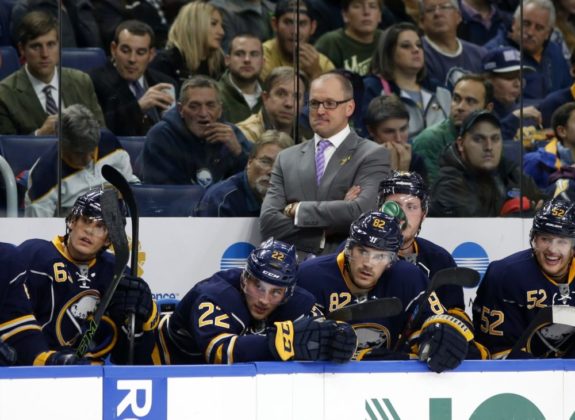 Two years ago, in the 2015-16 season, goaltender Robin Lehner was injured before the season opener went to the second intermission. At the 10-game mark, they were 3-7-0 with a minus-11 goal differential and a .300 points percentage. They eventually overcame some of their losing ways, improving to a 35-36-11 (33 ROW) and a minus-16 goal differential. They failed to reach the playoffs.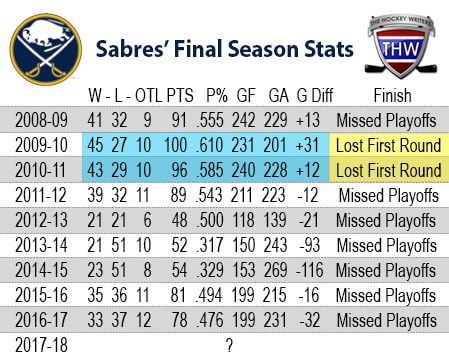 A few stats that jump out: in order to make the playoffs, teams need a positive goal differential. Seems pretty obvious…success is based on outscoring opponents. Only once did the Sabres score more than they allowed (2008-09) and not make the playoffs.
A good defense is also important. Of the three years in which the team allowed their fewest goals (2009-10, 2010-11 and 2015-16), they made the playoffs twice.
Related: Sabres Waiting for Secondary Scoring
Slow Starts Can Be Overcome
Consistency is hard to come by in the NHL. Teams will have their ups and downs. They'll go on winning streaks and have winless ones as well. Rarely will a team go wire-to-wire during the regular season, at the top of their division. The shining example that a slow start can be overcome is the 2015-16 Anaheim Ducks.
Anaheim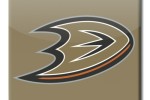 The Ducks started with the 2015 season with a 1-0-2 record, then dropped seven straight in regulation. After 10 games, the Anaheim was drowning at the bottom of the league with a 1-7-2 record and a measly four points. They had been shutout an astonishing FIVE times.
At the holiday break in December, though they were still in last place, they had started to climb out of the abyss, sporting a record of 12-15-6. After that, like flipping a switch, their defense tightened up and their offense eventually got their act together, enabling them to sport the best goal differential in the league (plus-50). It earned them a Pacific Division title, their fourth in a row, with a record of 46-25-11.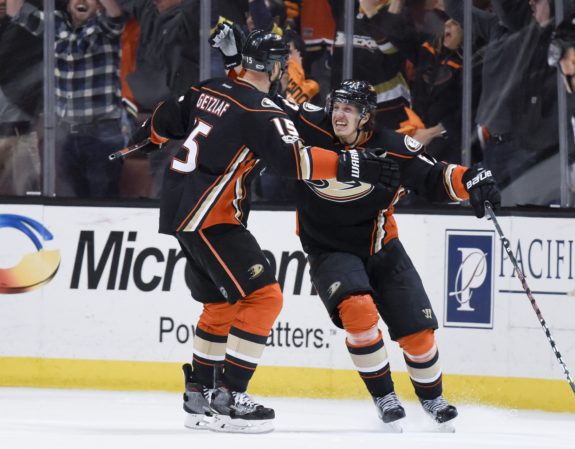 In other words; after a horrendous start, they finished the year 45-18-9, highlighted by a sizzling 34-10-5 record after Christmas.
The Next 10 Games
A team can't win a playoff spot in the fall, but they sure can lose one. Right now, the Sabres are on the outside looking in, but there's still plenty of time.
The more accurate benchmark for making the playoffs is at the end of November. Roughly 75 percent of teams that occupy a playoff spot at Thanksgiving time make the postseason. We'll check back in then.
Jeff has been covering the NHL for over a decade for various sites. He's been with The Hockey Writers as a lead Sabres writer three years, while also writing a satire column called "Off the Crossbar."