Judging by the comments on social media and around the water cooler, it's easy to get the feeling that Robin Lehner could win the Vezina Trophy and still be hated in Buffalo. He continues to be a focal point of fan frustration.
Murray's Man
Fans can't seem to look past the fact that former Sabres general manager, Tim Murray, traded away a first round pick to get him. It's a sunk cost that cannot be recovered, so fans should get over it. The Swede can't be held accountable for Murray bringing him in. Murray always liked Lehner, dating from his time with the Ottawa Senators.
Then there's the supposition that Lehner came to Buffalo out of shape in 2015-16, which may have contributed to his injury in the first five minutes of his debut. However, he came to training camp last fall significantly leaner and ready to perform at a high level.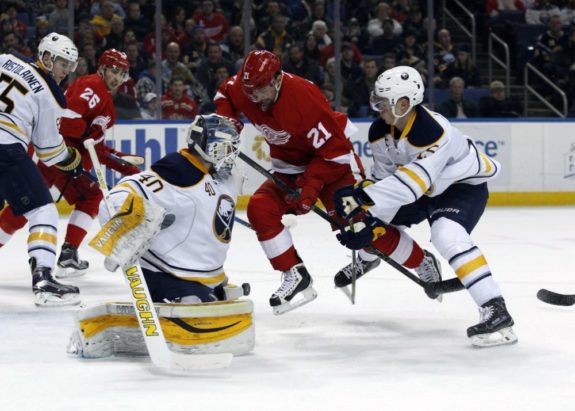 Finally, like many players admitted last year (Evander Kane, Jack Eichel and Ryan O'Reilly), Lehner may have returned to the lineup too quickly after being sidelined. The bravado to 'fight through pain' to get out on the ice and 'help the team' before being 100 percent ready is a reoccurring problem with the Sabres. The medical staff giving clearance before a player is ready for game conditions is like playing with fire or running with scissors.
A New Contract
General manager Jason Botterill inherited Lehner and signed him to a new one-year contract worth $4 million. It's a perfect contract for both sides: Lehner receives a raise (his last contract paid him $2.25 million) on a one-year deal and the Sabres have an out if he doesn't suit the new system. Plus, he's still a restricted free agent after the 2017-18 season ends, so his rights will remain with the Sabres. If he solidifies himself as their number one goalie, Botterill will re-sign him.
Breaking Down Stats
Numbers don't lie. Last season, behind a blue line that was a mess, Lehner posted a .920 save percentage in 59 starts, a 23-26-8 record. He was arguably the Sabres' most consistent player and often carried the team. Of goalies appearing in 50 games or more, Lehner posted a 2.68 goals against average (16th overall) and the sixth best save percentage in the league.
"He was one of the most consistent players that they had in their group." #NHLTonight @BuffaloSabres @RobinLehner pic.twitter.com/XyNFCYSqqQ

— NHL Network (@NHLNetwork) July 28, 2017
During the 2016-17 season, the Sabres allowed 34.3 shots per game, the highest of any team in the league. Only Cam Talbot of the Edmonton Oilers and Frederik Andersen of Toronto Maple Leafs faced more pucks than Lehner. The crazy-eyed netminder kept the Sabres in many games they had no business being in contention to win. And that's really all you can ask of a starting goalie.
Like any goalie, Lehner let in softies. However, with an anemic offense (other than a surprisingly explosive 24.5% power play conversion), his team couldn't score to compensate or erase any of his mistakes. The Sabres' goals for was tied for 24th in 2016-17 (2.43 goals per game average).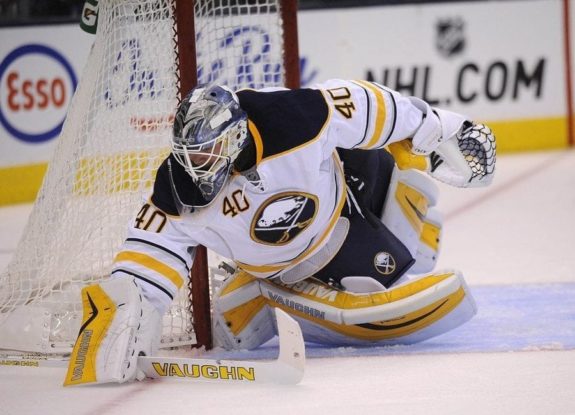 The team frequently got hemmed in their own end and didn't have defensemen who could make the first pass. With the rink so lopsided – the puck in the defensive zone for too much of the game – it was inevitable that goals would be scored by the opposition.
Digging Even Deeper
Two interesting stats that shine a spotlight on a goalie's performance are his 'Quality Starts Percentage' (QS) and 'Really Bad Starts' (RBS). QS refers to Lehner's percentage of games started where he has a save percentage greater than his save percentage on the year or at least 88.5% on nights when facing 20 or fewer shots against. RBS is defined as a start with a save percentage of less than .885.
Among goalies who played at least 40 games, Lehner's QS% ranked 17th in the league, at .552. In other words, he was right in the middle of the pack for starting goalies.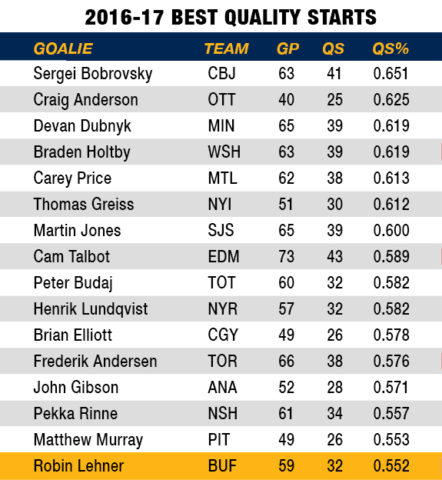 Among goalies who played at least 40 games, Lehner had the eighth best RBS, meaning seven goalies had fewer poor starts. Only Columbus Blue Jackets goalie Sergei Bobrovsky played in more games and had a better RBS than Lehner.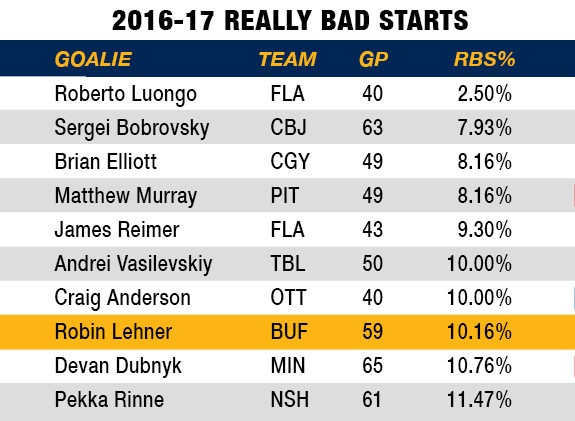 Shootout Troubles
There's no way to sugarcoat it, Lehner was awful in the shootout last year. It was one of many factors that hurt a franchise trying to make the postseason for the first time in six years. That said, the team in front of Lehner couldn't win in regulation or overtime. Even if the Sabres won every shootout game that Lehner played last year, they would've fallen short of making the playoffs. Blaming Lehner is like pointing a finger at the wrong problem, at least for now.
Even though there are no shootouts in the playoffs, Lehner will need to improve his play on breakaways and one-on-one to be considered a legitimate number one.
Leadership & Character
The 26-year-old is far from a bland, emotionless robot. His toughness, temper and passion are often on full display. He's a big-time, intense competitor who wants to win every game. His emotions are not only refreshing but welcome on a team that lacked accountability last year. He's a team-first player who holds himself and his teammates to a high standard.
Defining Success
Despite the team failing to make the postseason, Lehner gave the Sabres playoff-caliber goaltending last year. As fellow Sabres contributor, Richard Spalding wrote recently, 'Lehner's stats were better than the majority of goalies on teams that made the playoffs in 2016-17′.
Lehner will likely continue to be underappreciated until the Sabres make the playoffs. Even then, it may not be enough to satisfy the curmudgeons who have it out for him. Regardless, this is a make it or break it season for Lehner. Expectations are higher now that the team has made significant changes in the front office and on the roster.
Jeff has been covering the NHL for over a decade for various sites. He's been with The Hockey Writers as a lead Sabres writer three years, while also writing a satire column called "Off the Crossbar."