Back in July, I wrote about the far-reaching benefits the Boston Bruins would reap from a Matt Beleskey bounce back. Coming off of a serious knee injury and the least productive season of his career, it seemed a resurgence was not only probable but also likely. Talent doesn't disappear overnight, and the Windsor, Ontario native has a reputation for being a focused, hard-working veteran.
Through six games of action, there hasn't been a resurgence. There have been good shifts; Beleskey is noticeably quicker than the man we saw last season, enabling him to be more involved physically and on the forecheck. However, the offense has evaded him.
With zero points, seven shots on net and a minus-2 rating over the course of those six contests, one would be forgiven for thinking that the Beleskey of last season showed up again this year. Now, the stats sheet doesn't tell the whole story, and there isn't a player who's immune to a six-game pointless drought. But when one drought bleeds into another, as with Beleskey, questions regarding that player's viability are sure to arise.
At this juncture, the best course of action for both team and player would be to place him on waivers.
"Worst" Case Scenario
Beleskey's tenure and contract require waivers prior to an AHL assignment. Typically, NHL clubs are hesitant to put themselves in a position where they could lose a key roster piece with zero return. It's the biggest reason why Frank Vatrano has a Boston mailing address.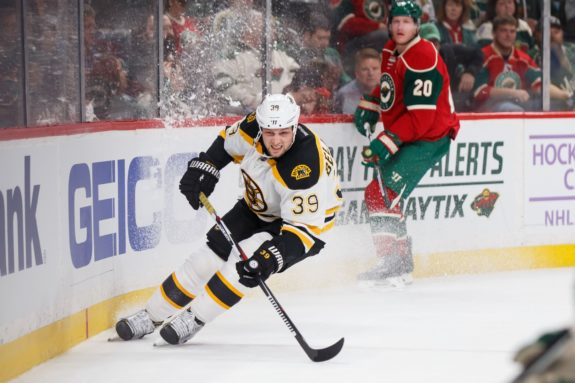 In Beleskey's case, the "worst" scenario for the club could have the best possible outcome.
With a $3.8 million cap hit for this season plus two more, it's unlikely that another NHL club would pull the trigger and take on that salary, especially given Beleskey's production over the last season-plus. It's highly unlikely, but not impossible. Two NHL clubs boast more than $15 million of cap space including the Arizona Coyotes who are winless and have dressed old friend Zac Rinaldo for four contests.
It's unlikely that GM John Chayka is licking his lips at the prospect of acquiring Beleskey, but any team that employs and starts Rinaldo is clearly desperate. Crazier things have happened than an awful team with abundant cap space taking a chance and hoping for a player's resurgence.
Boston's youth movement will start to give way to bridge and long-term extensions soon enough. The Bruins will then need to find a new home for Beleskey and his contract. With the 10-year veteran struggling out of the gate, why not move him now?
Roster Redundancy
Through seven games, Tim Schaller's work ethic and production have been a boon to Boston's bottom six. He accounts for just $775,000 of the Bruins' cap, which further amplifies his importance. He is effectively playing Beleskey's role but at one-fifth the cost. The only issue is that the Bruins still employ Beleskey.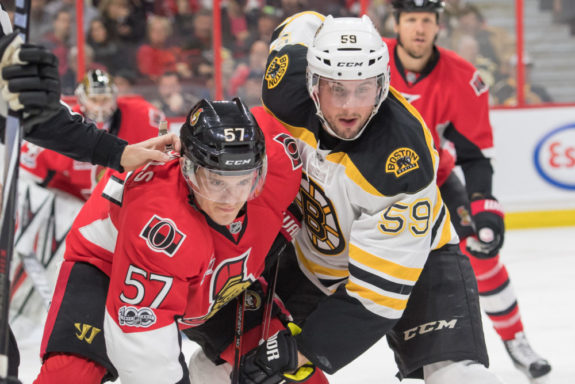 The B's bottom six includes Beleskey, Schaller, Sean Kuraly, Riley Nash, David Backes and, when healthy, Noel Acciari, among others. With all due respect to these grinders, it's virtually six variations of the same player. And while it's important to have players of this ilk (strong on pucks, a physical presence, penalty killing abilities) I'm not certain a team needs six of them. Through 40 combined games of action, the six have accounted for two goals and five assists. Remove Schaller from the equation and you're left with zero goals and four assists over 33 combined games.
Roster Logjam
While Boston's bottom six are struggling to provide secondary scoring beyond Brad Marchand and David Pastrnak, several Bruins prospects are lighting up the AHL. Danton Heinen has eight points in just four games for the Baby B's. In fact, his three points at the NHL level are tied for seventh on the team, despite having played half (or less than half) as many games as the players surrounding him on the list.
Austin Czarnik has six points in three games. Peter Cehlarik has six points in five games. Jakob Forsbacka-Karlsson has five points in six games.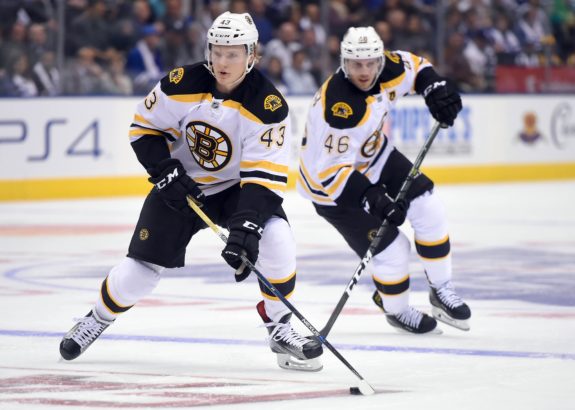 While I wouldn't feel comfortable with ALL of those players cracking the Boston lineup, one or two have done enough to warrant a call-up, particularly Heinen. There's already a good deal of forechecking and defensive-zone acumen within the bottom six; a minor infusion of offense would come with a negligible loss of defensive accountability.
Moreover, with both David Krejci and Ryan Spooner out indefinitely Boston's power play units have taken a hit. Considering that Beleskey averages less than a minute of shorthanded ice time per game (seventh on the team) his roster spot could be used to augment the team's power play at no expense to the team's penalty killing units.
Beleskey's Benefit
The organization would hardly be the only benefactors of a Beleskey demotion. He also stands to gain from some time in Providence. He's averaging roughly 11 minutes of ice time per contest, predominantly alongside similarly skilled players on the fourth line. Including the playoffs last season, he's been pointless in his last 19 games and has just eight points over his last 58 games. That's quite a drought.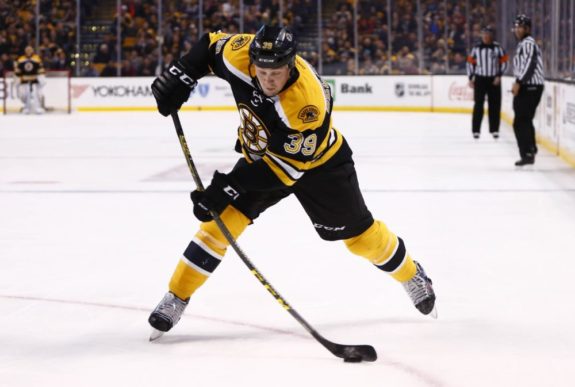 It's difficult to imagine him shaking off the goal-scoring blues with such sparse ice time alongside players known more for their "energy" than offensive flair. Perhaps the best way to rekindle his former touch would be a steady diet of top six minutes against AHL competition. He would be playing alongside skilled playmakers like "JFK," Czarnik and Cehlarik; guys who can create, get the puck to the net and allow a player like Beleskey to clean up with his simple, north-south game.
Furthermore, it's an opportunity for Beleskey to cultivate some chemistry with those players. All are destined for regular NHL minutes in the near future. Should they click with one another, theirs would be a union worth revisiting with the parent club.
A Work In Progress
There's no doubt that a demotion to the AHL (and possible relocation via waivers) is not what Beleskey wants at this juncture. With six-plus seasons as an NHL regular, it would take Gandhi-levels of poise, patience and understanding for him to keep his focus on the big picture and not feel like his career had taken a big step in the wrong direction.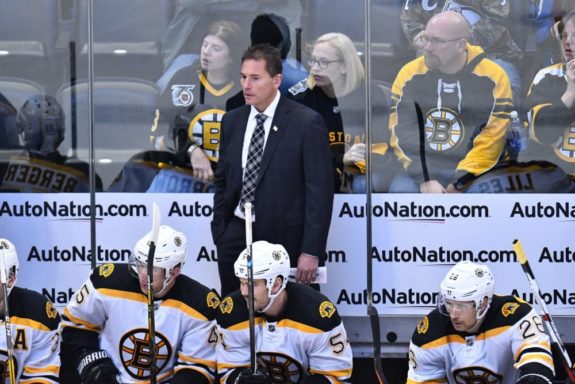 However, that's what the team and he need at this time. The B's are starved for secondary scoring but the paths for several deserving candidates are blocked. Injuries have turned the bottom six into something resembling Michael Keaton's "Multiplicity," with variations of the same player filling out the bottom of the depth chart. Beleskey himself could use extra ice time that the team cannot, in good conscience, offer him.
Should a team with ample cap space team take a chance and claim him, Boston would magically free-up significant cap space; a scenario with both immediate and long-term gains. It may seem like a step backward, but only if you're not focused on the big picture.