This season, The Hockey Writers will have a recurring "Three Takeaways" feature after every Columbus Blue Jackets matchup, meant to serve as postgame quick hits.
1) Breaking Through
In an unexpected battle of offense on Saturday night, two struggling Blue Jackets forwards finally broke through and scored their first goals of the season, despite a 6-4 loss to the Los Angeles Kings.
Matt Calvert, despite playing well on the Blue Jackets' top penalty-killing unit all season, netted the team's third goal on Saturday and his first of the 2017-18 campaign. It was in the back of his mind heading into the game that he still had not scored.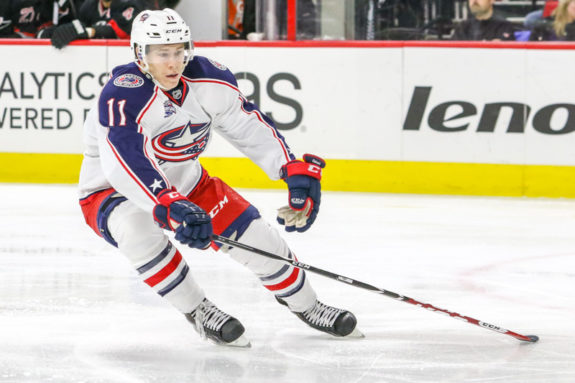 "I'm going to keep chipping away and eventually they'll start to go in," Calvert said ahead of Saturday's game against the Los Angeles Kings.
And, sure enough, one did.
"Yeah, it was nice to get that one out of the way," Calvert said after.
He was not the only one to get rid of the "goose egg." Oliver Bjorkstrand also scored his first goal of the season, which relieved a significant amount of pressure placed on the 22-year-old by the coaching staff and himself.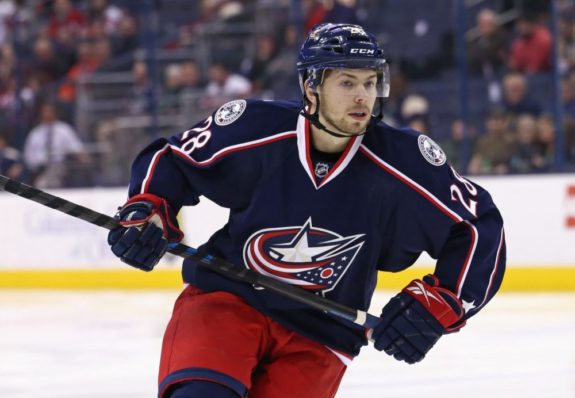 "Hopefully scoring a goal will lighten the load on him and lighten the pressure on him so he can just continue to play," Blue Jackets head coach John Tortorella said after the team's 6-4 loss.
For Bjorkstrand and Calvert, it will be key to see if finally getting their first goal out of the way will lead to less nervy play and more points. Both have felt the heat from not contributing, despite being involved in other ways. Finally scoring should help their game, at least from a mental standpoint.
Nick Foligno with some foreshadowing, perhaps?
"Hopefully it's a sign of things to come."
2) Power Play Push
To the relief of every Blue Jackets player, coach and fan, the power play ended an 0-for-18 scoring drought with an early goal by Foligno.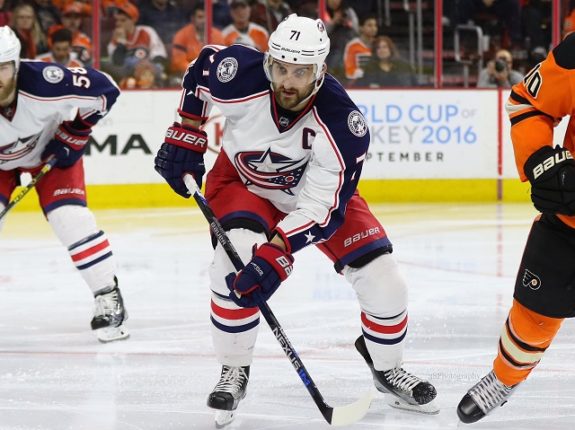 What was the difference this time around, according to the captain?
"We were in our right spots and doing the right things," Foligno said. "We were finally just playing to our system and executing plays, too. We were getting tape-to-tape passes and that made such a difference."
What does that mean moving forward?
"Now the confidence just starts to grow," Foligno said. "We scored off a broken play, and then on our next [power play] we did everything but score. It's a good sign that our power play is getting hotter."
That is what the Blue Jackets need to happen.
Related – Blue Jackets Three Takeaways: Overtime & Second Periods
3) Boone Comes Back
After missing the first seven games of the season with a back injury, Boone Jenner returned to the lineup.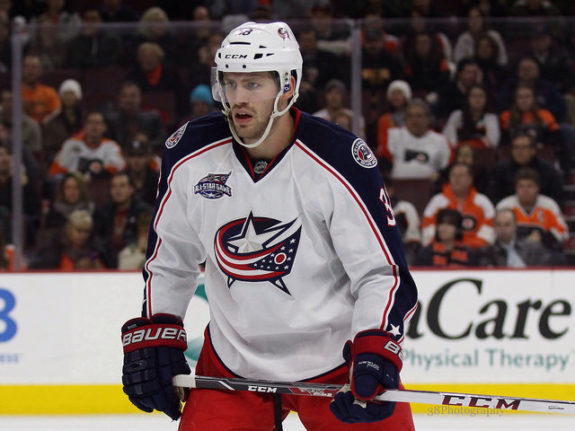 The 24-year-old was forced to fit in, playing 18-plus minutes in the loss. He did not look like a player coming off a serious injury, which was a great sign for Tortorella and team.
"It was great to have him back in the lineup," Tortorella said. "He gives our team a different look and does a lot of things for us."
Jenner said he was happy to be back and contribute in any way he could.
"I felt good, and it felt good being back out there," Jenner said. "It was tough and not a lot of fun watching those first few games. I wanted to come back and bring what I bring, and I was pretty comfortable right away."
Boone Jenner makes his return to the @BlueJacketsNHL lineup and feels like his old self again pic.twitter.com/btdBtZwrra

— FOX Sports Cincinnati (@FOXSportsCincy) October 22, 2017
He finished the night with four hits, six shots on goal and 11 shot attempts after all was said and done, so it appears that Jenner was "one hundred percent" as he said.
Calvert agreed.
"He stepped in well and looked like he didn't miss a beat out there," Calvert said. "It's great to have him back."
The Blue Jackets are a tougher team when Jenner is in the lineup, so look for him to contribute as long as he stays healthy through the duration of the season. He will be a key factor on special teams and at even strength at both ends of the ice.