With the Vadim Shipachyov Saga dominating the headlines in the NHL, it's clear that some changes are on the horizon. For the Golden Knights, there's no way to describe this situation other than a wasted opportunity.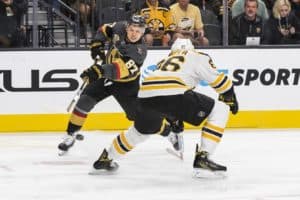 With a plan to scavenge the NHL and find a plethora of defensemen who all supposedly held trade value through the Expansion Draft process who could then be flipped for more assets, the Golden Knights failed to enact the most important part of their plan; moving the defensemen for assets. As such, it left the Golden Knights in an interesting situation where Shipachyov became the odd-man out due to his waiver-exempt status.
The Golden Knights have reportedly allowed Shipachyov and his agent to look for a trade with other teams who could benefit from his services. Though he was a star in the KHL, some are worried that Shipachyov's game simply won't translate to the NHL. Through three games with the Golden Knights, it's impossible to determine if that's true at this juncture.
With his value likely at an all-time low due to this situation, an NHL team looking for a potential top-six center could really benefit from trading for Shipachyov, especially if the deal doesn't cost them much in terms of valuable prospects or draft picks.
With that in mind, here are the five teams who could realistically swing a trade for Shipachyov.
Montreal Canadiens
The Montreal Canadiens already expressed interest in signing Shipachyov as a free agent two summers ago. While a lot has changed in the two seasons since then, the Canadiens are looking like a team that could really use some help getting things going. One dominant performance against the Florida Panthers aside, the Habs have looked like a fraction of what they were just a season ago when they finished in first place in the Atlantic Division.
As has been the case for over two decades now, the Canadiens are still looking to bolster their top-six center depth in a big way. Shipachyov might not be the star everyone once thought he could be, but then again, he hasn't really gotten a chance in the NHL yet this season to prove it.
I'm not saying Shipachyov will land in MTL, but they have cap space and they wanted to sign him two summers ago. KHL contract got in the way

— Eric Engels (@EricEngels) October 25, 2017
In his first NHL game, the 30-year-old scored his first career goal. While he went pointless in the following two prior to being assigned to the AHL once again, three games is far too small of a sample size to judge any player. Especially a player who was so successful for so long in the KHL and is still learning the ins and outs of the North American game.
Whether Shipachyov is the answer for the Canadiens or not isn't clear. What is clear is that the team has a bevy of cap space to use and a need for a center. Shipachyov probably won't cost much to bring in, so why not at least consider making an offer to the Golden Knights?
Despite Bob McKenzie not thinking there is interest, it's hard to imagine Marc Bergevin not picking up the phone to inquire.
Florida Panthers
Prior to returning to the NHL and re-joining the Florida Panthers for the 2017-18 season, Evgeny Dadonov spent five seasons in the KHL. The most recent three of which were spent with St. Petersburg SKA alongside, you guessed it, Shipachyov.
The two players were exciting to see on the same line with Dadonov scoring 72 goals and 158 points in 165 games while adding 27 goals and 48 points in 55 postseason games in the process. Shipachyov in that same time frame scored 55 goals and 190 points in 153 games as well as 17 goals and 56 points in 54 playoff games.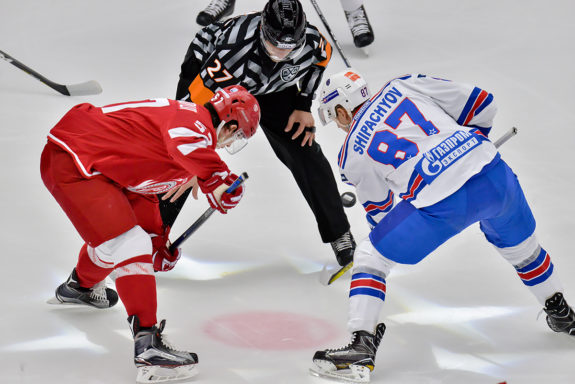 Re-uniting the two Russian forward on a Panthers team that is looking to reclaim a playoff spot after failing to qualify for the playoffs last season makes almost too much sense. Dadonov is off to a hot start to the 2017-18 campaign With two goals and seven points through eight games.
What better way to ignite Shipachyov and help him feel comfortable than to bring him to a team that has someone he knows well and has proven success with? Like the Canadiens, the Panthers have ample cap space to bring Shipachyov in and they should at least explore it.
Carolina Hurricanes
Victor Rask. That's who is currently playing second-line center for the Carolina Hurricanes. The same team that has made major steps to get better in recent years with the drafting and acquisitions of many talented young players such as Elias Lindholm, Sebastian Aho, Teuvo Teravainen and their entire defensive core.
With one goal and two points in seven games this season, Rask isn't looking like he fits in the team's top-six. He's a capable point producer who has scored double-digit goals in each of his first three seasons in the league including a career-high 21 goals in 2015-16. He's also scored over 45 points in each of the last two seasons and could be a very effective third-line center for the team.
As it stands, however, the Hurricanes have a ton of cap space and can swing a deal to acquire Shipachyov to bolster their own lineup. The Metropolitan Division is among the most difficult in all of hockey and the Hurricanes can only stand to get better from a deal like so long as they avoid giving up anything of value to the NHL's expansion franchise. It's a situation where the Golden Knights have their hands tied after messing up this situation thus far and the Hurricanes are a team primed to swoop in and capitalize.
Arizona Coyotes
Things just don't seem to be coming together for the Arizona Coyotes. Despite swinging some deals to acquire major defensive help, the Coyotes remain the NHL's only winless team with an 0-8-1 record through their first nine games. To say the team needs a shakeup would be an understatement, and that's exactly where a player like Shipachyov comes in.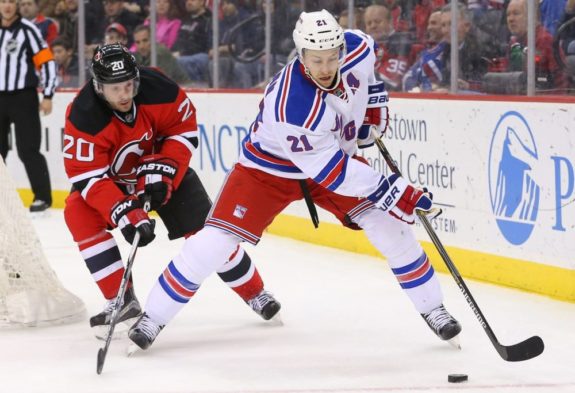 The Coyotes already swung a deal to acquire Derek Stepan from the New York Rangers in the offseason. To further bolster their center depth, there's no reason why the Coyotes couldn't swing another deal to acquire a potential second-line center in Shipachyov which would effectively move Christian Dvorak down to the team's third line.
With nearly $20 million in cap space, the Coyotes don't have a lot of reason to balk on a trade for a player who comes with such a high ceiling. Given how "well" their season has gone to date, do they really stand to lose much if Shipachyov fails to pan out?
Colorado Avalanche
Everybody is sick and tired of hearing about the Matt Duchene Saga. General manager Joe Sakic wants king's ransom in return for their star center. The rest of the league is (fairly) scoffing at such a ridiculous demand given how little leverage the Avalanche have in the situation, and things now appear to be at a stand-still. If the Avalanche can find a suitable offer for Duchene, however, they'll be in line to acquire a new player to center their second line.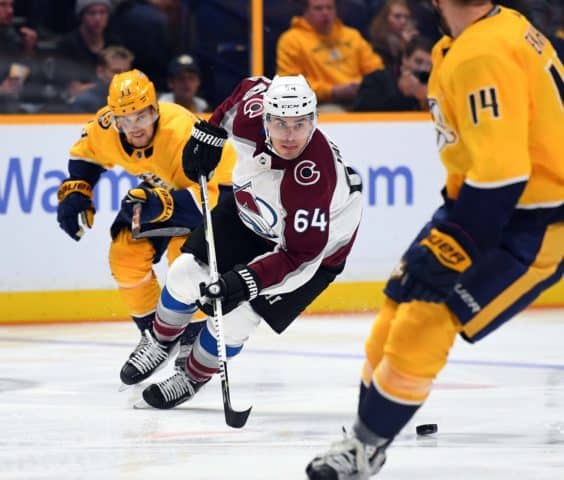 The Avalanche have the cap space to fit Shipachyov into their lineup without moving Duchene but would be better suited to acquire Shipachyov with the intention of eventually moving on from Duchene to keep some valuable cap space moving forward.
While Nail Yakupov is experiencing somewhat of a career renaissance with the Avalanche this season with three goals and five points through nine games this season – he scored only nine points in 40 games last season, the Avalanche might benefit from bringing in another Russian player to center a line with Yakupov on it to help both him and Shipachyov.
The Avalanche currently hold a playoff spot and while it would be a strange time to make a move to acquire a player while trading out their second line center, the Avalanche and Duchene seem destined to split. Why not acquire his replacement now while he's on the market at what can only be assumed to be a bargain-rate?