We're officially under two months until the NHL's 31st franchise becomes a real-life, on-the-ice product. Do you know the Golden Knights? Take the steps to ready yourself, loyal local, before VGK kicks off preseason play against the Vancouver Canucks on Sep. 17.
Not prepared just yet to dive into advanced statistics and analytics? It's cool. That time will come. The first thing we need to do learn up on these guys who will be pulling on that fantastic sweater in 60 days. Vegas fans can rest assured that win or lose, general manager George McPhee has cobbled together a club that will be endlessly watchable when the puck is dropped.
Watchability is sure to factor heavily into Golden Knights success in the team's infancy. That may sound elementary but in the entertainment capital of the universe, where consumers have limitless options, fun will trump wins and losses. Early on, anyway. If you're in the valley and you hear someone remark to the contrary, you're probably speaking to a long-time hockey fan.
So let's party. This team will make it easy. First up on the list of Golden Knights you should know is 30-year-old Vadim Shipachyov.
How Did He Get Here?
The signing of Shipachyov announced the Vegas presence on the NHL scene with authority.
Prior to joining the Golden Knights, Shipachyov was viewed as one of the best players not presently playing in the NHL. He's a veteran of 10 Kontinental Hockey League seasons, the first six with Severstal Cherepovets, the last four with SKA Saint Petersburg. On the international tournament scene, he's competed for Russia in the Ice Hockey World Championship each of the last four years as well as the World Cup of Hockey in 2016.
There was rumored to be plenty of competition from other NHL clubs prior to Shipachyov's commitment with Vegas. Dating back to last summer, the Montreal Canadians were said to be particularly interested in acquiring his services.
Part of what made Shipachyov an attractive addition, beyond his own enviable skill set, was the possibility of landing Evgeny Dadonov. The two were linemates in St. Petersburg for three seasons, and the partnership suited them well. Each experience increased productivity one season to the next.
Ultimately, Shipachyov inked his deal with Vegas on May 1.  His contract was significant in a couple of different ways. At two years with an average annual value of $4.5 million per season, Golden Knights owner Bill Foley showed he's unafraid to break out the checkbook when it comes to acquiring top talent. It was a free agent signing inconsistent with how expansion teams of the past of handled themselves before playing a single NHL game.
It also showed that the Golden Knights can attract such players. I've never been to Saint Petersburg, but I suspect it's markedly different than Las Vegas. While Dadonov won't be along for the ride, he signed with the Florida Panthers this month, Shipachyov's experience in Vegas will go a long way towards opening the door for other international players to join VGK. Winning a battle against a more traditional hockey market like Montreal is a step in the right direction.
Where Does Shipachyov Fit In?
So what to do with the top free agent acquisition in the brief history of the Golden Knights? There's a couple things to consider.
Firstly, Shipachyov fills up the stat sheet. The Russian stat sheet anyway. He's only gotten better in his four years with Saint Petersburg. Last season he racked up career highs of 26 goals and 50 assists. His 76 points were good enough for third in the KHL. The 50 assists were second most in the league. Internationally, he has been similarly impressive. Last year he was the tournament scoring leader at the World Championships.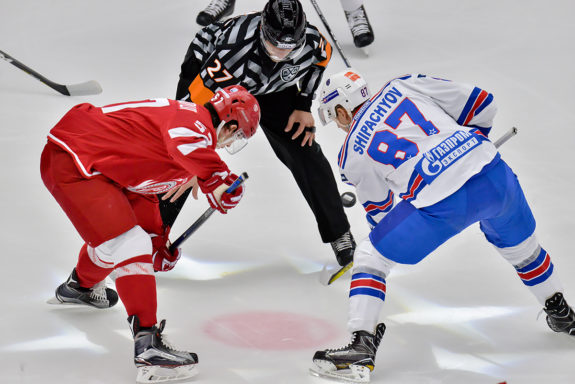 All of which is to say he should feature prominently in the Golden Knights scoring attack. There are few concerns that Shipachyov's game will translate to the NHL level. He's an elite scorer with remarkable vision. With a player of his caliber at the center position on Vegas' top line, those paired with him will benefit immensely.
If anything, Shipachyov will have to adjust to playing with teammates that are not as accomplished as his recent linemates. That's not to take anything away from those players that will be flanking the three-time KHL All-Star, but his coworkers across the last few seasons include Ilya Kovalchuk, Pavel Datsyuk and Artemi Panarin in addition to Dadonov. So he's been playing with NHL talent for awhile now.
As far as marketability goes, or who will be the first face of the Vegas franchise, Marc-Andre Fleury is likely to capture most of the headlines. After Fleury, Shipachyov may be next in line as a favorite among Golden Knights fans. Offensively he has the tools not just to contribute significantly, but to be a star. I'm not saying that's what is going to happen, but I am saying buying his jersey before the regular season home opener on Oct. 10 wouldn't be a terrible idea.