With the 2015 NHL Entry Draft commencing this Friday, June 26, fans are looking to mock drafts to see who their team's new future superstar will be. At this point, everyone expects the prospects to go on to have very successful NHL careers, or else they wouldn't be ranked so high. Of course, there's no denying that one of the top players selected will likely end up being a draft bust, but how can you predict a kid with such great potential to fall so short? I suppose you could look to the past and try to draw comparisons between the great draft busts. With that in mind, here's a list of Five of the Biggest Draft Busts From 2000-2010.
Draft Busts From 2000-2010:
5: Al Montoya

6th Overall by the New York Rangers in the 2004 NHL Draft
Montoya was drafted out of the University of Michigan where he went 30-10-3 with a .911 save percentage in his draft year. The highest goalie selected in the 2004 NHL Draft, he had some great expectations placed on him. He was known as a solid butterfly style goalie with great positioning and rebound control. He was always terrific at cutting down angles and could even play the puck with ease. That potential didn't transition into the NHL however.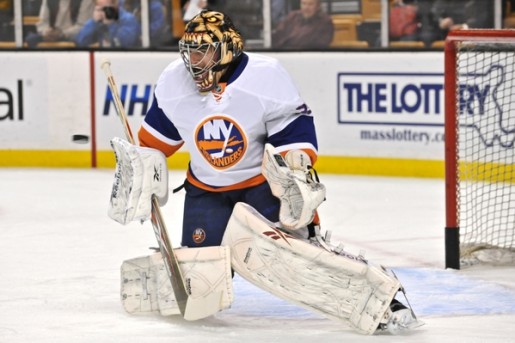 He made his NHL debut for the Phoenix Coyotes in 2008-09, appearing in five games while posting a 2.08 goals against average and a .925 save percentage. Two year later he was on the Islanders where he played 52 games over two seasons. After that, it was on the Winnipeg for two years, and finally on to Florida. At 30 years old, he's now a backup to Roberto Luongo and looks like a long, lost dream of what could have been a starting goaltender.
4: Alexandr Svitov

3rd Overall by the Tampa Bay Lightning in the 2001 NHL Draft 
Svitov was drafted out of Russia, where he played for Omsk Avangard in his draft year, scoring eight goals and 15 points in 39 games. Svitov, along with his Omsk teammate, Stanislav Chistov, who was drafted 5th overall in the same year by Anaheim, was hit by extremely difficult circumstances. Both prospects were forced to serve a year in the military, as part of Russia's 'military duty'. After that year, Svitov never seemed to regain his draft year form.
He played 63 games for Tampa By a in 2002-03 registering just four goals and eight points. He was traded to Columbus in 2004, where he had the best season of his career scoring 19 goals and 42 points in 63 games, while also packing in 200 penalty minutes. However, he decided to return to Omsk Avangard after the lockout, and has remained in the KHL ever since. He played 179 career NHL games, putting up 387 points. There's no doubt, some unfortunate circumstances limited both his, and Chistov's NHL careers.
3: Zach Hamill
8th Overall by the Boston Bruins in the 2007 NHL Draft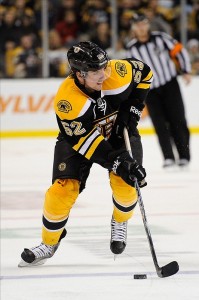 Hamill was drafted out of the WHL, where he played for the Everett Silvertips, posting 32 goals and 93 points in 69 games. NHL Central Scouting said Hamill was, "a playmaking forward with good stick-handling ability, very good on special teams, especially the power-play, and as someone who sees the ice well and sets up his line mates with his good passing abilities."
However, Hamill never became the top playmaker they predicted. He made his NHL debut in 2009, but was returned to the AHL after just one game, despite getting an assist in it. In 2011-12, the Bruins allowed him to play 16 games, but his subpar play led to another demotion. He only managed 20 NHL games, with zero goals and four points in his career. Now, he plays in the SM-Liiga with the HPK Hameenlinna. He out up a decent 35 points in 58 games, but a return to the NHL looks very bleak for Hamill.
2: Scott Glennie

8th Overall by the Dallas Stars in the 2009 NHL Draft
Glennie was selected out of the WHL's Brandon Wheat Kings, where he scored 28 goals and 70 points in 55 games in his draft year. He was expected to become a top-six forward in the NHL, because of his lightning quick speed and natural goal scoring ability. Although he wasn't very big or strong, Dallas may have assumed he would still grow. He was not a gifted playmaker, nor was his defensive game where to needed to be.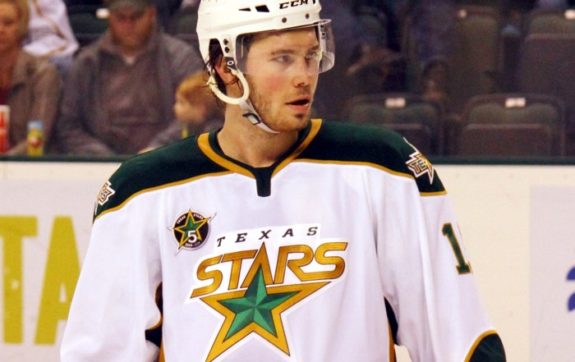 In the end, Glennie only played one NHL game and may be well on his way to a future in Europe. He's been a decent scorer in the AHL over the past four years, but Dallas decided not to renew his contract this summer. He hasn't shown signs of improvement in his defensive side, and has actually seemed to regress in his scoring abilities. He may be forced to take a contract in the KHL or SM-Liiga.
1: Rick DiPietro
1st Overall by the New York Islanders in the 2000 NHL Draft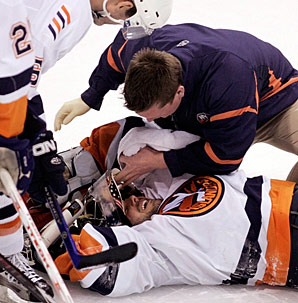 Most hockey fans know the tale of Rick DiPietro. He was the first ever goaltender to go first overall in NHL history, chosen from Boston University. He was so highly regarded that the Islanders GM at the time, Mike Milbury, traded both Roberto Luongo and Kevin Weeks. He was quoted saying, "DiPietro will revitalize the goaltending position." He was mostly known as a very confident 18-year-old kid with a great glove hand and exceptional puck handling skills.
However, DiPietro became the greatest draft bust of all time, and likely cost Mike Milbury his job. He played 318 career regular season games and 10 playoff games, posting a .902 and .904 save percentage, respectively. He was victim to numerous injuries, mainly hip and knee concerns throughout his career. He last played in 2013-14 for the AHL's Charlotte Checkers, after he was bought out by the New York Islanders. In a series of very unfortunate events, the promising goaltender never really had an impact in the NHL.
---
Who do you think was the greatest draft bust in NHL history? Let us know in the comments below!
Contributor for the Toronto Maple Leafs and Prospects. Scout with the Oakville Blades of the OJHL. For questions, concerns, or comments, contact me at devinslawson123@hotmail.com or on twitter @SlawsonTHW.