Unlike the common bird itself, former Atlanta Thrashers are a fading breed.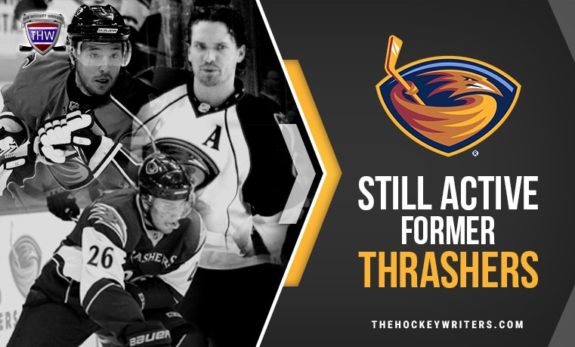 Now more than a decade removed from the Thrashers' move to Winnipeg, the number of former Thrashers left in the NHL has dwindled to five, with only three actively playing in 2022-23. Here's a look at each of them, in alphabetical order, and what they've done since leaving the Peach State.
Zach Bogosian
Played 199 games for the Thrashers between 2008-09 and 2010-11
The Thrashers selected the big and mobile Zach Bogosian third overall in 2008 and he immediately joined the big club. He appeared in 199 games for the Thrashers in the three seasons before they relocated to Winnipeg, recording 24 goals and 39 assists for 59 points, but was also a minus-34.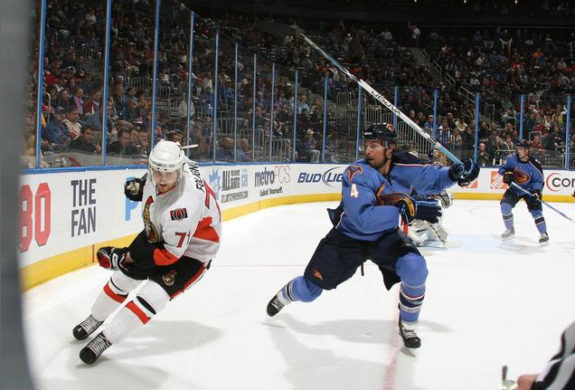 In the Jets' early days, the still-young Bogosian played a top-four role, skating an average of 22:56, posting 16 goals and 52 assists for 68 points — including a career-high 30 in the Jets' inaugural campaign — and recording middling-to-fair advanced numbers.
He was steady enough when he was in the lineup, but unfortunately, was dogged by injuries and never played more than 65 games in a season.
---
Latest News & Highlights
---
Bogosian was traded to the Buffalo Sabres along with Evander Kane in 2015. He was never particularly effective there over six injury-filled campaigns, dressing for 243 games and recording 13 goals and 54 assists for 67 points and going minus-49.
Bogosian's time in Buffalo ended rather ceremoniously. In Dec. 2019, he requested a trade, and in February, the team waived him. He cleared waivers but refused to report to the AHL's Rochester Americans, so the Sabres suspended him and later terminated his contract.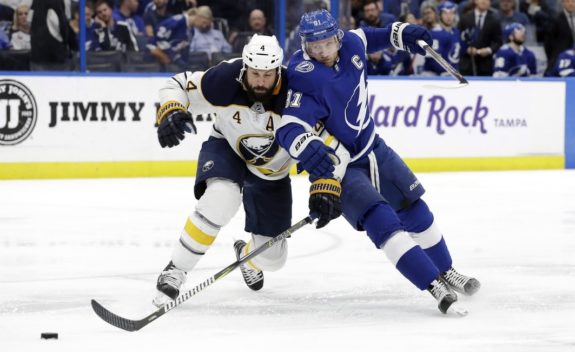 The 6-foot-3 d-man then signed as a free agent with the Tampa Bay Lightning a few days before the trade deadline and skated in eight games, recording two assists, before the NHL season pause in mid-March.
In the 2020 bubble playoffs, Bogosian played 20 games, recorded four assists, and hoisted the Stanley Cup as the Lightning beat the Dallas Stars in six games to capture hockey's top prize.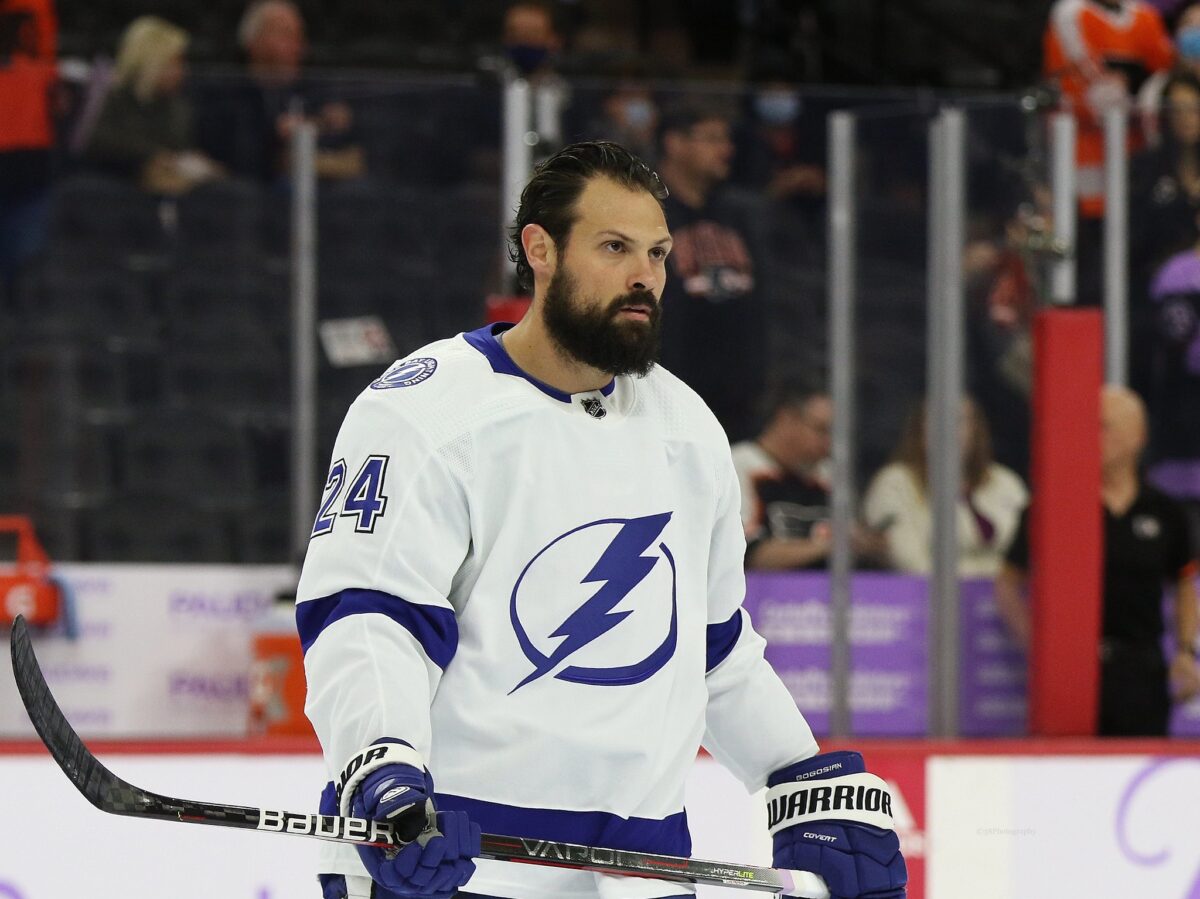 In Oct. 2020, Bogosian signed a one-year contract with the Toronto Maple Leafs and played 45 games in a shortened 2020-21 season, recording four assists. He then returned to the Lightning for his second stint with the team, signing a three-year contract with a $850,000 AAV prior to the 2021-22 season. He re-signed with the Lightning, appearing in 46 games in 2022-23.
Evander Kane
Played 139 games for the Thrashers between 2009-10 and 2010-11
Another high pick, the Thrashers took the sniper fourth overall in 2009 after he put up 48 goals and 48 assists for the Vancouver Giants in his second full WHL season.

Like Bogosian, the Thrashers brought Kane to the NHL immediately and he recorded 33 goals and 36 assists for 69 points in 133 games over two seasons, dazzling with his speed, goal-scoring instincts, and fearlessness.
You may also like:
In the Jets' inaugural season, Kane recorded a career-high 30 goals. However, between then and 2015, he proved to be a high-maintenance player who was a nightmare to deal with; he engaged in a variety of immature antics — from the Twitter post he made flashing fat stacks on a Las Vegas balcony to allegedly dining and dashing at fancy restaurants — that overshadowed his on-ice contributions.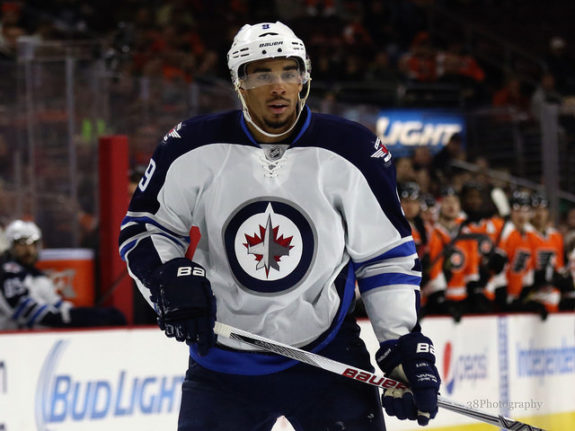 After Kane showed up to a team meeting in a tracksuit and Dustin Byfuglien threw it in the shower, the Jets traded the problematic forward to the Sabres along with the aforementioned Zach Bogosian in exchange for Joel Armia, Brenden Lemieux, Tyler Myers, Drew Stafford, and a 2015 first-round pick they used to select Jack Roslovic.
Kane spent three seasons with the Sabres and never recorded more than 43 points in a season.
He was traded to the San Jose Sharks in February 2018, and recorded 87 goals and 79 assists for 166 points as a Shark. He wasn't, however, good for the team as he continued to dominate the headlines for all the wrong reasons.
In late 2019, it was announced that a Las Vegas casino was suing the forward for $500,000 in gambling credits. A year prior, a woman alleged Kane offered her $3 million to abort three different pregnancies between 2016 and 2018 but then didn't pay her after she did.
Kane's life took an even darker turn in 2021. In September, his estranged wife Anna accused him of sexual assault and battery, alleging she was forced to have nonconsensual sex with him on more than one occasion. She also accused him of betting on NHL games, including ones he played in.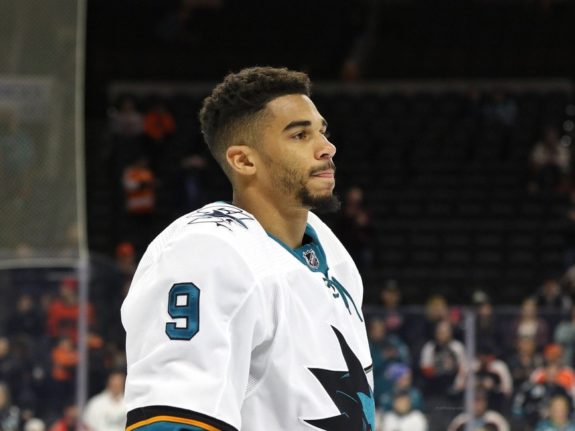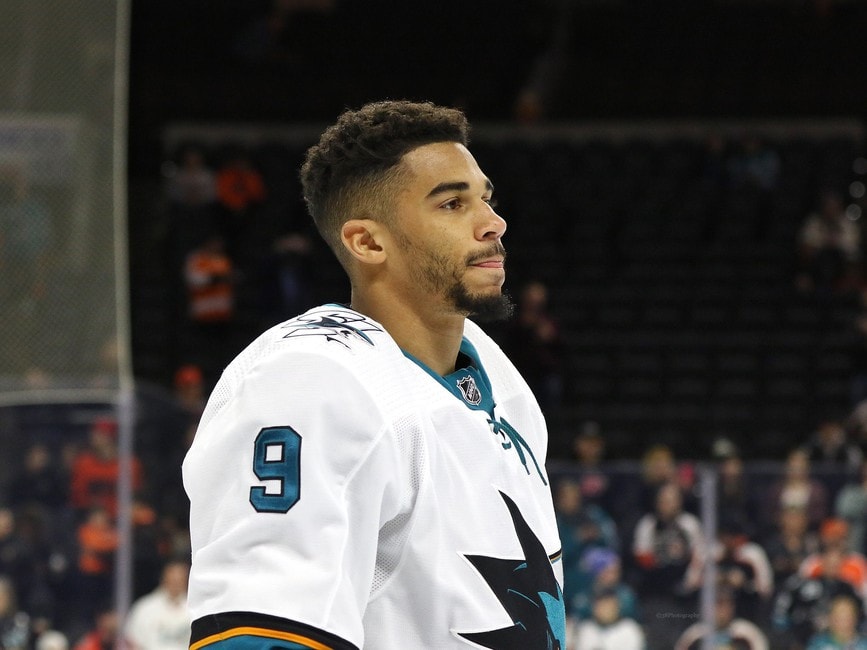 The Sharks announced he would not be attending the 2021-22 training camp due to the allegations, which were later found could not be substantiated. However, at the same time, more bad behaviour came to light and Kane was suspended for the first 21 games of the season for submitting a fake COVID-19 vaccination card.
After he completed his suspension, the Sharks placed Kane on waivers and was re-assigned to AHL for the first time in his career. In January, 2022, the Sharks announced they had placed Kane on unconditional waivers for the purpose of terminating his contract, due to violation of AHL COVID-19 protocols.
Just a few weeks later, the Edmonton Oilers signed Kane to a one-year deal, but the signing was not without its detractors due to his past. Nonetheless, Kane look re-energized and enjoyed instant success with a deep Oilers' squad, recording 22 goals and 17 assists in 43 regular-season games, and 13 goals and four assists in 17 playoff games.
Related: Oilers Adding Kane was NHL's Best Mid-Season Acquisition in 2021-22
He was in the middle of controversy yet again during the Western Conference Final against the Colorado Avalanche, boarding Nazem Kadri in Game 3 and receiving a one-game suspension.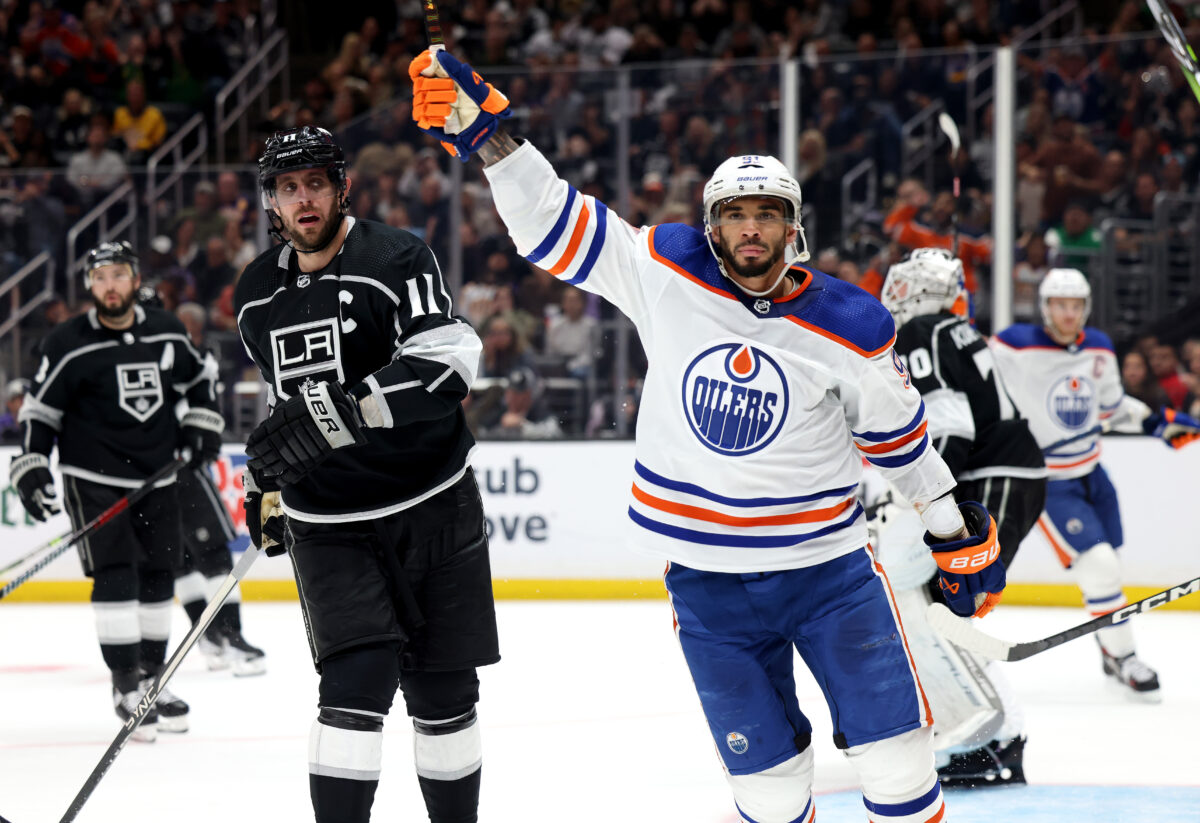 In July 2022, Kane re-signed with the Oilers, inking a four-year, $20.5 million extension. One can only hope he can straighten out his personal life and focus on helping the Oilers win a Stanley Cup during their current window of contention, because he is an immensely talented player.
Andrew Ladd
Played 81 games for the Thrashers in 2010-11
After winning a pair of Stanley Cups — one with the Hurricanes in 2006 and another with the he Chicago Blackhawks in 2010 — the latter traded Andrew Ladd to the Thrashers in the wake of the Cup victory in a cap-clearing move.
Ladd played the 2010-11 season with the Thrashers and was named their eighth team captain in franchise history that November.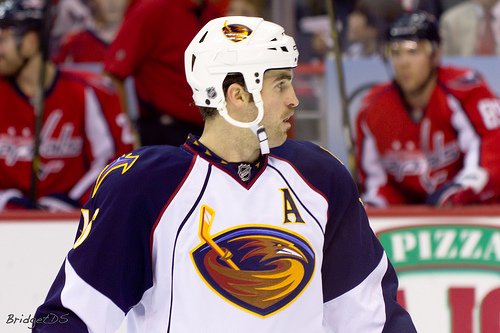 Ladd was one of the first to embrace Winnipeg when discourse was swirling as to whether it was a true big-league city. He signed a five-year deal before they'd even played a game, that showed he was committed to pushing the new franchise forward.
He did just —push the franchise forward — in 348 games seasons with the C on his chest. A true competitor, he was admired for his skill and versatility on the ice and for being a quality person involved in the community off it.
The hard-working, feisty forward scored 110 goals and added 136 assists for 246 points with the Jets — with his best season being a 24 goal, 38 assist campaign in 2014-15 — before he was traded back to the Blackhawks in February, 2016.
Related: Ladd Trade Was, Is & Will Be Good for Jets
In retrospect, the Jets should thank their lucky stars Ladd turned down the six-year deal worth $6 million annually they offered him.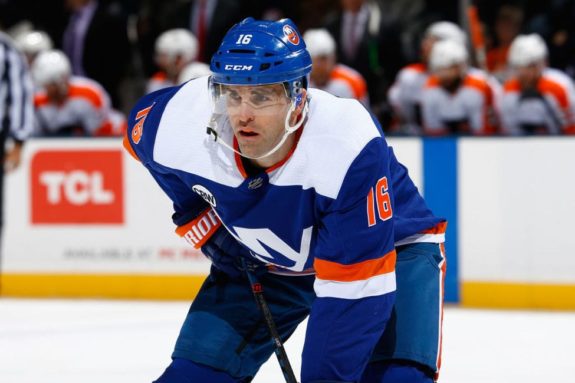 The season following the trade, Ladd signed a massive seven-year, $38.5 million contract with the New York Islanders that quickly became one of the NHL's worst. Ladd recorded just 72 points in 181 games as an Islander and was hampered by a variety of injuries, most notably an ACL tear. He didn't play at all in 2020-21.
In July, 2021, Ladd was traded to the Arizona Coyotes for draft picks and future considerations and was named their alternate captain. His first goal of the 2021-22 season was the 250th of his career and he had 12 points in 51 games.
Prior to the 2022-23 season, Ladd failed his physical due to ongoing knee problems and he was moved to the long-term-injured reserve.
Bryan Little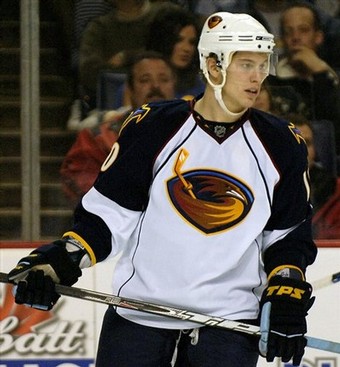 Played 282 games for the Thrashers between 2007-08 and 2010-11
One of the few picks that worked out well for the Thrashers, Bryan Little recorded 68 goals and 81 assists for 149 points in 282 games between being drafted 12th overall in 2006 and relocation.
Little spent many of his 561 Jets games as a steady and versatile top-six centre, putting up 149 goals and 223 assists for 372 points.
Little saw his ice time wane a bit in recent seasons and he was often criticized by fans for not being a suitable man in the middle for the Jets' young guns such as Patrik Laine and Nikolaj Ehlers. Despite that, he's produced 40-plus points in seven separate seasons; he also scored the Jets' first hat trick in 2.0 history.
After playing all 82 games in both the 2017-18 and 2018-19 campaigns, Little suffered a serious brain and ear injury in early November, 2019, after taking an errant Ehlers slap shot to the side of his head.
Related: The Severity and Impact of Bryan Little's Brain Injury
Little was advised by doctors not to play in 2020-21 and was put onto the long-term injured reserve once the season began. He remained on LTIR for 2021-22 as well.
At the 2022 Trade Deadline, the Jets sent his contract to the Arizona Coyotes, alongside the rights to prospect Nathan Smith, for a fourth round draft pick. He remains on the LTIR with the Coyotes and his hockey career appears to be over.
Blake Wheeler
Played 23 games for the Thrashers in 2010-11
The final former Thrasher still with the Jets nearly a decade later is their former captain, Blake Wheeler.
Wheeler, who came over to the Thrashers from the Boston Bruins in a trade late in their final season, has carved out a nice career as a prolific playmaker and extremely hard worker. But at age 36, his best seasons are behind him.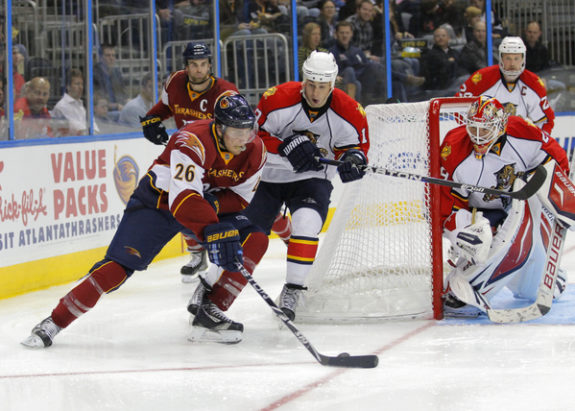 A key figure whose veteran presence has helped many Jets' youngsters and draft picks blossom into bona fide super stars, Wheeler took a while to come into his own as a top-six forward. He even called himself "one of those late bloomers" and "one of those guys that it took a while to turn into a man, physically and mentally." (from 'Top 10 scorer is the Wheel deal,' Winnipeg Free Press, 01/04/2016.)
In 1,118 career games, the power forward has put up 312 goals and 610 assists for 922 points. He recorded 74 points or more in five straight seasons, had back-to-back 91 point seasons in 2017-18 and 2018-19, and was named an All-Star seven times.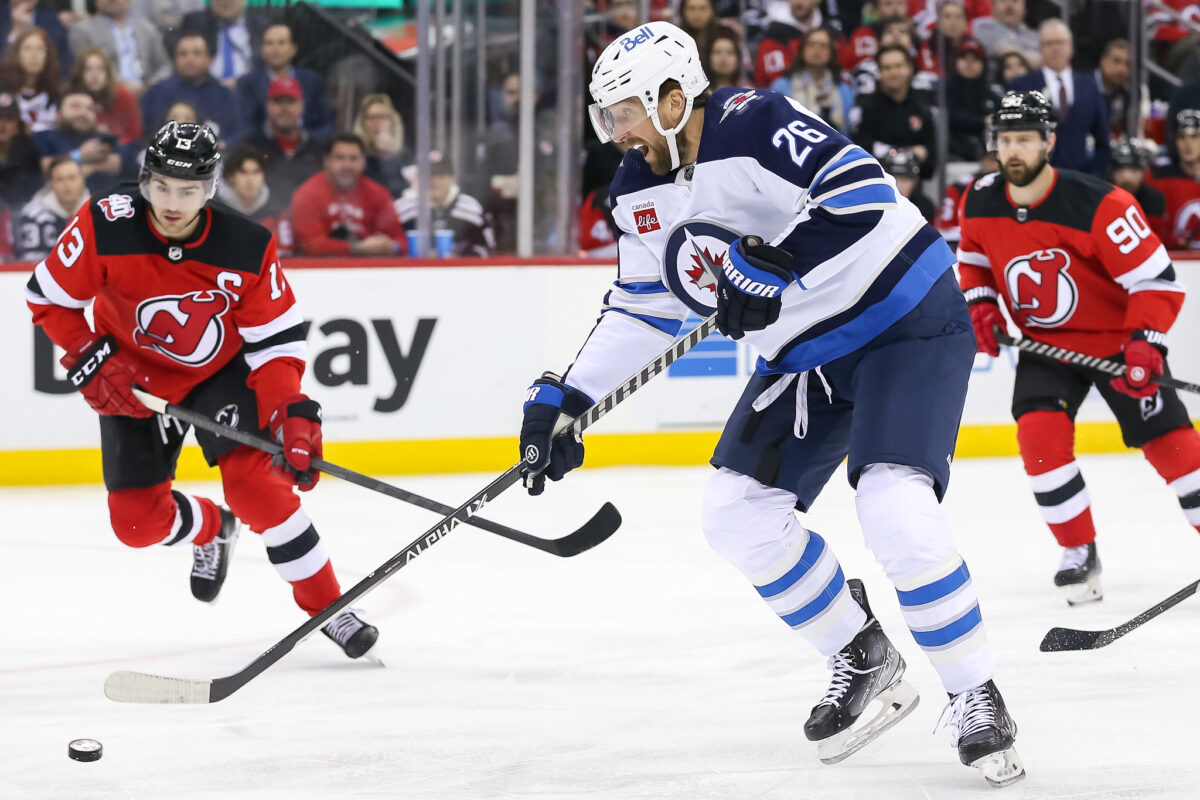 Wheeler's production dropped a bit in 2019-20 — 65 points in 71 games —but he was able to seamlessly slide to centre and help the Jets "stay in the fight" in the wake of Little's injury. It was a selfless move as Wheeler would be the first to admit he prefers to be the guy on the wing, making things happen from the wall for Mark Scheifele and Kyle Connor.
Despite his numbers dip, the campaign came with personal milestone — he became the franchise's all-time leader in points that December, passing Ilya Kovalchuk in one of the Jets most exciting games of the season.
In 2020-21, Father Time caught up with Wheeler in a big way and he became a liability at five-on-five. Although his point totals — 46 in 50 games — were still respectable, he looked a shadow of his former self from defensive and effort standpoints. Part of the reason for that was because he was quietly playing with cracked ribs.
2021-22 was another subpar season for both Wheeler personally and the Jets as a whole, and waning leadership qualities were one of the reasons for the lost season. In the offseason, rumours circulated the Jets were trying to trade him, and while a deal never materialized, he was stripped of his captaincy prior to the 2022-23 season by new head coach Rick Bowness.
Related: Jets' Bowness Makes Gutsy & Necessary Decision With Wheeler
Wheeler's contract has one season left on his contract and remains the Jets' highest-paid player. It has not aged particularly well and is generally seen as a bit of a boat anchor these days.
Overall, at age 31, Kane is the youngest former Thrasher. That means in a decade or less, the Atlanta Thrasher will be extinct for good.
---
---