By Terrance Gavan – Ottawa Senators
Let us not confuse our Ottawa Senators. We have two in town.
One is a deliberative unit, formed to uphold the law, make sensible choices, and dance the fine line between recklessness and entrenched maxims.
And the other Senators? A bunch of retired cronies, political hacks and former bagmen, known for poor attendance, palpable partisanship and –hah! – sober second thoughts.
What's that you say? The hockey Senators deliberative? Sensible? Tough on law and order? Balanced?
We never said this was going to be easy.
Deliberative? Mais oui, mes amis. General Manager Bryan Murray made what we think is the smartest move he's made in years with the hiring of new Coach Paul MacLean. We are not going to delve into his record. Or what the cognoscente of NHL coaches happen to be saying about the Sens' new coach. Most of it is pretty good stuff.
We know that Mike Babcock misses him. We also know that the Detroit players miss their former assistant knock. That's good enough for us.
Upholding the law? What's rule number one in hockey? Get big. And no I don't care if the Sens have the right stuff to punch it up with some of the beefier clubs in the league. Right now it looks like they have the right mesh of finesse and toughness.
And let's not forget that with the new sheriff Brendan Shanahan in town? Recklessness, headhunting and dyspeptic fisticuffs are all going to be met with some degree of politically correct rebuff from Sheriff Shanny. Finesse may be making a comeback in Tombstone.
Making sensible choices?
Aha! Now here we have some grist for the mill. Because the Sens are almost pared down to their playing weight. They chopped five players on the weekend.
And the keepers? Including two young defensemen? Sensible choices. Nice discernment and a profligate installation of young blood into the mix.
Two of the young men in question are blue-liners Jared Cowen and David Rundblad; and they didn't just squeak into this line up. The task of rebuilding a hockey team from ground up requires implementing mandates for progress.
And in this case the responsibility for improvement includes taking some gambles on youth. No one thought that both Matty Duchene and Ryan O'Reilly -18 year old forwards – would have a chance at cracking Colorado's line up two years ago. They kept them both. How's that looking now?
Ottawa Senators have no reason to keep haggard old legends this season. Out with the old. Take a chance on youth. This is not an Ottawa team that's looking to shore up a run at the second round of the playoffs. It's a team trying to stave off a last place finish. That's where Hockey News has them finishing. Fifteenth in the east?
It's a team that did a salary cap strip tease last spring. They picked up a building block in goaltender Craig Anderson. They are gambling that Captain Alfie's injury woes will subside for a season. That Daniel Alfredsson will return rejuvenated and bulwark a solid first line. Alfredsson says he's feeling great and he's looking just as smooth as an Armani suit out there thus far.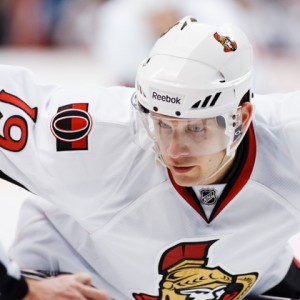 Jason Spezza (sporting the alternate's A this season), Alfie and Craig Anderson are foundational. They form the bedrock upon which the bricks and mortar must now be applied.
Forwards Stephane Da Costa and Mika Zibanejad as well as Rundblad and Cowen are up and running next week. The Senators with that intake of rookie talent will form one of the youngest teams in theNHL. Da Costa and Rundblad should probably be kept, but apparently, depending on who's talking, nothing is written in stone quite yet.
Ottawa Sun's Bruce Garrioch says that by keeping Zibanejad, the sixth overall pick in 2011, the Senators are selling hope. Garrioch is not alone in that assessment.
And if so? What's the problem? So what the hell is wrong with hope? He's had a great camp. And the kid has earned a spot.
He deserves at least that nine-game audition (until they have to start his contract) before a final decision has to be made.
Matt Duchene was under the same palpable cull for his first nine games withColorado. He had a slow start that year and at game eight fans and pundits were telling Coach Joe Sacco to send him back to Stan Butler and the Brampton Battalion. Well, they kept him and he was one of three nominees for Rookie of the Year honors in 2009-10.
Zibanejad showed the coaches that he has the skill set to compete, and kudos to the young man, because he's also offered up his body to the cause by extending his checks in the preseason. Tough kid. Physical kid.
He gets props from Alfredsson as well.
"His overall game is really solid," said Alfredsson (Ottawa Sun) "If you're going to play a lot of minutes, like he has during the exhibition (season), you have to know how to play all over the ice.
"When you're a high pick, that usually means you have a lot of skill, but for a guy who doesn't have much experience playing against men, he's smart with and without the puck and that's why he's surprised a lot of people."
Cowen and Zibanejad are first round picks of the Senators. Cowen was taken in the first round in 2009 while Zibanejad went in the first round just this past summer.
Da Costa was signed as an undrafted free agent out of Merrimack College in the spring. Rundblad was acquired fromSt. Louis in an exchange of first round picks in 2010. (Sens.com)
Over Boards: The Ottawa Senators reassigned five players to Binghamton of the American Hockey League.
The team announced on Saturday, Oct 1 that goaltender Robin Lehner, defensemen Mark Borowiecki and Patrick Wiercioch along with forwards Kaspars Daugavins and Mike Hoffman have been sent down to Binghamton.
Sportsnet's Ian Mendes reports that Cowen and Zibanejad have made the team, while Rundblad and Da Costa survived Saturday's cuts but that may only be temporary. So keep that in mind.
Peter Regin (shoulder) and Matt Carkner (knee) may not be available to play in the season opener. Forward Jesse Winchester (shoulder) will miss at least the first month of the season.
After the cuts, the Senators roster consists of 25 players: two goaltenders, eight defencemen and 15 forwards. (Files from Sens.com)
gav@pardontheeruption.com twitter.com/terrancegavan
Sens reporter Terrance Gavan was born in Ottawa. Attended Carleton University, graduated from University of Manitoba. Sports Editor for The Manitoban; Sports Information Director at the U of M. History: Interlake Publishing, CP, UPI, Winnipeg Sun, Assignments:CBC Radio/TSN. Managing Editor/Kanata Kourier/Standard 92-93. Quebecor; Currently: Sports and Entertainment Editor The Highlander, Haliburton, ON. Award winning photographer and poet. Lives by a lake with his dog Billie Jean. Happy. Happy.