The Columbus Blue Jackets finished the 2010-11 season 24th in the league in goals-per-game, averaging 2.56 goals per contest.  Most of the Blue Jackets forwards that played in the top six had statistically worse seasons than they did in 2009-10.  Rick Nash (1 fewer point), Antoine Vermette (19 fewer points), Jakub Voracek (4 fewer points), and Kristian Huselius (40 fewer points) all failed to measure up to their previous campaigns.  Power play troubles also plagued the offense of the Blue Jackets, as they ranked 29th of 30 teams with an abysmal 14% conversion rate with the man-advantage.  Cue the 2011 offseason, and General Manager Scott Howson went out and attempted to fix most of the team's issues with a series of moves.  Howson shipped out Voracek and their 1st-round draft pick for Jeff Carter, a true #1 center to play with Nash.  He traded for the rights to defenseman James Wisniewski who put up 51 points playing for the New York Islanders and Montreal Canadiens, then signed him to a five-year contract.  Other moves were made as well, including acquiring former New York Ranger Vinny Prospal, and acquiring some AHL scoring veterans to provide organizational depth.  Heading into training camp questions remained about how the lineup would shake out.  Carter and Nash (which is not the name of a new show on TNT) are both players that enjoy having the puck on their sticks and both shoot frequently.  Very frequently.  Third and sixth in the league in shots on goal frequently.  Could they adapt to playing on a line together?  Would any of the young prospects be able to push for a roster spot? And why does Matt Calvert look so much like Scut Farkus?  While we may never know the answer to the third question, it seems that Head Coach Scott Arniel has answered the first two.
FIRST LINE
Vinny Prospal – Jeff Carter – Rick Nash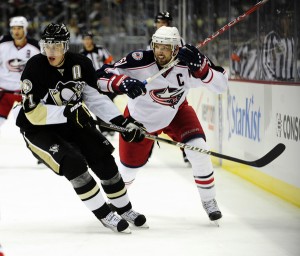 To start the season the Blue Jackets will flank the newly acquired Carter with Nash and the also newly acquired Prospal.  While it took a little bit of time for them to develop some chemistry in the preseason, the duo of Nash and Carter seemed to click in the final two preseason games.  It was settled early that these two would form the basis of the first line, with the third spot being the only one open.  Arniel tried a few different combinations, including playing prospects Tomas Kubalik and Cam Atkinson with the veterans.  Some thought that Derick Brassard, who the club moved to the wing might get a shot, but he suffered through an extremely poor preseason (0-1-1 -5).  Prospal had a good preseason, scoring 1-2-3 and was +2 while playing on various different lines.  With this trio the Blue Jackets have the first line in their history that should legitimately scare opposing teams.  If this line stays healthy, it could be one of the premiere lines in the NHL by the end of the season.  With Prospal's playmaking skills (453 career assists) and Carter and Nash firing the puck, the goals should come early and often.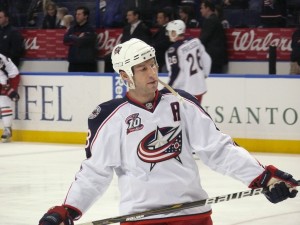 SECOND LINE
R.J. Umberger – Antoine Vermette – Cam Atkinson
Going into prospect camp I named Atkinson one of my five prospects to watch.  I must have known what I was talking about as Atkinson has surprisingly made the team out of camp.  The former Boston College standout has been a thrill to watch in preseason putting up an impressive 2-2-4 +3 in his first NHL action.  Joining Atkinson will be two steady veterans in Umberger and Vermette.  Atkinson is another gunslinger, his 15 shots-on-goal in the preseason trailed only Nash's 16 for the team lead.  In Vermette the team has one of the best faceoff men in the league (55.6%) who is looking to have a bounce-back year following a disappointing 2010-11 season.  The versatile Umberger is a fan-favorite in Columbus where he has played in a club-record 246 straight games.  While not blessed with incredible speed, or a good shot, Umberger plays a gritty game and has a great nose for the puck.  Arniel must be anticipating the excellent chemistry exhibited by Vermette and Atkinson in the preseason to carry-over to the regular season.  Umberger adds not only a veteran, defensive presence, but scores most of his goals on rebounds and tips, and Atkinson and Vermette should provide plenty of opportunities for both.
THIRD LINE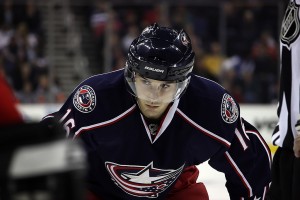 DERICK BRASSARD – RYAN JOHANSEN – MAKSIM MAYOROV
It remains to be seen if this line will be permanent or if it will only last for the first nine games of the season.  The reasons for the instability are injuries, and the man in the middle of the line.  The former fourth overall selection in the 2010 NHL draft, Johansen is one of the most highly rated prospects in the entire league.  Unfortunately for the Blue Jackets the agreement that exists between the NHL and the Canadian Hockey league (CHL) does not allow them to send Johansen to the American Hockey League (AHL) if he doesn't succeed, since he is too young.  Instead they have a nine game window to evaluate the youngster before deciding whether they want to keep him or send him back to his junior club, the Portland Winterhawks.  Should the Blue Jackets decide to keep him, this appears to be the line on which he will play.  The line composition is very interesting.  Never having panned-out as the top line center they had hoped for, the Blue Jackets have moved Brassard to the wing.  They hope the lesser defensive responsibilities and freedom to use his speed more will help his game.  On the other wing Mayorov was not awarded his spot, instead he went out and grabbed it with an excellent preseason.  Having spent the better part of four seasons in the AHL, Mayorov finally looks ready to assume a role with the big club.  If Johansen seems overwhelmed, or just not ready, look for the currently injured Derek MacKenzie to center this line.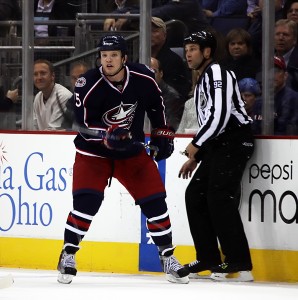 FOURTH LINE
MATT CALVERT – SAMMY PAHLSSON – DEREK DORSETT
Dorsett and Pahlsson spent the majority of the 2010-11 season on the checking line with mixed results.  A mid-season call-up from Springfield, Calvert was a revelation, a quick, pesky player who plays with high energy.  The combination of Dorsett and Calvert on a line together should prove frustrating for opponents.  The main area of concern with this line is size.  While nobody will question Dorsett's toughness (184 PIMs) he isn't a big body (5′ 11″ 190 lbs.).  Calvert is even smaller (5'11" 180 lbs.) and Pahlsson, a renowned defensive specialist isn't known for his physical play.  That being said the trio combined for 408 hits last year, so they will obviously not shy away from contact.  Calvert does add some scoring ability to the checking line, something the Blue Jackets did not have last year as Pahlsson split time with since departed veterans Chris Clark and Ethan Moreau.  Arniel will probably be looking for this line to provide toughness, and currently injured Jared Boll could find himself taking over for either Dorsett or Calvert depending on how things are going when he returns from a broken thumb (4-6 weeks).
OTHERS EXPECTED TO CONTRIBUTE
JARED BOLL*, TOMAS KUBALIK, CODY BASS, ALEXANDER GIROUX, DEREK MACKENZIE*, KRISTIAN HUSELIUS*
* – INJURED
While the Blue Jackets escaped training camp and the preseason relatively injury-free there were two major losses.  Boll, the team's hard-hitting pugilist broke his thumb during a fight in the team's final preseason game.  While his roster spot may have been somewhat in jeopardy the Blue Jackets lack someone with Boll's combination of size (6′ 2″ 214lbs) and toughness.  Boll had a nice year in 2010-11 putting up 12 points and 182 PIMs.  Should Arniel feel the need to replace Boll with a player of similar ilk, they could look to Cody Bass.  Bass is another high-energy big guy who isn't afraid to drop the gloves.  He will start the year in Springfield.  The other major loss occurred before training camp, when Kristian Huselius tore a pectoral muscle while working out.  While somewhat thin at 6′ 2″ 184 lbs. Huselius had a fairly healthy career until last season.  After missing 43 games to injury last year, Huselius will probably be out until after Christmas rehabbing this injury.  The Blue Jackets went out andsigned Prospal due to Huselius' injury.  Derek MacKenzie was a player that surprised in 2010-11, notching 23 points and a team-best +14 in only 63 games.  The career minor-leaguer gave the Blue Jackets some much needed depth at center.  He is currently out with a sprained knee and probably will be held out until it is completely healed.  When he returns it could be to play wing on the checking line as he is very sound defensively and lacks ideal size for a center.  Two names that should be looked at if more injuries occur are Tomas Kubalik and Alexander Giroux.  Both players had good preseasons and were among the last cuts made by the team.  Both players should see plenty of ice time in Springfield and will probably be called-upon quickly when depth is needed.