Toronto Maple Leafs most recent acquisition, Jake Gardiner, shows plenty of potential, but still has a lot of work to do to get NHL-ready. Coming to Toronto via trade with Joffrey Lupul in exchange for Francois Beauchemin, the young blue-liner has Leaf fans anticipating his development.
According to TSN's Bob McKenzie,  "In general terms, Gardiner is not considered a blue-chip or elite or can't miss NHL prospect but he is by no means a longshot either. A "solid" or "decent" prospect, according to a number of scouts surveyed by TSN,  but still with a lot to prove."
The 20-year-old University of Wisconsin blue-liner was drafted by Brian Burke when he was with the Anaheim Ducks in the first round of the 2008 NHL Entry Draft, and has found his way back to the General Manager who gave him his entry into the NHL.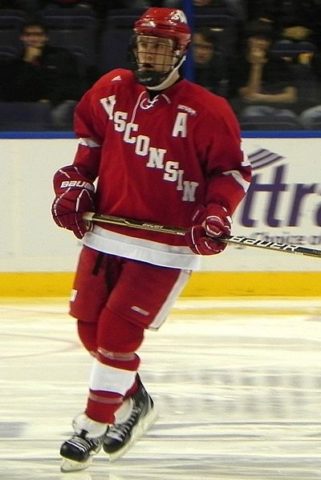 In 2007-08, Gardiner finished a successful high school career with Minnetonka High School in Minnesota. There, Gardiner served as one of the team's captains, and had a solid senior year with 20 goals, 28 assists and 48 points in 24 games played.
After earning a two-point per-game average in his final season of high school hockey, his draft value skyrocketed and Gardiner was drafted to the Ducks 17th overall in 2008.
After signing a letter of intent with the University of Wisconsin that spring, he played his first year of WCHA hockey in 2008-09, and recorded 3 goals, 18 assists and 21 points in 39 games as a freshman.
He slowed down in his sophomore season, where he recorded 6 goals, 7 assists and just 13 points in 41 games, but still earned a spot on the U.S. World Junior team in 2009-10 where he played 7 games, recording 3 assists.
His continued work-ethic and perseverance allowed him to get back on track in the current 2010-11 season, where he already has 7 goals, 23 assists, 30 points and 22 penalty minutes in 30 games. For a NCAA defenseman, these numbers are more than exceptional.
Listed at six-foot-two inches, 181 pounds, the Davenport, MN, native seems to fit the bill for Burke's preferred type of player – an American-born, hard-working, solid two-way defenseman brought up through the collegiate system. Coming into the 2011 summer camp with three seasons of college hockey under his belt, Gardiner will have a legitimate chance to prove himself and should at least get a shot at playing some AHL hockey with the Marlies.
Known as a versatile offensive defenseman with the potential to grow, Gardiner is known for his skating ability and great hands. His offensive niche comes from the fact that he played much of his minor career as a forward, although he was able to quickly adapt to defense when asked to make the switch.
He has been noticed for his sound positional play, while also having the hockey sense and smarts to know when to jump up into the rush or stay back in his defensive position. His ability to play big minutes, creativity with the puck, physicality, and wicked shot are many attributes this defender brings to the ice night after night, which is why Burke clearly shows his support and confidence in his 2008 first-rounder.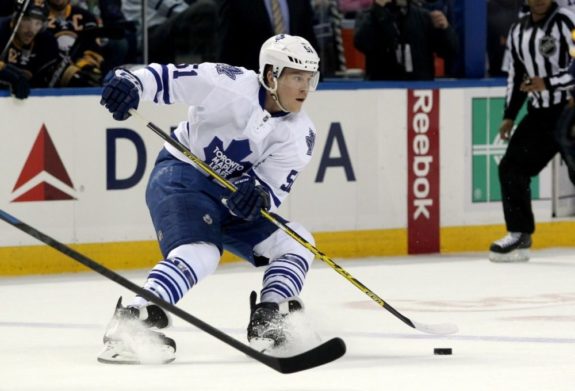 Gardiner still needs to bulk up in weight and fill out his 6.02" frame, but his overall evaluation shows that with the right amount of commitment, he could blossom into a complete NHL rear-guard in years to come.
*Photo used under creative commons, via Bhockey10