It's been another tough year in Leaf Nation. A promising 4-0-0 start quickly degraded, and Toronto has been outside a playoff position looking up all year. The defensive play has been terrible, only one forward line contributes consistently, the defensive corps has not been an offensive factor, and the goaltending has done what it can.
At times, Air Canada Centre resounds with the 'Fire Wilson' chant. Ron Wilson is a decent coach. Winner of 1996 World Cup of Hockey, an Olympic Silver Medal, a Stanley Cup Finals appearance. Over 1300 games coached in the NHL, over 600 wins. But, the fact remains the Leafs will likely miss the playoffs for a 6th consecutive season. While talent levels may be to blame, the coach has to feel the heat, despite what good friend Brian Burke says about not firing him. But – in my view, the Leafs must fire Ron Wilson in order to develop a winning club.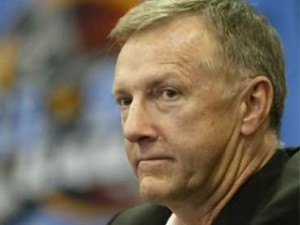 1. The CBC/NHLPA Player's Poll
The CBC/NHLPA Player's Poll gave some interesting information. Of 318 current NHLers polled, 24% (about 76), named Ron Wilson the coach they'd least like to play for. Given almost 800 NHL players, that might mean somewhere between 180 and 200 players like the idea of having Wilson behind their bench about as much as a full equipment practice on a Sunday at 6 AM.
Yes, it's a poll. It's anonymous. We don't know if 76% of players would have named Wilson the coach they'd second-most like to play for. We don't know all the possible reasons a player would vote the way they did. Maybe Wilson's rookie card was the only card missing from his O-Pee-Chee set. Maybe Wilson called the guy 'Brad' for his whole rookie season, and the kid's name is 'Bryan'. It's a poll, not an in-depth study. Still, we cannot completely discount the numbers either.
Note these answers…
Team you'd least like to play on? Toronto and Montreal tied 5th, with 5%. Toronto is a tough media centre for hockey, and the Leafs have been declining for decades. But, almost 5 times as many players said they'd least like to play for Wilson than said they'd least like to play in Toronto. I think we can eliminate 'Toronto' as a driving reason for Ron Wilson's high 24% rating. But maybe we can say Wilson's high rating influences Toronto's.
Most demanding coach? Dan Bylsma placed 5th at 4%. Wilson did not make it into the top 5. So it's not that players are scared he's too tough a coach to please.
Coach you'd most like to play for? Bylsma, Babcock, Tippett, Boucher and in 5th at 6% Joel Quenneville. Again, no Ron Wilson, meaning less than 6%, or, extrapolated over the NHLPA, less than 40 players would say they'd most like to play for Wilson.
2. His Toronto coaching record.

In Ron Wilson's 219 game tenure (as of 02.11.2011) as Maple Leafs' head coach, the team is a deplorable 87-99-33. That is a 0.473 point percentage, a stark contrast to his predecessors Maurice (0.530) and Quinn (0.591). He may have coached 600 wins, but not too many of them happened here.
The numbers do not tell the complete story. Reason says that a losing record means your team loses often. But under Ron Wilson, the Leafs have endured a series of long periods of more losing than winning.
In 2008-09, a 2-6-3 stretch through November knocked the team down the standings. Between December 23, 2008 and January 27, 2009, the team went 3-10-2, ending any chance of getting back into the chase.
The following season, the well documented 1-7-5 start killed the fans' hopes early. A 3-10-2 January ensured the team a lottery draft position.
This season, a 4-0-0 start was followed by a 4-11-4 stretch to the end of November, again dropping the team out of playoff contention.
While some will argue that the team has a lack of good NHL talent  (and that has some merit), it seems that Wilson cannot motivate his players out of their collective poor play. A coach is there to game plan, to motivate, to instruct. Less talent makes things difficult, yes, but prolonged play of about 0.350 and under indicates that maybe the coaching is unable to find the corrections and execute them early enough to turn things around.
3. Friction with players.

The Player Poll may allude to it, but there is reason to think the players currently on the team may have problems with Wilson as coach.
When Brian Burke was unable to trade Tomas Kaberle during his window last summer, a story leaked out that Tomas' father, Frantisek Sr., had spoken of a poor relationship between the defender and his coach. The father stated "In my opinion, I can't see Tomas entering a new contract with the Toronto. Not if Ron Wilson continues to be employed there." Further, Frantisek Sr. opined that "I cannot imagine how he will get along with coach Wilson, who relies primarily on aggression and stress. That's not Tomas, he's a technical type of defender." Many felt it was simply a father speaking out of turn. In fact Tomas himself stated that his father does not speak for him, and was defending his son against criticism that maybe Tomas was not suited to the Burke-Wilson blueprint. It should be noted that Kaberle has at times struggled, but continues to put up points, on pace for 53.
Last week, Phil Kessel, when being questioned about his scoring woes, and he sounded like he wanted out. When asked if the coach had offered him any help, Phil's response was "No, me and Ron don't really talk. That's all I have to say about that." The next day, in full damage control mode, Kessel tried to explain that "We don't talk, like, often. I don't think anyone talks to the coach that often, right? I mean, some guys might, but I don't. There's no problem." Again, maybe the story is overblown by the media, but gee Phil, could your explanation sound any more half-hearted?
Many speculate that Wilson has botched his handling of sophomore Jonas Gustavsson. Thought to be the #1 going into camp, Gustavsson was made the back up and given a schedule of getting every 3rd start. When Giguere went down with a groin problem, Gustavsson got the starts, but his play was nothing like last season when he looked ready for NHL play. The emergence of Reimer pushed Jonas to a back up role again. But the night of January 19, it seemed maybe the coach had enough of the Monster. In his first start in 2 weeks, Jonas allowed 3 goals to the Rangers in the first period, and was pulled for Giguere (returned from the injured list) after about 14 minutes of play. But, Giguere was slated to get the next start, the Monster was back in net to start the second period, and finished the game, allowing 3 more goals and taking the loss. Maybe more of the blame should go to Burke, but Jonas was made the third goalie, stuck in the press box. The start against the Rangers was Jonas' only play since January 6, and he was finally sent down to the AHL for conditioning on February 4.
To be fair, it would appear that Luke Schenn and Nik Kulemin, both in their 3rd years, have done well under Wilson. Schenn has been one of Toronto's better defenders, and Kulemin has found chemistry with his linemates, posting career highs for goals and points. One could argue that Carl Gunnarsson, and now even Keith Aulie seem to be developing well under Wilson's coaching.
Conclusion
I believe that as long as Ron Wilson remains coach of the Maple Leafs, the franchise will continue to wallow at the bottom of the standings.
The evidence seem to be stacking up that players around the league are not fond of him. And it's not that the coach has to be your buddy, but Ron Wilson has coached continuously since 1993, he is not an unknown commodity. By reputation or by direct contact, it's not difficult to imagine he is well known through the league.
As coach of the Leafs, he has not succeeded. Record aside, watching this team during this season, it's been evident that his team is often unprepared. That evidence is shown by the number of times the Leafs are scored on first, the number of times the Leafs have been down 2-0, the number of turnovers and poor penalties per game. The sets of 12 or 15 or more games where the Leafs string 3 or 4 losses together, eke out a win, then string another 4 or 5 losses together.
Brian Burke has built a young team in Toronto. The current roster as of this writing has only 2 players over 30 years of age. Maybe it's time for Burke to make the next great young coaching hire, someone to teach, someone respected. Many would say Doug Gilmour, and that's a nostalgic choice. But Gilmour is still early in his coaching career. I think a better choice might be a Kirk Muller, whose contract may expire soon, or perhaps a Mike Foligno, someone who's coached in junior, has played in the NHL, even has 2 of his own sons in or near playing in the NHL.
But at some point, the coach has to shoulder the burden for his team's failure to improve. And after 3 years, Wilson's time is soon.
A graphic designer and production artist by trade, Mark is a long-time hockey fan. He was a Maple Leafs contributor to TheHockeyWriters.com for over 2 years, and has written for other websites. You can follow him on Twitter @MarkAscione