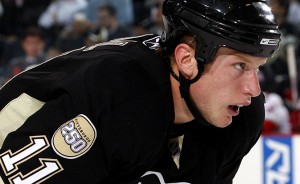 The 2007-08 season will go down as the 'year of the high-ankle sprain' in Pittsburgh Penguins history. 
Marc-Andre Fleury and Max Talbot missed long stretches of time with the injury, and more importantly Sidney Crosby was out of the lineup a total of 28 games at a critical juncture in the season.
From the shadow of the captain emerged a shy 21-year-old Russian named Evgeni Malkin.
Before that point, the second-overall pick in the 2004 draft had been just a nice complementary piece alongside the franchise superstar Crosby.  A dangerous weapon capable of scoring timely goals, but certainly not the type of player capable of carrying a team on his back through challenging times.
But Malkin emerged.  He became a leader.  He scored 46 points in those 28 games without Crosby.  He developed a voice on and off the ice and made the Penguins HIS team.  In the face of adversity Malkin became a superstar and rode that momentum to not only an Art Ross Trophy (NHL leading scorer), but also the Conn Smythe as playoff MVP the following season.
It seems like the Penguins are once again facing impossible odds.  With their forwarded lines gutted by injuries and a suspension to Matt Cooke, a crew of players from Wilkes-Barre of the AHL have been given an opportunity to show what they can do.
Call-up Brett Sterling scored a crucial early goal in Pittsburgh's 2-1 OT win over Los Angeles last night, but even his offensive abilities can't fill all the holes that exist right now on this Penguins team.
In the absence of vocal leaders Crosby, Malkin, Chris Kunitz, and Arron Asham, who is going to take charge and rally the troops?  Who is going to face the cameras after a lackluster team effort and say excuses aren't welcome in the Penguins' locker room?
Brooks Orpik wears an 'A' on his jersey as alternate captain and isn't afraid to speak his mind, but he'd rather let his physical play on the ice set the tone.
Offseason signing Zbynek Michalek is another defenseman with leadership characteristics that most fans in Pittsburgh don't fully appreciate yet.  On a number of occasions he's told me after a loss that 'things need to change', and inevitably he makes sure they do.
Last night he bailed out Fleury on a remarkable play after the Kings' Justin Williams deked the Penguins' goaltender out of position.  About twenty seconds later Sterling scored to give the Penguins a 1-0 lead.
Coach Dan Bylsma said that type of effort is what leads to wins in the National Hockey League.  "It was Z's battle level and battle at the net that prevents that thing from going in our net," the coach said of Michalek. "We had a team effort in a lot of areas and especially at that back end to give us that opportunity to get two points."
After last night's win, Michalek admitted that losing 4-1 on Tuesday to Columbus had left the team in a funk.  "This win means so much for our team right now," Michalek said. "We were a little bit down after the Columbus game and a few new guys came in and stepped right up and they gave us a little bit of a lift.  We're going to need that going forward, because we're going to be missing some of these [injured] guys for a long time."
But last night no player took charge more than Jordan Staal.  The second-overall pick in the 2006 draft had a season-high 24:41 in ice time, won ten of 15 faceoffs, and fired eight shots towards the net – none more important than this one with just seconds left in overtime:
Yahoo's Greg Wyshynski said "now this is what the Penguins need out of Staal" in naming him the first star of the night, and he couldn't be more correct.
It isn't just the goals and assists that the Penguins need from Staal in the absence of Crosby and Malkin.  It's the defensive play on Jack Johnson leading to the turnover that Staal can execute as well as anyone in the league.
"We're trying to win every game obviously, and it's not going to be pretty hockey," he said.
And it doesn't have to be.
Not much will change system-wise for Bylsma's team in the coming weeks.  The spotlight on Crosby's amazing first half of the season and lengthy point streak shadowed the fact that Fleury and the Penguins' defense have been winning games for this team since November.  Limiting mistakes and outworking opponents will allow Pittsburgh to hang around against opponents they no longer have the talent to compete with.
Evgeni Malkin is not going to be coming through that locker room door.  Sidney Crosby isn't coming through that door.
This is Jordan Staal's team and his time to shine has arrived.
___________________________________
News and Notes:
~ Call-up Nick Johnson got one assist on Brett Sterling's first period goal but probably deserved a second on the play.  Johnson drove to the net taking two defenders with him allowing Sterling to sneak into the slot wide open and fire a wrist shot over the glove of Jonathan Quick:
Coach Bylsma liked what he saw out of the Sterling-Johnson-Dustin Jeffrey line and I asked him if Johnson's ability to create that traffic in front of the net is something he wants to keep seeing out of Johnson moving forward:
"Nick played some good games last season when he played next to Evgeni Malkin as the second line right wing.  He was effective, showed some speed, showed some offensive zone work and he's a big guy who can skate and move.  You saw that tonight.  You saw him in the offensive zone, around the net, making plays and with his shot.  He was able to come up and show what he can bring.

He's going to get another opportunity the next couple days to do it again and again and it'll be a real challenge for him to keep it going and be that factor for us.  Right now with that speed and net presence in the offensive zone he's got a real opportunity."
~ Dustin Jeffrey (lower-body) was injured in the second period when he went crashing into Quick and will not make the trip with the team as they head to Long Island today.  He was walking around in the locker room after the game and is being evaluated by team doctors.
~ Jeffrey's injury leaves the Penguins a little shallow at center, a position once considered the deepest in the organization.  Fortunately, a few of the healthy bodies have played center at various points in their career.  The current depth chart is:
Jordan Staal
Max Talbot
Craig Adams
Tyler Kennedy
Mike Rupp
Ryan Craig
Joe Vitale
~ Eric Tangradi was recalled from Wilkes-Barre this afternoon to replace Jeffrey and is expected to be in the lineup tonight vs. the Islanders.  Tangradi was demoted on Wednesday evening.
~ Mark Letestu (knee surgery on torn meniscus) was also in the locker room last night walking around and shaking the hands of his former Wilkes-Barre teammates that now make up a large chunk of the Penguins' roster.  The undrafted Letestu spent parts of four seasons in Wilkes-Barre before making the Penguins out of training camp this year and earning a two-year contract extension in January.
~ Dan Bylsma earned his 100th win in the NHL last night and became just the third Penguins coach to hit that mark (Eddie Johnson, 232 wins; Michel Therrien, 135 wins).
Bylsma (163 games) was the fastest in franchise history and the fifth-fastest in NHL history to reach 100, just ahead of Washington's Bruce Boudreau (164)
His thoughts on the milestone:
"The most thought I gave 100 wins was probably before the season started and I knew the number [of wins needed] was 35 to get there.  Haven't given it a ton of thought [lately], did know we were creeping up on it especially after we won five in a row.  It's rewarding to get the 100th just the way our team did it and battled, but it's only 35 [this year] and we've got more work to do."
~ Defenseman Rob Scuderi made his return to Pittsburgh last night as a member of the Kings and the Stanley Cup hero was greeted with a standing ovation following this tribute video on the scoreboard: