Sweden has produced some of the most talented hockey players to ever lace up the skates in the NHL: Nicklas Lidstrom, Henrik and Daniel Sedin, Peter Forsberg, and Mats Sundin, just to name a few. While these legends of past eras aren't playing anymore, Sweden's knack for producing top-end hockey talent hasn't subsided one bit. After Canada and the United States, the next most represented country in terms of active NHL players is Sweden. Here is a list of the top-10 Swedes currently playing in the NHL, based on personal statistics and accolades, team performance, longevity, and all kinds of other factors.
Honorable Mentions
There are a lot of talented Swedes playing the NHL today, so unfortunately, some of them had to miss the cut, and fall outside of the top-10. Here are the players who fell just short of the ranking:
Erik Karlsson, D, San Jose Sharks; Filip Forsberg, F, Nashville Predators; William Karlsson, F, Vegas Golden Knights; Oliver Ekman-Larsson, D, Vancouver Canucks; Rasmus Dahlin, D, Buffalo Sabres; Viktor Arvidsson, F, Los Angeles Kings; Elias Lindholm, F, Calgary Flames; Jonas Brodin, D, Minnesota Wild; Jesper Bratt, F, New Jersey Devils; Patric Hornqvist, F, Florida Panthers.
10. Jacob Markstrom, G, Calgary Flames
Jacob Markstrom's road in the NHL has been a long and sometimes uncertain one. He's bounced around the NHL from team to team and has worked as hard as any other player to earn his spot on NHL rosters. After signing a monster contract with the Calgary Flames a season ago, it looks like he's been able to do just fine for himself at the end of the day.

Markstrom is a big body in goal, standing at 6-foot-6, making him one of the tallest goalies in the NHL today. He was a first-round pick of the Florida Panthers in the 2008 NHL draft, and it took several seasons for him to even get a shot between the pipes for the Panthers, let alone earn his spot as a starting goalie. It wasn't until he was traded to the Canucks by the Panthers in 2014 for Roberto Luongo and Shawn Matthias that he truly got that chance, but when he did, he took full advantage of it.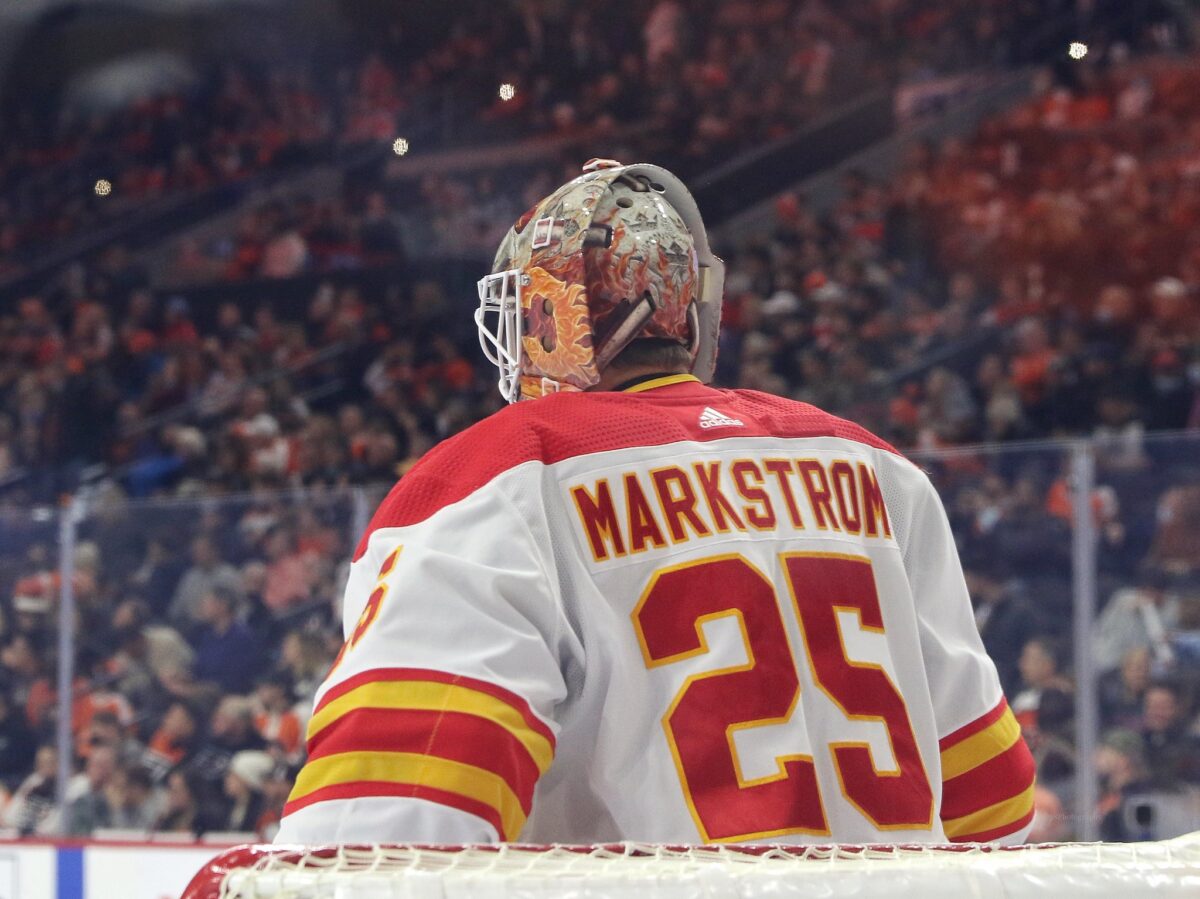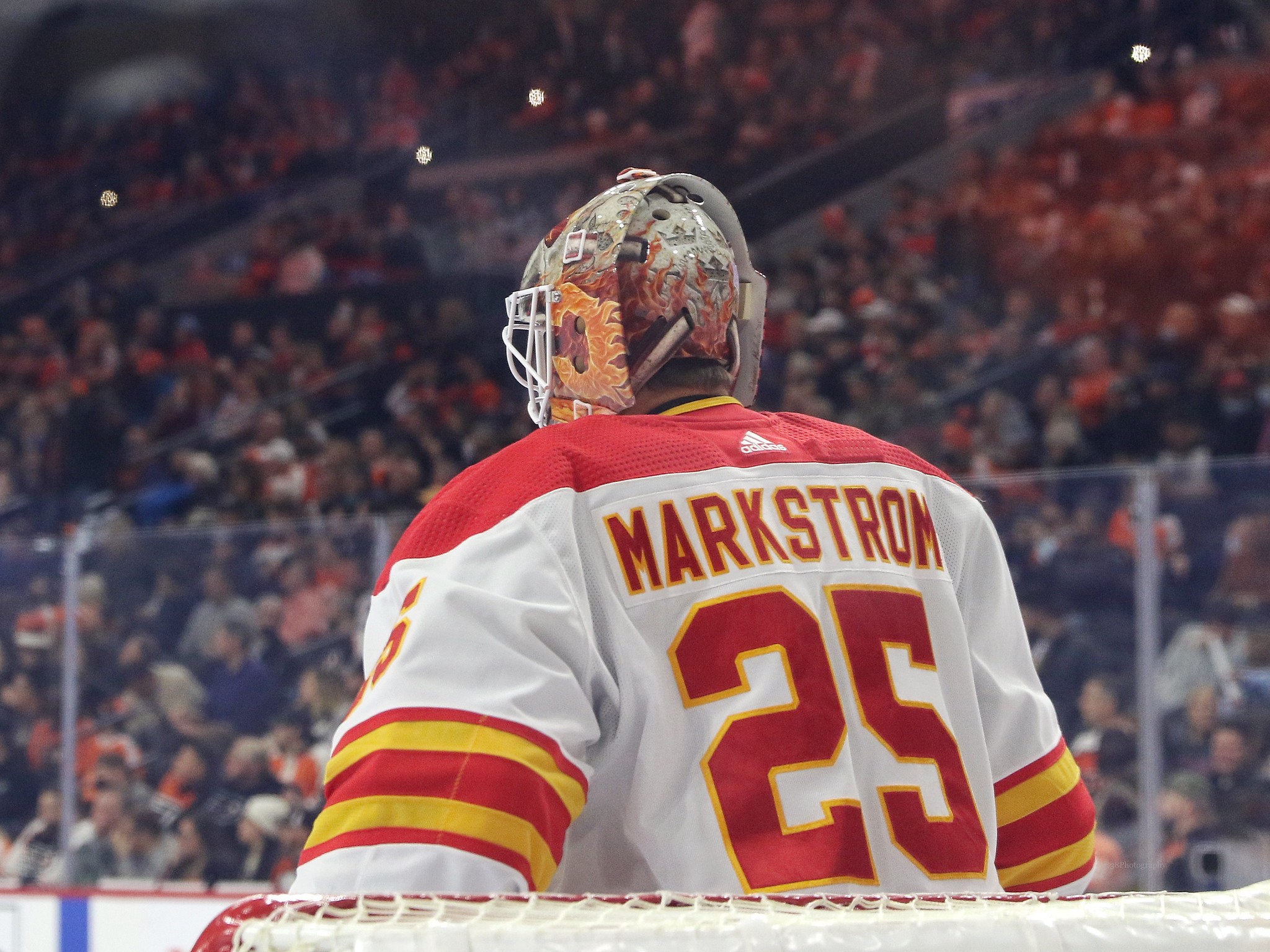 Markstrom has put together a successful career since becoming a full-time NHLer, recording 145 wins in 342 games, and posting respectable numbers with a career 2.74 goals-against average (GAA), .911 save percentage (SV%), and 13 shutouts. In 27 games played so far this season, he is 13-9-5 with a 2.25 GAA, .924 SV%, and five shutouts, and is playing some of the best hockey of his career as he hopes to make a deep playoff run with the Flames.
9. Elias Pettersson, F, Vancouver Canucks
The arrival of Elias Pettersson to the Canucks marked the end of an era for the franchise since it synced almost perfectly with the retirement of the Sedin twins. Unfortunately, the team never won a Stanley Cup with those two players, but Pettersson brought hope for the new era with him the way he burst onto the scene in his rookie season.
Related: Canucks Showdown: Elias Pettersson vs. Quinn Hughes
Pettersson was drafted fifth overall by the Canucks in the 2017 NHL draft. From the first game in his rookie season that following October, he wowed fans with his skill and speed. He began his career with a five-game point streak and went on to lead all rookies that season in goals (28), assists (38), and points (66), setting a new Canucks record for most points by a rookie, beating the previous record set by Pavel Bure in the 1991-92 season.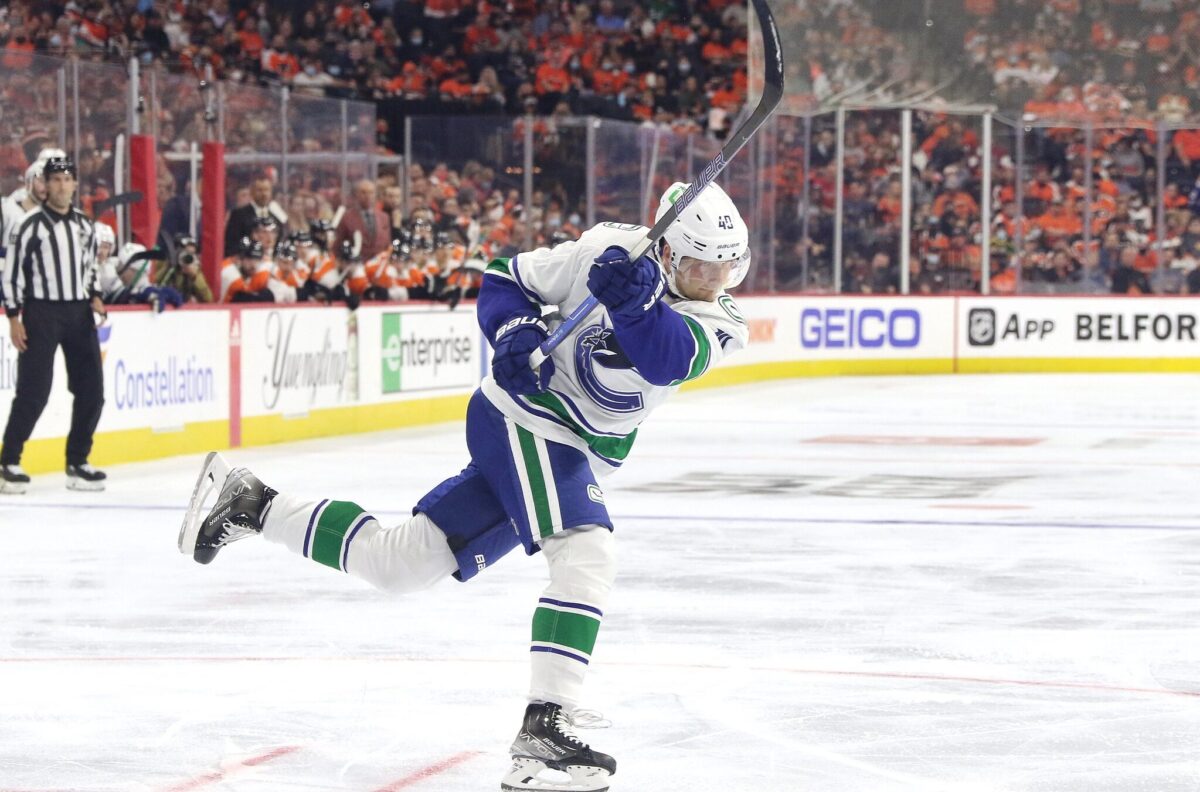 Before the COVID-19 pandemic paused the 2019-20 season, Pettersson was on his way to a career-best season. He has 27 goals and 39 assists for 66 points, which put him in position to blow past his rookie season numbers. However, he hasn't come close to setting new records since, and although he's gotten off to a slow start to the 2021-22 season, fans are hoping he can replicate that play from way back in 2017.
In 40 games played this season at the time of writing, Pettersson has nine goals, 11 assists, and 20 points. He's still just 23-years-old, and the changing guard in the Canucks front office is looking to build around him down the middle, and teammate Quinn Hughes on the back end. His two NHL All-Star Game appearances have shown he has the talent to be one of the NHL's best, and he has plenty of time to prove he is.
8. John Klingberg, D, Dallas Stars
John Klingberg was never the likeliest candidate to earn a spot in any top-10 list, let alone as one of the best players from his country to play in the NHL. But the former fifth-round pick from the 2010 draft has spent his career doing just that, and ranks as the eighth best Swedish player playing right now.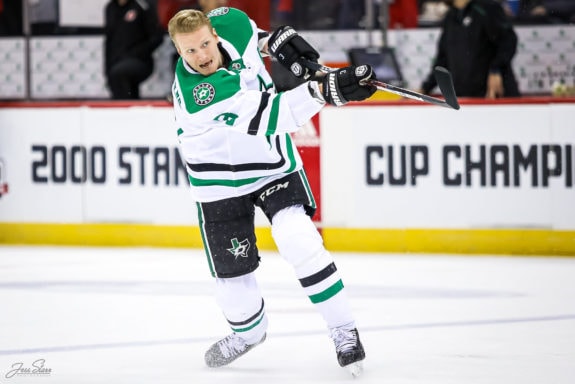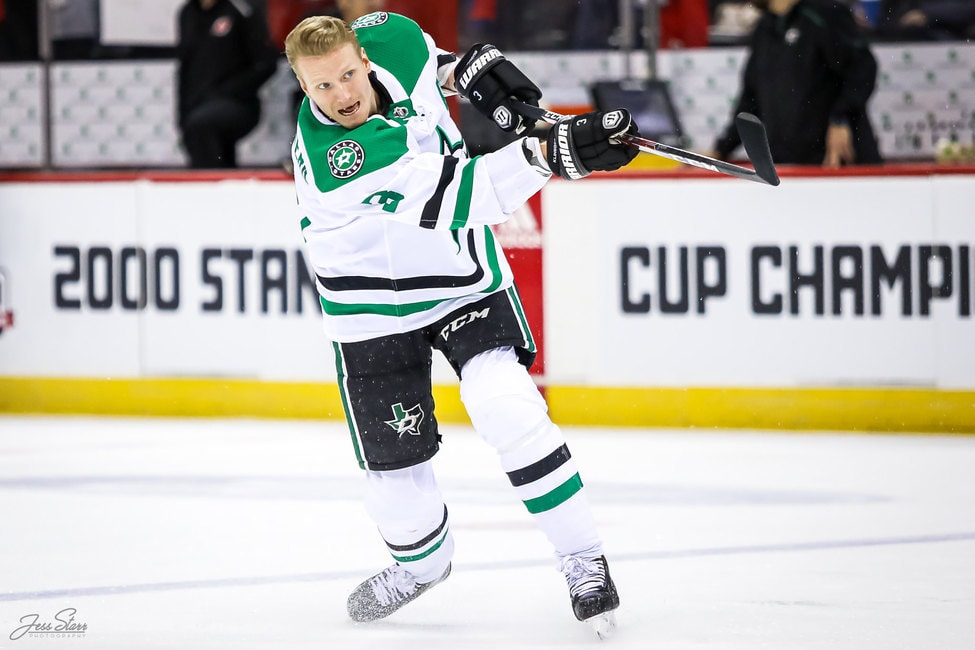 Klingberg passed on his first opportunity to play in the NHL to develop his skills in his native Sweden, a route that eventually played out well for him. He made his NHL debut in the 2014-15 season with the Stars, and immediately made an impact on the ice as one of the team's best defensemen. He led all Stars and rookie d-men that season with 11 goals, 29 assists, and 40 points in just 65 games to finish the 2014-15 season, ultimately leading to a fifth-place finish in the Calder Trophy voting as the NHL rookie of the year. This effort earned him a whopping seven-year contract in April 2015, one that's set to expire at the end of this current season.
Klingberg has played consistently well in terms of his offensive production throughout the entirety of his NHL career. In 511 career games, he has 66 goals, 283 assists, and 349 points, while having a plus-five plus-minus rating and 20 game-winning goals (GWG). He helped the Stars to their 2020 Stanley Cup Final appearance with four goals, 17 assists, and 21 points in 26 playoff games that postseason.
In 33 games this season at the time of writing, Klingberg has one goal and 21 assists for 22 points, with 11 power play points (PPP). Tensions have grown between him and the team as he has requested a trade, and general manager (GM) Jim Nill is reportedly searching for a suitor for the offensive defenseman.
7. Mattias Ekholm, D, Nashville Predators
Mattias Ekholm could be called one of the outliers on this list, simply because he is not known for his offensive prowess, but rather his defensive game. Standing at 6-foot-4 and 215 pounds, Ekholm is a big-bodied, "defense first" kind of player, who has made his name being one of the best defensive defensemen in the NHL during the course of his career.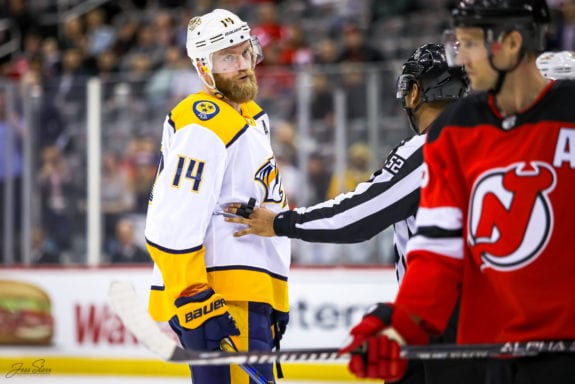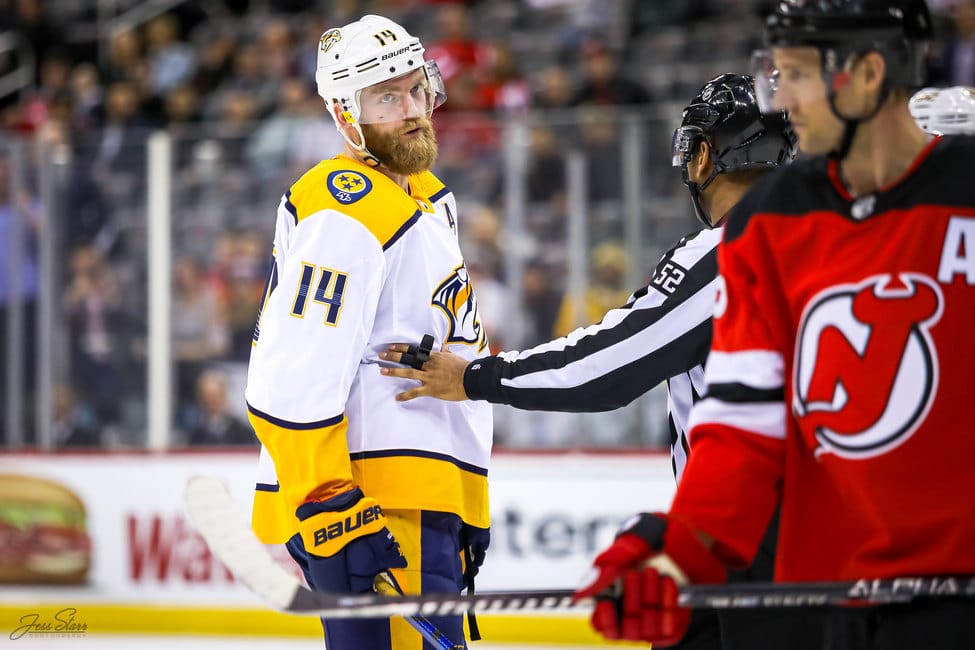 After being drafted in the fourth round of the 2009 draft, it took Ekholm a few seasons to earn a full-time spot on the Predators roster, but when he did, he became an invaluable member of that team, and remains one to this day. He made his Stanley Cup Playoff debut in the 2014-15 season, and played a full 82 games during the following regular season in 2015-16. He reached double digit goals for the first time in the 2017-18 season (10), and scored a career-high 44 points with eight goals and 36 assists in the 2018-19 season. He also registered a career-high plus-minus rating with a plus-27.
Given the way he's progressed over the last decade, it feels appropriate to compare Ekholm to a fine wine: he simply gets better with age. The 31-year-old has 53 goals, 178 assists, and 231 points in 625 career games, with an incredible plus-96 rating and impressive special teams marks: 39 PPP, and 10 short-handed points (SHP). He has two goals and 12 points this season through 22 games, on a Predators team defying all expectations and shooting for a playoff berth.
6. Mika Zibanejad, F, New York Rangers
Mika Zibanejad was drafted sixth overall in the 2011 draft by the Ottawa Senators, and has quietly had himself an extremely prolific NHL career. Before signing with the New York Rangers, his current team, he played a handful of seasons with the Senators, helping them to their most recent Eastern Conference Final appearance in 2017, and playing a crucial part in the young core of players they had there. But after the Senators franchise began a new rebuild, it was time for him to move on and find a new team. By the looks of it, he chose the right one.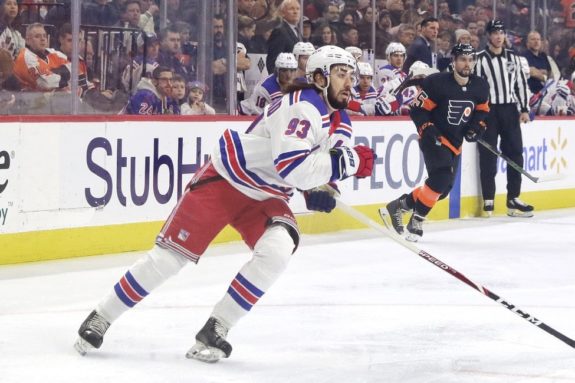 Zibanejad broke out in the 2018-19 season, which saw him set career highs with 30 goals, 44 assists, and 74 points in 82 games with the Rangers. He has continued his torrent scoring pace since then, playing in the Ranger's top six (usually on the top line), and is on track this season to blow past his previous career highs.
Related: Rangers' Mika Zibanejad: 5 Great Things
In 42 games played this season at the time writing, Zibanejad has 15 goals, 27 assists, and 42 points, to go along with 17 PPP. The 28-year-old is entering the prime of his career and has another chance to be an integral part of a young, up-and-coming team looking to cement themselves as true Stanley Cup contenders of the future.
5. Robin Lehner, G, Vegas Golden Knights
There are just two goalies on this list, and Robin Lehner is one of them. He's also the top-ranked goalie on this list, and one of the top-10 goalies in the entire NHL right now, too, in my opinion. At 6-foot-4 and 250 pounds, he is a hulking presence in net, and has played to the strength of his size during his career. Lehner was originally drafted by the Ottawa Senators, but bounced around before becoming a starting goaltender in the NHL – first with the Buffalo Sabres for a number of decent, albeit losing, seasons, then with the New York Islanders, eventually making his way to the Vegas Golden Knights after a short stint with the Chicago Blackhawks.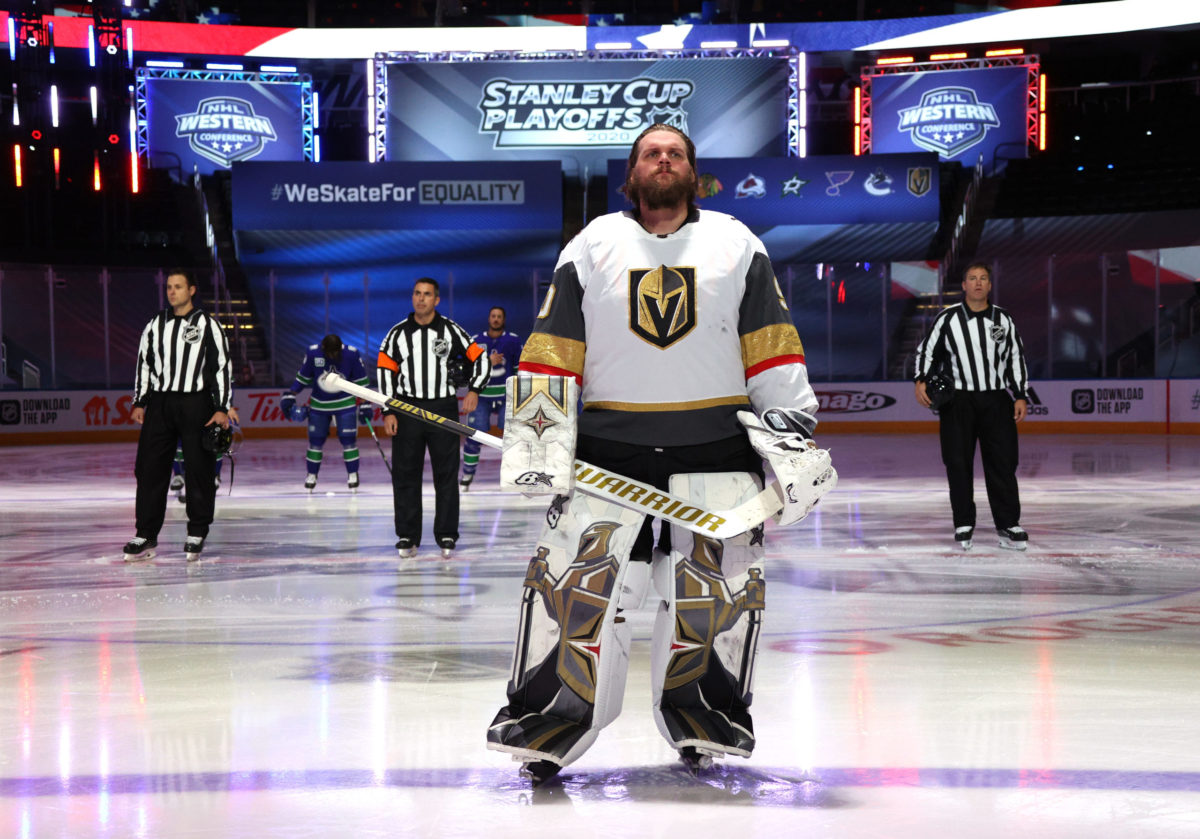 As a member of the Islanders in 2019, Lehner won the William M. Jennings Trophy with Thomas Greiss for allowing the fewest goals in the NHL, as well as the Bill Masterton Memorial Trophy for exemplifying the qualities of perseverance, sportsmanship and dedication to hockey. He also earned a Vezina Trophy nomination as the NHL's best goaltender. He finished that season with a 2.13 GAA and .930 SV%, which both ranked in the top-three among all NHL goalies.
At 30-years-old, Lehner has accomplished a lot in his career. He has 145 career wins at the time of writing, with a 2.75 GAA and .917 SV%. He's also made valuable contributions off the ice, becoming an advocate for mental health after sharing his personal story of his battles with substance abuse, bipolar disorder, ADHD, and PTSD. In 29 games played this season, Lehner is 16-11-1 with a 2.95 GAA and .903 SV%.
4. William Nylander, F, Toronto Maple Leafs
William Nylander is a player that I don't think has gotten as much respect as he deserves during his NHL career, which is now well into its seventh season. He was drafted by the Toronto Maple Leafs in the first round of the 2014 draft, and played his first full season in 2016-17, scoring 61 points and helping the Leafs to the playoffs for the first time since 2013, well ahead of schedule for the rebuild they had just begun.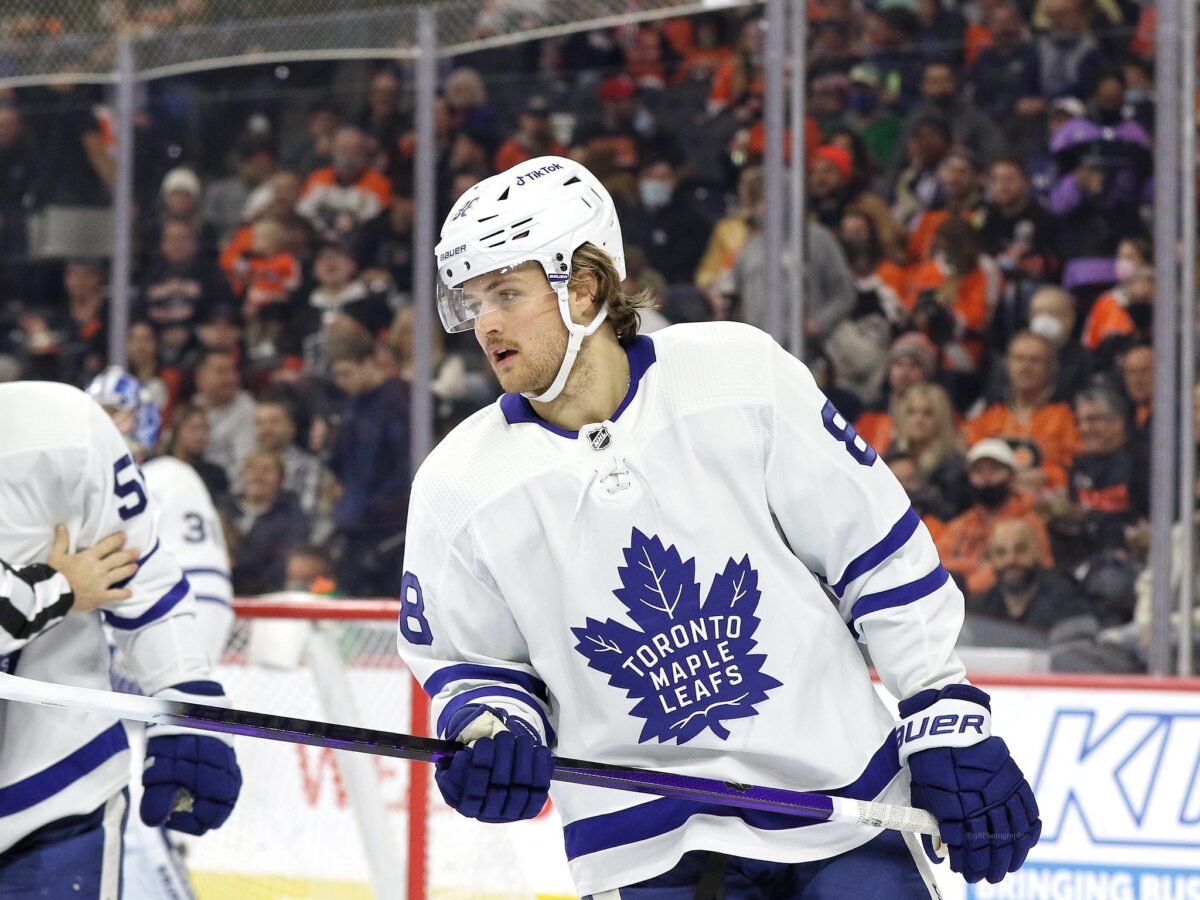 Nylander became a restricted free agent (RFA) ahead of the 2018-19 season, and held out for the contract he thought he deserved, putting him in the middle of a contract dispute that saw him miss the first few months of that season. He eventually came to terms with Leafs GM Kyle Dubas, signing a six-year, $41.77 million contract. While he would play worst season of his career that season points-wise, he bounced back in a big way the following season, scoring a career-high 31 goals, and finishing with 59 points in 68 games.
Nylander is becoming better and better and he ages, and is still young and before his prime at the age of 25. In 38 games played this season, he has 16 goals and 22 assists for 38 points, on track for the best offensive season of his young career. He recorded his 300th career point earlier this season, and has 15 PPP and 4 GWG.
3. Gabriel Landeskog, F, Colorado Avalanche
Gabriel Landeskog has been the embodiment of a good leader in the NHL ever since the Colorado Avalanche drafted him second overall in the 2011 draft. One season after being drafted, he was named the fourth captain in the team's history, becoming the youngest captain in NHL history, and holding that distinction until Connor McDavid was named captain by the Edmonton Oilers.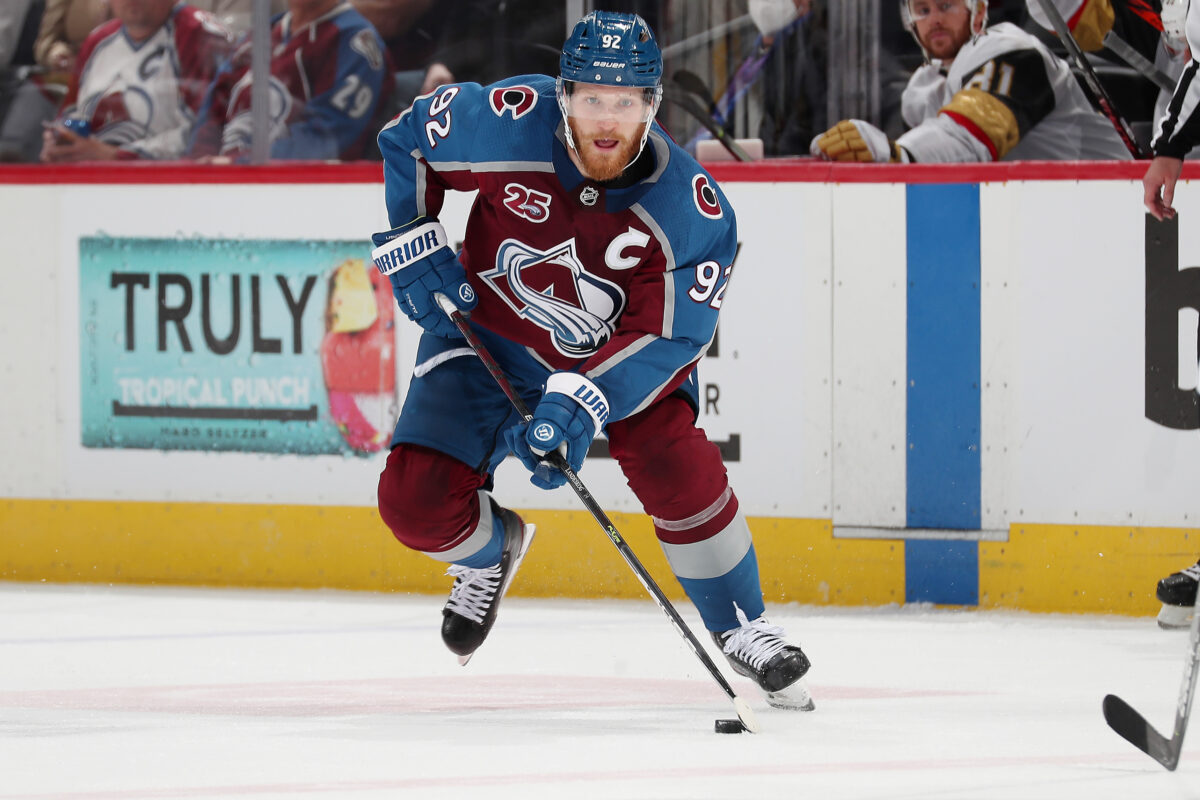 Landeskog won the Calder Trophy as the NHL's best rookie in 2012, and has earned several more accolades since then. He played in the NHL All-Star Game in 2019, and scored 30 goals for the first time in the 2018-19 season, when he finished with 34 total. The 29-year-old captain has 550 points in 718 career games at the time of writing, and has 38 points in 31 games so far in the 2021-22 season.
2. Nicklas Backstrom, F, Washington Capitals
It was a hard choice to rank Nicklas Backstrom at the No. 2 slot on this list. Not because I think he should be lower, but because a case can be made that he should be No. 1 instead. At 34-years-old, somehow, it seems like Backstrom has always lost the spotlight to Alexander Ovechkin, who he's spent his whole career centering. But the generational talent that Ovechkin is shouldn't take away from the fact that Backstrom has also been one of the best players in the NHL since he was drafted back in 2006.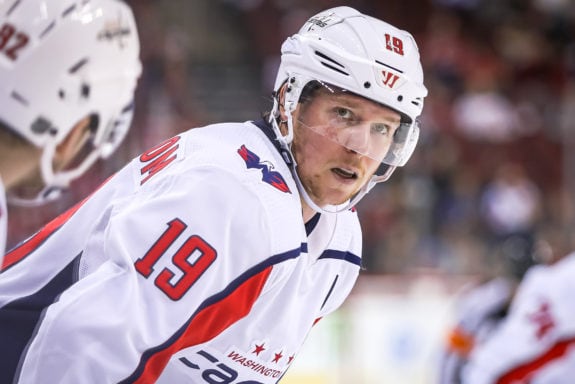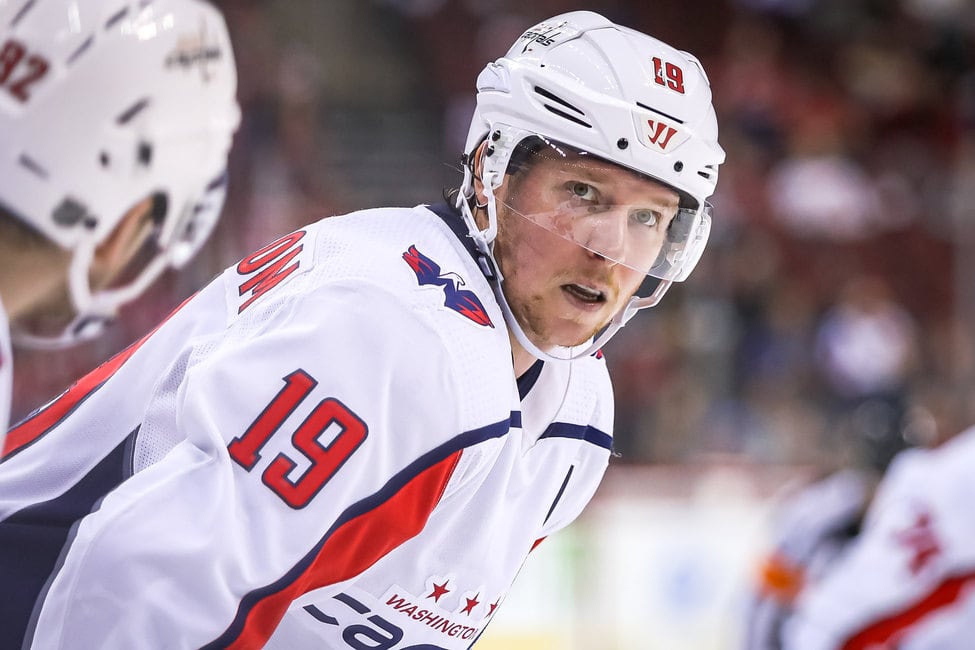 In his rookie season, Backstrom finished second behind Chicago Blackhawks forward Patrick Kane in the Calder Trophy race as the NHL's best rookie. Two seasons after that, he posted career highs that stand to this day, with 33 goals, 68 assists, and 101 points. He has been one of the most consistent centers in the NHL since his first season, recording at least 50 assists and at least 70 points from the 2013-14 season through the 2018-19 season.
Related: Capitals' Backstrom Is Most Underrated Player in the NHL
In 2015, Backstrom became the all-time assists leader in the history of the Capitals, and finished with the most assists in the NHL that season (60). In 2018, he scored his 200th NHL goal, and scored his 900th point in 2019 with a three point performance. He currently has 988 points through 1,020 career games, and next up is reaching the 1,000 point threshold. He reached the ultimate peak of an NHL career in 2018, winning the Stanley Cup with the Capitals.
1. Victor Hedman, D, Tampa Bay Lightning
And now for the No. 1 Swedish player playing in the NHL today: Tampa Bay Lightning defenseman Victor Hedman. Standing at 6-foot-6 and 241 pounds, Hedman is huge, even for a d-man. He has used his size to his advantage and put together one of the more impressive career we've seen over the past decade.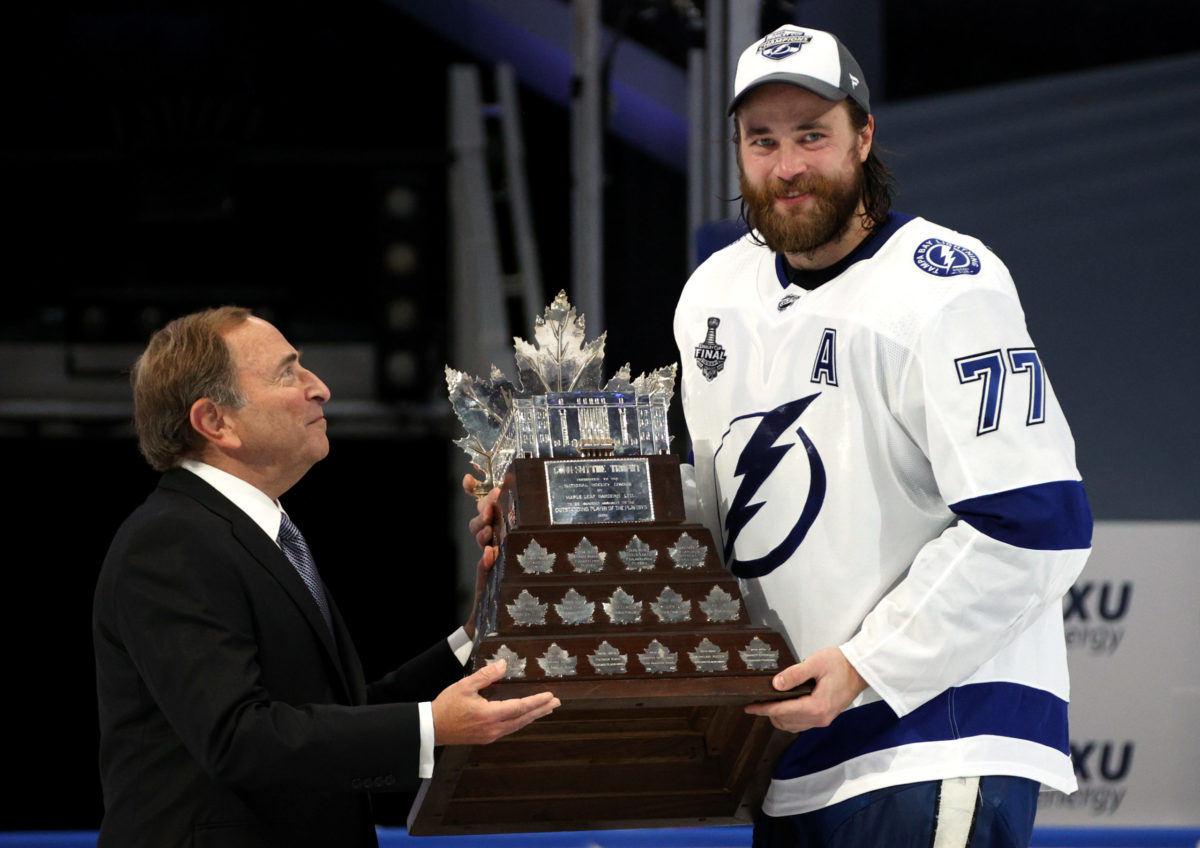 Hedman was drafted second-overall in the 2009 draft, and after a few years of development, established himself as one of the NHL's top d-men. He has 562 points in 859 career games at the time of writing, and has nine goals, 35 assists and 44 points in 43 games so far this season.
At 31-years-old, Hedman has accomplished everything an NHL defenseman could hope to accomplish – he's won a Norris Trophy as the NHL's best defenseman back in 2018, back-to-back Stanley Cups in 2020 and 2021, and the Conn Smythe Trophy in 2020 as the most valuable player in the playoffs that season. He still has plenty of years ahead of him to continue to cement his legacy as one of the best Lightning players of all time, and one of the best players of his era.
Brandon is a Buffalo Sabres Contributor for THW and Co-Host of THW's 'Sabres Scoop,' who received his Master of Science in Sport Administration from Canisius College in Buffalo, NY, and founded his website, Seltytending, in 2017. He is an avid hockey writer and podcaster with prior work experience in the OJHL, NWHL, and NCAA. Twitter: @BSalts15