During the 2021-22 National Hockey League (NHL) season, a writer at The Hockey Writers tackled a complex list of who are the best Sweden-born players in the league. Historically, the country ranks among the best in international hockey, with a couple of Olympic gold medals and a boatload of World Championships.
Presently, seven Swedish players are in the Hockey Hall of Fame, with a few more on the path to immortality. Current stars like Victor Hedman (Tampa Bay Lightning), Niklas Backstrom (Washington Capitals), and Gabriel Landeskog (Colorado Avalanche) have the skill set to earn recognition; however, their enshrinement will eventually come down to the voting committee.
Related: Swedish Players in the Hockey Hall of Fame
Although these three are considered the best Swedish players of their generation, this season has not been kind to the group. Backstrom recently returned from off-season surgery, while Hedman has had a subpar year based on his previous accomplishments. Additionally, Landeskog has yet to skate since winning the Stanley Cup in the spring. Moreover, these three are not currently ranked among the country's best players because a new wave of talent has taken over the scoring charts.
Instead of making a list of Sweden's most distinguished players, we tackled the topic based on their 2022-23 numbers. Realistically, a handful of tenured players with solid resumes should be on the list; however, they were excluded for statistical purposes. Sadly, some of them are having down years resulting in a bunch of new players picking up the country's banner this season.
Filip Forsberg – Nashville Predators
The Nashville Predators continue to be a threat in the Western Conference, pushing for their ninth consecutive playoff appearance. Coincidently, one of the players who has been there for the entire ride has been star center Filip Forsberg.
The native of Ostervala, Sweden, was a first-round pick (11th overall) in the 2012 Entry Draft and is a constant threat to score at least 20 goals a year. Furthermore, since earning a full-time roster spot in 2014-15, he's been a staple in the lineup and powerplay, resulting in a career-high 41 goals in 2021-22.
Thus far this season, Forsberg is leading his team in scoring (again) with 18 goals, 21 assists, 39 points, and 13 powerplay points. Furthermore, he ranks sixth among Sweden's goal scorers and eighth in points. Additionally, Forsberg does all his damage in just 17:45 of ice time, one of the lower numbers for a player on a top line. Although he is slightly off the pace for breaking his career best, if Forsberg stays consistent down the stretch, he will tie or surpass the numbers he posted last season.
Filip Gustavsson – Minnesota Wild
Last year the Ottawa Senators employed a platoon of Swedish goalies, Anton Forsberg and Filip Gustavsson, which resulted in a 33-42-7 record and another season without attending the playoffs. Then in the offseason, the team broke the tandem up by sending Gustavsson to the Minnesota Wild to serve as a backup for future Hall of Famer Marc-Andre Fleury.
Most experts pegged Fleury as the bonafide number-one goalie, who would only yield the crease now and then to stay fresh. Although that has been the case since Fleury is leading the starts 27-18, surprisingly, Gustavsson has better numbers. At the halfway mark, the native of Skelleftea, Sweden, has proven to be one of the league's best backups and among the league leaders in several categories based on minimum starts.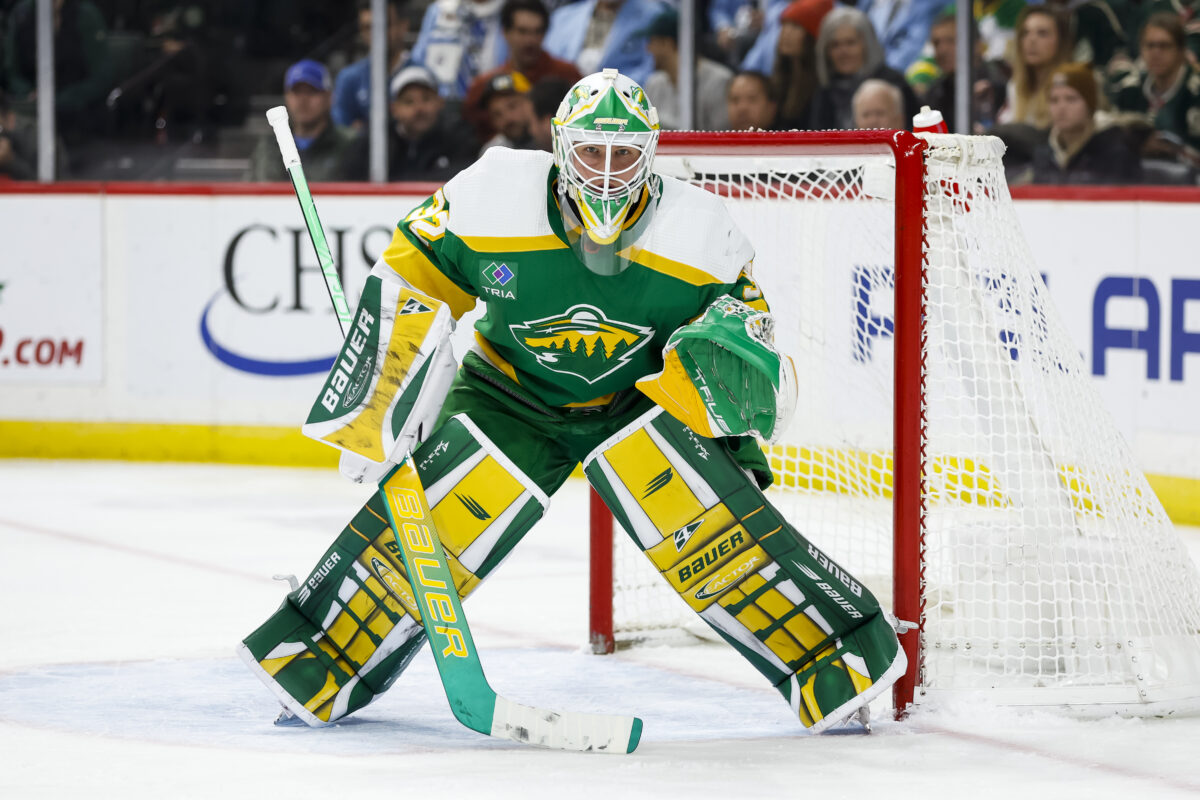 The 24-year-old has posted an 11-6-1 record in 18 games with an impressive .926 save percentage (SV%) and 2.16 goals-against average (GAA). Even though he's playing behind a legend on a team contending for a division title, he ranks fourth in SV% and second in GAA among NHL netminders who have appeared in at least 15 games.
Furthermore, Gustavsson struggled as an upcoming goalie in Ottawa, but after a fresh start in Minnesota, he has a bright future as a starter when Fleury decides to step away. Even if his career doesn't continue with the Wild (restricted free agent in 2023), someone will take notice of his breakout season and give him a chance.
Hampus Lindholm – Boston Bruins
Hampus Lindholm broke into the NHL during the 2013-14 season, becoming a regular on the Anaheim Ducks blueline out of training camp. His immediate impact resulted in a seventh-place finish in Calder Trophy voting, thanks to 30 points and a plus-29 rating while averaging 19:26 a night.
Moreover, as a consistent defender who rarely misses time and collects at least 20 points a year, Lindholm caught the eyes of the Boston Bruins, who paid a king's ransom to acquire his services at the 2022 trade deadline. Although he only suited up for ten games last year, he earned five points, providing a preview of things to come.
At the halfway point of this year's campaign, he's already got 29 points, just five from his career-best 34 (2014-15), and he is one of the league leaders with a plus-29 rating. Also, Lindholm is considered a premier young defender in the game and is a central figure in the Bruins' defensive corps, with highlight-reel plays on a nightly basis.
The Bruins were wise to lock Lindholm down for the next eight seasons as they believe the philosophy that defense wins championships. Along with his addition, the team employs one of the game's best defensive units: Charlie McAvoy, Brandon Carlo, and Matt Grzelcyk.
Jesper Bratt – New Jersey Devils
Jesper Bratt is a sixth-round pick (162nd overall) from the 2016 Entry Draft. Usually, prospects selected so late take a while to develop into NHL regulars if they ever make it all. Rarely do teams find hidden gems which become stars and eventually lead their team in scoring. Thus far, after six seasons, Bratt continues to defy those odds.
The native of Stockholm, Sweden, had a career year in 2021-22 scoring 26 goals with 47 assists for 73 points, nearly doubling his previous bests. Moreover, he saved his best performance for the final year of his contract, forcing the New Jersey Devils to pay him in the offseason if they wanted to retain his services. Of course, the Devils rewarded him with a one-year deal worth $5.4 million.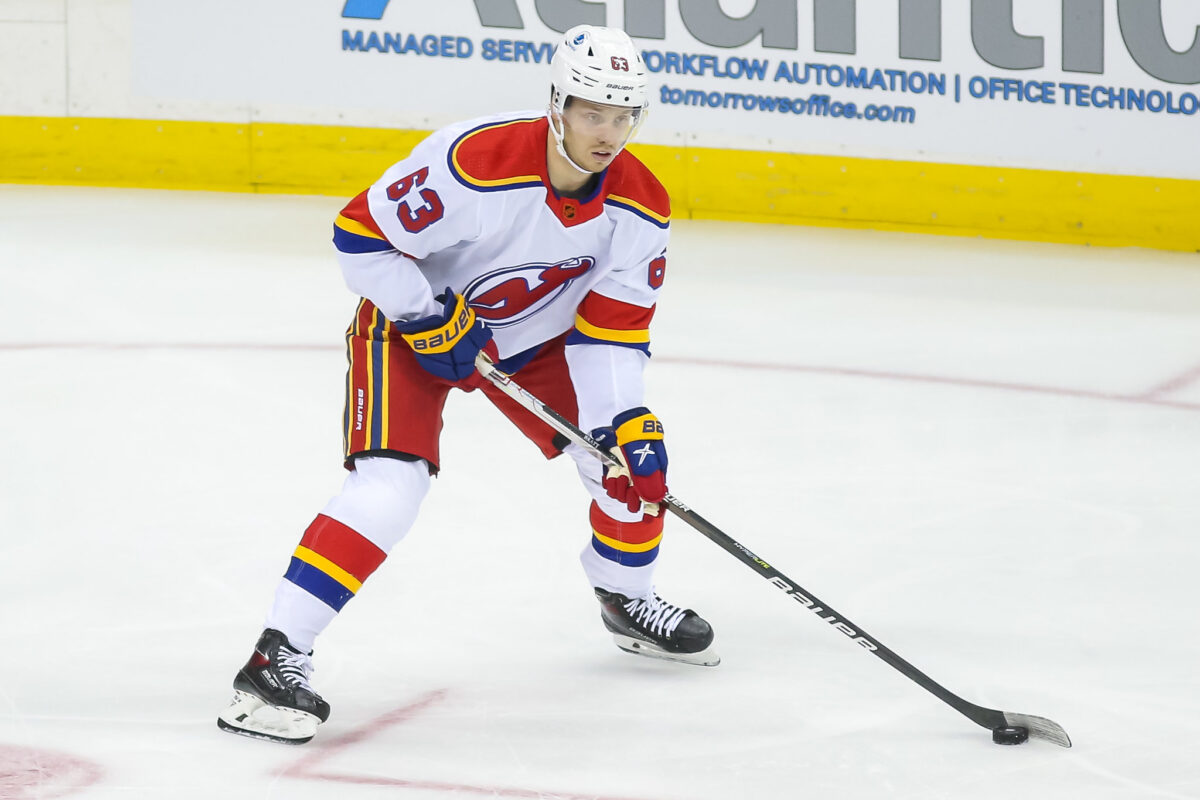 Thus far, Bratt is producing at a point-per-game rate with 18 goals, 27 helpers, and 45 points in 44 games, on track to break the personal best numbers he captured last season. As a member of the young core the Devils have assembled through years at the draft table, Bratt is currently plus-19, the best mark of his six-year career, showcasing his team's rise.
In a repeat of last season, Bratt ranks sixth or higher in all scoring categories among Sweden players, with the best plus/minus rating among the forwards. Moreover, he's in the running for the Devils' best player behind talented Jack Hughes, who has finally found his groove in the league.
Mika Zibanejad – New York Rangers
By the 2022-23 season, there have been over 364 Swedish players in the NHL; however, Mika Zibanejad is in a class all by himself. After a night to remember in 2020, he became the country's first player with a Golden Goal in an international competition (2012 World Junior Championship) and a five-goal game in the NHL.
The sixth-overall pick in the 2011 Entry Draft broke into the league with the Ottawa Senators in 2011-12 before becoming a regular two seasons later. Eventually, Zibanejad became a prolific goal scorer averaging 20 or more, reaching a career-high 41 in the shortened 2019-20 campaign. Although his production dipped the following season, he potted 29 goals last year and has 19 at the halfway point of 2022-23.
Related: Revisiting Sweden's World Junior Championship History
As the New York Rangers' top center, he's found chemistry with Artemi Panarin and Chris Kreider as they frequently set each other up for goals. Moreover, he ranks in the top three in each scoring category, including plus/minus. As usual, his totals also rank among the top five regarding Swedish players, a spot he continues to occupy yearly. Although his best season may be in the past, Zibanejad remains one of the league's lethal goal scorers requiring additional attention when he's on the ice.
William Nylander – Toronto Maple Leafs
Anyone who pays attention to the Toronto Maple Leafs lately will be mesmerized by Auston Matthews scoring goals and Mitch Marner collecting points on a nightly basis. Unfortunately, William Nylander's name gets lost in the shuffle, despite leading the team in goals and sitting third in assists and points at the halfway mark.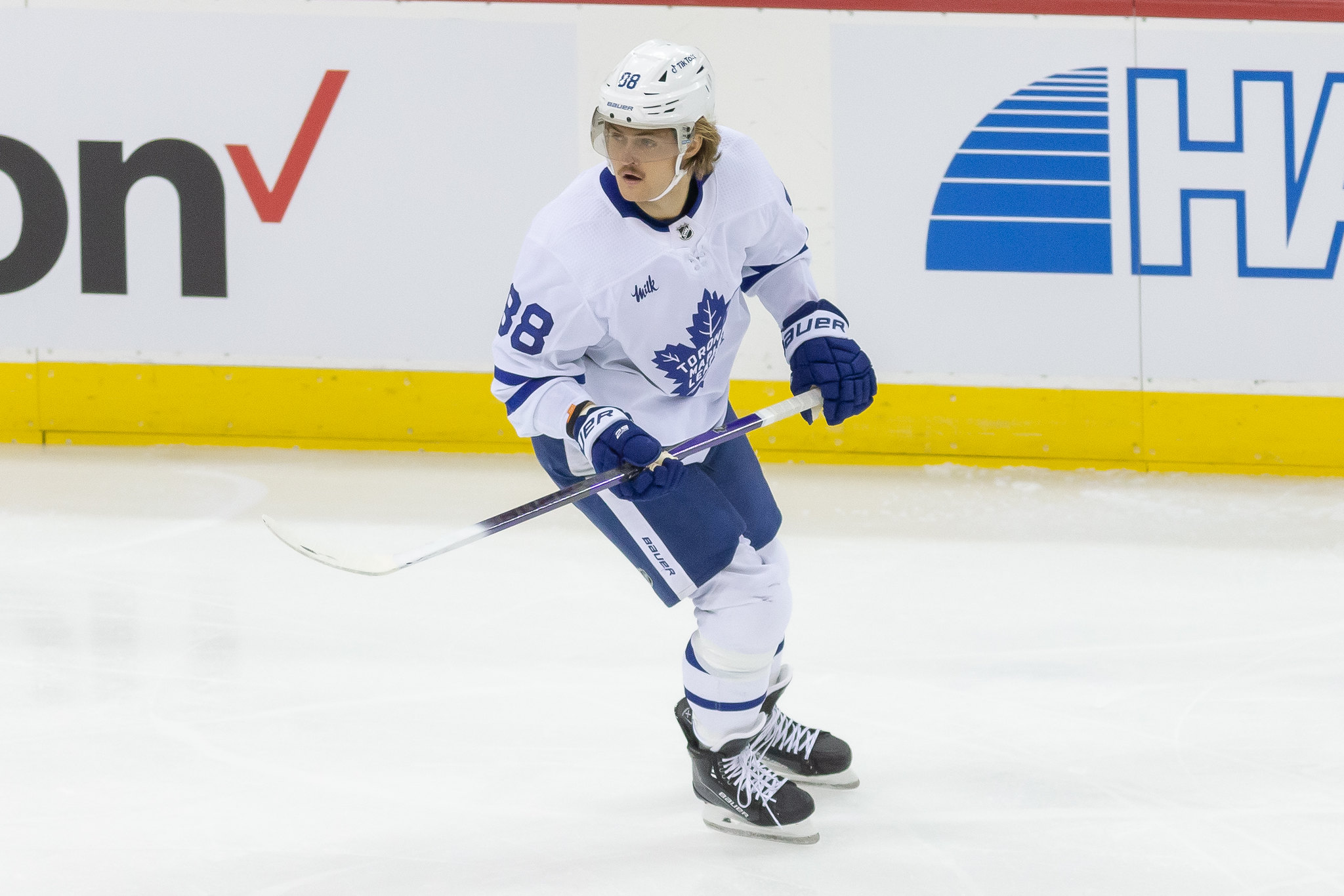 At this point, eight seasons into his career, Nylander is used to playing behind two of the game's best stars; however, if he were in any other market, he'd have a chance to be that team's number-one star. Last year, he had his best year as a professional, with 34 goals, 46 assists, and 80 points to finish third in team scoring and third among Swedish players.
Right now, he leads all goal scorers from his home country while ranking among the top ten players in every other statistical category. Furthermore, Nylander finds a way to contribute every night, whether playing on the top line or shuffling among the others. Moreover, if last year was an indication, the 26-year-old could just be hitting his prime, which could be a problem for opponents and goalies across the league.
Rasmus Dahlin – Buffalo Sabres
The Buffalo Sabres have been collecting top draft prospects over the years, with Rasmus Dahlin, one of their crown jewels, as a former number-one pick in the 2018 Entry Draft. As one of the game's brightest stars, Dahlin took some time to round out his game, helping the Sabres' resurgence in 2022-23.
Last year, Dahlin had his best season in the NHL, posting 13 goals with 40 helpers to finish with 53 points and a minus-22 rating. Dahlin has had a career-defining season, resulting in his name being mentioned as a potential Norris Trophy nominee. At the halfway point, he's on pace to destroy his personal bests, with 13 goals, 35 assists, and 48 points with a plus-14 rating.
Dahlin opened the season by setting an NHL record for scoring in five straight games and recently registered the first five-point game of his career in a 6-5 overtime win over the Wild. Currently, he's on pace to challenge for Sweden's scoring title, which would be quite an accomplishment considering he plays defense. However, at 26:16 a night, Dahlin gets the most opportunities to rack up the points.
Although most of the headlines coming out of Buffalo involve Tage Thompson and his fantastic season, Dahlin has been just as important to the Sabres' turnaround campaign. Furthermore, considering he is just 22 years old, the best is yet to come.
Elias Pettersson – Vancouver Canucks
Elias Pettersson is a former fifth-overall selection (2017 Entry Draft) who made his NHL debut at 20, collecting 66 points in 71 games to win the Calder Trophy. At the time, it seemed like only the beginning, and more important things were on the horizon.
Sadly, Pettersson struggled to reach his potential due to size, 6'2″ and 178 lbs, plateauing around 66 points when he was healthy enough to play an entire season. However, things turned around in 2021-22 when the gifted center scored 32 goals and 68 points to set career highs in each category. Although the Vancouver Canucks are struggling in the standings this year, Pettersson is producing and on pace to shatter his previous best numbers.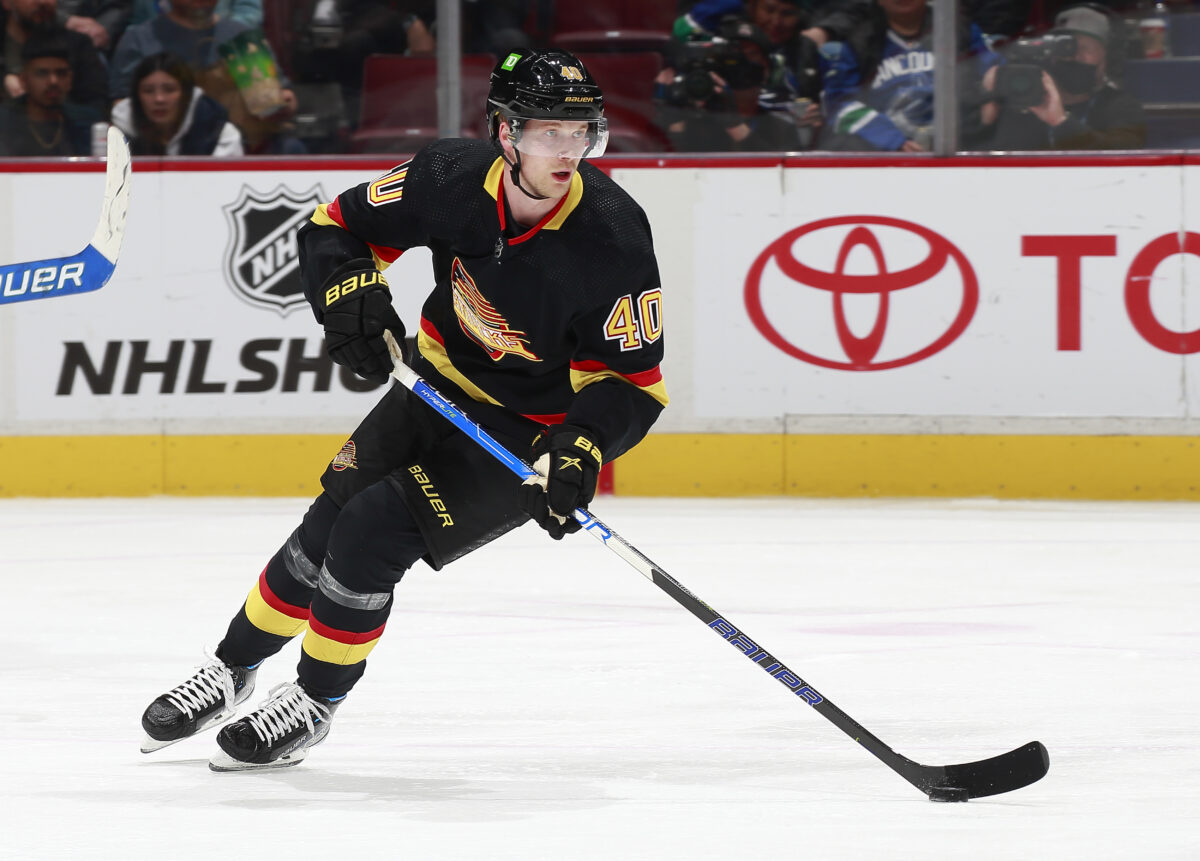 At the halfway point, the native of Sundsvall, Sweden, already has 18 goals and 34 assists for 52 points. Nevertheless, he's got some work to do to break his goal mark, but he's only five helpers and 16 points away from breaking through the glass ceiling. Among Swedish players in the league, Pettersson is challenging some defensemen for the points lead and is only a few goals behind the leader in that particular category. Furthermore, he's currently in the middle of a three-year agreement, so things could get interesting next year if he continues to build upon his recent success.
Erik Karlsson – San Jose Sharks
At the beginning of 2022-23, if anyone asked the experts who would lead the San Jose Sharks in scoring and be one of the best defensemen and Swedish players in the NHL, only a few people would say Erik Karlsson. The former two-time Norris Trophy winner has declined the last few seasons, failing to reach 50 points in the previous four campaigns. At age 32, it appeared that his best days were behind him.
However, after 44 games this season, Karlsson is the NHL's seventh-leading scorer, leading all defensemen and Swedish players with 62 points. Furthermore, only Connor McDavid and Nikita Kucherov have more helpers, which says a lot about his contributions on offense. Although Karlsson will not catch McDavid for points and has an outsider's chance for the Hart Trophy, he is on pace to win his third Norris Trophy, which would be an excellent addition to his resume.
Furthermore, Karlson is currently in the middle of a lengthy contract that pays him $11.5 million a season, which ends after 2026-27. However, his name has been in the rumor mill for quite some time. Recently, he failed to live up to his contract status, and with the Sharks in a full-blown restructuring mode, he had been an unattractive pick-up until now. Nevertheless, if anyone is interested in trading for him at his current pace, the ask will be high as the team looks to capitalize on his best season since 2015-16.
Linus Ullmark – Boston Bruins
The Boston Bruins are playing on historic levels in 2022-23, engaged in a mission to break the league's record for wins and points in a regular season. Besides a new head coach and the return of a veteran, the Bruins are finding success because Linus Ullmark is having the best season of his career. At the halfway point, the native of Lugnvik, Sweden, is a lock to win the Vezina Trophy and is tracking down some of the position's most treasured records.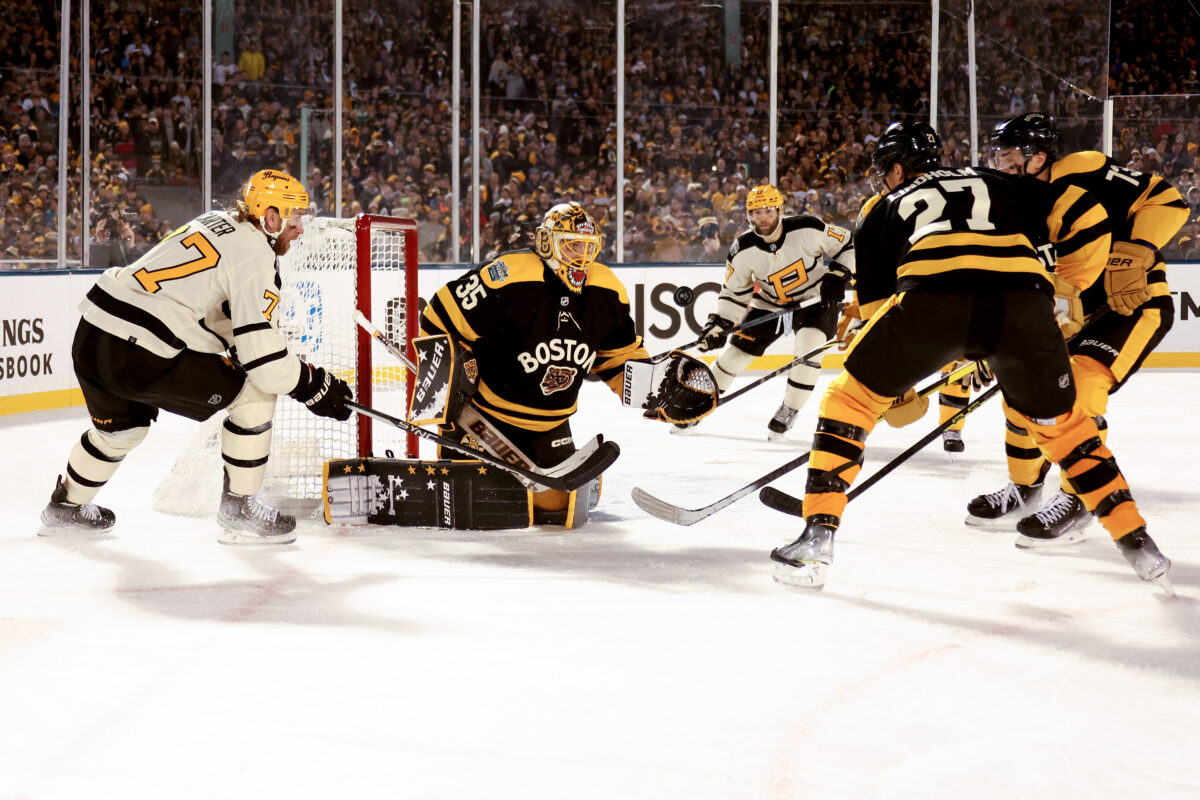 After 29 starts, Ullmark is 24-2-1, becoming the first goalie to 20 wins while producing a league-leading 1.88 GAA and .937 SV%. Moreover, his performance this year could go down in the history books as one of the greatest ever, so fans would be wise to tune in and watch him make some spectacular saves anytime he's playing.
Ullmark made his debut with the Sabres in 2015-16 before signing a massive contract in June 2021 to join the Bruins, a move many questioned because Tuukka Rask and Jeremy Swayman were the main guys in Boston. However, after departing upstate New York with a 50-47-13 record, he's currently 50-12-3 with his new team, highlighting his abilities to be a number-one goalie and serve as the backbone of a Stanley Cup contender.
2022-23 Honorable Mentions
After ranking this year's top ten Swedish players, the list did not include a handful of players who deserve recognition for their most recent efforts. Here are the names of those who didn't make the list, including Elias Lindholm (Calgary Flames), Adrian Kempe (Los Angeles Kings), Victor Olofsson (Buffalo Sabres), Rickard Rakell (Pittsburgh Penguins), Joel Eriksson Ek (Minnesota Wild), Erik Gustafsson (Washington Capitals), and Lucas Raymond (Detroit Red Wings).
Related: Projecting Sweden's 2024 World Cup of Hockey Roster
As of this writing, 97 Swedish players (ten goalies) have been skating in the NHL this season. A handful are amid career seasons, while the rest continue to do what they do best, score goals and make saves. Nevertheless, last year's list looks unlike the previous one because it was presented differently. Furthermore, if we continue to base best-player lists on career resumes, there's always a chance to miss some of the brightest stars in today's game.
Ryan Gagne is back for his second tour of duty with The Hockey Writers. In 2021 he wrote about the New York Islanders and now will embrace the challenge of covering the Calgary Flames. The best part of this new assignment is Ryan currently lives in Edmonton and will get to see both sides of the Battle of Alberta up close and personal. None of this will make much sense since he was born and raised in New England and the Boston Bruins are his still team.