Carolina Hurricanes GM Jim Rutherford has been saying for months that he has one major goal to accomplish this summer: find an elite player to skate alongside Eric Staal.
As of Wednesday, it appears that player will be Eric's brother, Jordan—at least for now.
In a meeting with the press, head coach Kirk Muller indicated that the siblings will skate on the same line to begin the year, though that will be subject to change. Jordan was acquired from the Penguins last Friday for Brandon Sutter, Brian Dumoulin and the No. 8 pick in the 2012 NHL Draft.
"I think that's the great opportunity with training camp, is to experiment," Muller said. "We've got lots of (preseason exhibition) games. The first initial thing, right now, we definitely want to give them an opportunity to play together in those games and see if there's chemistry."
"Lots of times, until you put guys together … you know, you've got to get a feel for it. I know they have a little history from before. But I think it makes sense right now to start off with them and see how they work together."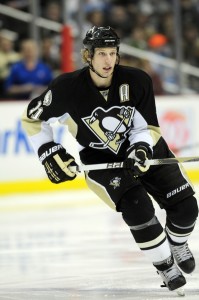 Jordan is one of the best two-way forwards in the world, so there's no reason to believe he'll be displaced from the center position. Eric, on the other hand, found himself last in the NHL in plus/minus rating for most of the 2011-12 campaign. While it has yet to be set in stone, count on Eric moving to the wing while Jordan remains down the middle.
The elder Staal doesn't have much experience away from the pivot, so it'll be interesting to see how he responds to the switch. He was a winger for Team Canada in the 2010 Winter Olympics—finishing the tournament with 6 points (1 G, 5 A) in seven games—so it's not like he's completely inexperienced in that role.
Eric was also tested briefly at RW last year just before Paul Maurice was fired, and he faired well in the short-lived experiment. The captain told me that he "felt OK on the wing," back then, so odds are he isn't 100 percent comfortable there quite yet. He'll get there, and he'll probably benefit from the lessened defensive responsibilities.
Now the question becomes who should skate with the Staals on the Canes' top line. With so much offensive firepower between the brothers, any other forward on Carolina's roster could work—from stars like Jeff Skinner to grinders like Anthony Stewart. In the end, it will all come down to chemistry. Training camp and preseason games will provide the coaching staff with the chance to mix and match different combinations, so expect to see a lot of guys take turns in that spot.
Jordan, Hurricanes Begin Contract Talks
Jordan Staal is signed for just one more season, so the Hurricanes want to lock him up as soon as possible. According to the News & Observer, negotiations between the two sides began on Monday.
"We had our initial conversation (Monday) night," Rutherford said. "Basically it was, 'We made the trade, we know everybody is happy, now we need to start talking long-term.' That being agreed on, now the work begins."
The lingering collective bargaining issues, which include uncertainty over next year's  salary cap figures, should have little to no affect on extension talks. If I had to guess, I'd say Jordan will end up inking a deal for between 5-7 years with a $6 million to $7 million annual average value.
Andrew Hirsh is a credentialed NHL writer based in North Carolina
Follow him on Twitter: @andrewhirsh | Email: ahirsh3@gmail.com