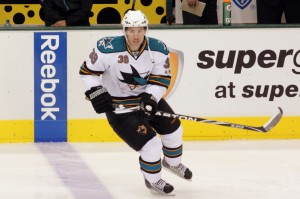 It has been no secret: the San Jose Sharks want to acquire Rick Nash from the Columbus Blue Jackets, and they want to do it badly.
Imagine Nash reuniting with Joe Thornton, his former teammate at HC Davos during the 2004-2005 lockout. If  just one of those players by themselves would cause trouble for opponents on a daily basis, could you think of what playing the two of them together could do?
In fact, Sharks fans should be salivating at the thought of the potential top line next season: Nash on the left wing, Patrick Marleau at the right wing, and Thornton as the center. You've got Nash and Thornton, two proven playmakers, setting up Marleau for easy goals (say what you want about him, but he's scored at least 30 goals in each of the past four season). Even better, imagine what the power play would look like?
Ok, you can stop drooling now.
In reality, the Sharks and Blue Jackets are not even talking about a deal for Nash right now.
But why? We know that GM Doug Wilson is not afraid of blockbuster deals, and if a superstar like Nash is on the market, what's keeping him from pulling the trigger?
Two words: Logan Couture.
The Blue Jackets want Couture as a deal-starter, and the Sharks are reportedly having none of it, tweets David Pollak:
From 2,247 miles away, I'm hearing there are no Nash talks between #Sjsharks and CBJ, who still want Couture. No counter-proposal period.

— David Pollak (@PollakOnSharks) June 21, 2012
That's certainly understandable from the Blue Jackets' standpoint: GM Scott Howson wants a young franchise player if he is to give up a superstar in Nash, and Logan Couture is the perfect man for the job.
At just age 23 and only two full NHL seasons under his belt, Couture has blossomed into a future star. He has scored at least 30 goals in each of his first two seasons, and has developed into a terrific two-way player.
He had the twentieth best Corsi-rating (number of shots directed on goal when a specific player is on the ice) at +10.6, and he did so while facing tougher competition in his second season.
As Sharks' commentator Drew Remenda always talks about during games, Couture simply has a knack for being in the right place at the right time. He has a very high hockey IQ, and his play reminds me of Wayne Gretzky's maxim: "Skate to where the puck is going to be, not where it has been".
Even scarier, and he has yet to even reach the prime of his career!
Some might even say that Couture is already a better player than Nash is. Nash has seen his point totals decrease over the last four years, and seems to be on the decline at just 28 years of age (NHL Numbers does a very nice breakdown of Rick Nash myths).
Don't get me wrong, Nash is still a great player, and a lot of teams would be lucky to have him – but there is just no way that he is worth a Logan Couture.
But that doesn't mean that a trade for Nash is out of the question for San Jose. Like every GM, Howson wants to get the best value possible out of a trade, so he would obviously want to target the best players on the teams that are interested.
Look for Doug Wilson to call his bluff and vehemently deny any deal involving Couture. If Howson can't pull off a deal with any other team, the Sharks should happily jump back into the sweepstakes and offer the Blue Jackets any other players not named Couture.