The Vancouver Canucks' goaltending controversy will be resolved this summer, and it's looking increasingly likely that Roberto Luongo will be traded, and Cory Schneider will become the full-time starter.
When the Canucks were eliminated by the Kings on Sunday it was unclear how this situation would resolve itself because they had already made a long-term financial commitment to Roberto Luongo. The 33-year old is signed until 2021-22 with a cap hit of $5.33 million dollars. However, by playing Cory Schneider for the final three games of their series against the Kings, Vancouver made a statement that he is their guy.
So, the question becomes what can Vancouver get for Roberto Luongo. The answer should be, not much.
At this time last summer there were a lot of teams looking for a starting goalie. Phoenix signed Mike Smith, Washington signed Tomas Vokoun, Ottawa re-signed Craig Anderson, St. Louis signed Brian Elliott, Florida signed Jose Theodore, and Colorado traded for Semyon Varlamov. There was a lot of movement, and there was a market for a starting goaltender. Realistically when you look around the landscape of the NHL this summer, the only teams that should be looking for a goalie are Toronto, Tampa Bay, Edmonton, and Columbus.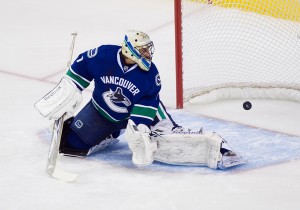 Now which of those four teams wants a 33-year old goalie with questionable mental toughness, a contract that runs for another decade, and an actual salary of $6.7 million for the next six years?
Another issue working against the Canucks is the fact that great goaltenders have been coming out of thin air lately. Who knew Brian Elliott would be so good? Who expected Mike Smith to be this amazing? Even Jose Theodore had a great year, and he's only making $1.5 million for the next 2 seasons.
Vancouver will also have to contend with the fact that there will be other goaltending options on the market. There are rumours that Calgary may be willing to deal Mikka Kiprusoff. In Los Angeles, Jonathan Bernier could be up for grabs after Jonathan Quick's Vezina Trophy calibre season. In Buffalo, Jonas Enroth may be available, and in Nashville, Anders Lindback may also be on the market. If you are a young team like Toronto, Tampa Bay, or Edmonton, wouldn't it make more sense to acquire a young goaltender that could grow with your current roster rather than an aging contractual albatross like Luongo?
Another point worth consideration is that there is no market precedent for trading a starting goalie. Good starting goalies don't get traded. When the Flames acquired Kiprusoff no one knew he was so good. Craig Anderson was considered a fringe starter when Ottawa acquired him. The last legitimate number one goalie to be traded was Roberto Luongo himself, when he was dealt from Florida to Vancouver in 2006.
The biggest mistake a team could make this summer is to over-value Luongo's worth on the open market. We saw it happen back in 2009 when the Montreal Canadiens acquired Scott Gomez from the Rangers for a package that included Ryan McDonagh. At the time, Montreal had a ton of cap space and Rangers General Manager Glen Sather dumped his problem in Pierre Gauthier's lap. Montreal should have received a blue chip prospect for taking care of the Ranger's problem, instead, Pierre Gauthier inexplicably traded a prospect to acquire a player that New York was desperate to move. Given this ridiculous trade, it's no surprise that Gauthier is no longer employed by the Canadiens.
The Gomez trade is a classic example of how mistakes are made in the NHL. Good teams manage their cap well, they don't throw off their internal pay scale by signing or trading for over-priced veterans, and they keep and develop their prospects. Any GM that is entertaining the notion of trading for Luongo should take a long look at the market and recognize that Vancouver has no leverage in this situation.
For more sports updates check out www.unsportsmanlike.ca or follow on Twitter @Unsport4Real. You can also follow me @TomYawney
I'm a digital media strategist with CanEye Media. I help businesses build and establish their brand through internet marketing. I also blog regularly for Canada's Best Sports Blog – Unsportsmanlike.ca