Paul Maclean's young Ottawa Senators caught a lot of people by surprise during the regular season, and have done so in the postseason as well. Picked by many, at the start of the year, as a team that would languish in the depths of the Eastern conference, the Ottawa Senators briefly challenged for the Northeast division title, and secured a playoff place with one week to spare.
They were considered first round cannon fodder for the top seeded New York Rangers, but that has been proven as yet another under-estimation. The Senators have scrapped and battled in all six games during this series, and while they missed an excellent opportunity to end the series at home in Game 6, it would be foolish to rule out a team that really doesn't have a lot to lose. Here are the five keys for the Ottawa Senators in game 7.
1. Jason Spezza
Spezza leads the team with three goals and five assists, just as he did during the regular season when he scored 84 points in 80 games. It has been a series of two halves for the 28-year old. He was pointless through the first three games and has scored all five of his points in the last three. Depth and contributions from unlikely sources have driven this roster on all season, and in this series so far, but the ultimate feeling must be that Spezza enjoying a strong game is crucial to his team's success tonight.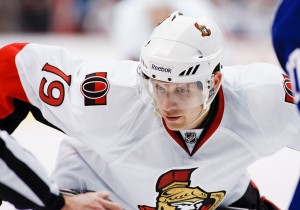 2. Chris Phillips
The veteran stay-at-home blue-liner has followed the Rangers' top line, which features Marian Gaborik and Brad Richards, everywhere they have gone in this series. He hasn't done too bad of a job either. Richards has five points in six games, but Gaborik has managed just a single goal (in Game 1) and two assists so far. Still, those players are offensive game breakers, and Richards in particular has a history of stepping up in the postseason. Phillips will probably need to have his best game of the series if the Ottawa Senators are to come away with the win.
3. Power-play
Special teams always get highlighted at this time of year, and for good reason. The Ottawa Senators finished with the 11th ranked power-play firing at 18.2% during the regular season, but they have struggled against a strong Rangers penalty killing unit, converting on just 12.5% of their chances so far. They have registered power-play tallies in three games (including Game 6), and two of them have been key goals in wins. Their only success that didn't involve a power-play goal was Game 5's 2-0 win. That success belonged to the incredible goaltending performance of Craig Anderson.
4. Craig Anderson
This is an obvious point, but an important one to make nonetheless. For much of the season, Anderson's job was to give an exciting young team a chance to win, and to make the big saves. However, as he has settled in Ottawa, he has taken on a bigger and bigger role. In this series against New York, Anderson has been this team's MVP. Game 1 was a slightly shaky performance, but since then he has possibly even outplayed Henrik Lundqvist (A Vezina Trophy finalist). Anderson has posted a .933 save percentage and 2.01 GAA in the first six games of this series; He may have to improve upon those statistics tonight if the Ottawa Senators are going to advance.
5. Belief
This young team has been refreshing for Senators' fans because it has seemingly played without pressure. They are fast skating team with a lot of character and they have proven themselves more than a little bit of a handful for most opposition all season long. Win or lose, fans will want to see their team play its heart out one last time in what has been a positive season for this franchise.