It is NHL Playoff time and that means that your favorite teams will be providing you memories that will last a lifetime (both good and bad). The New Jersey Devils missed the playoffs for the second time in three seasons, but over the time of their existence they have provided their fan base with some great memories and highlight-reel goals after the regular season has ended. It was hard to narrow it down to just ten, but I was not going to bore all of you with a top-25 list or some cheesy slideshow like some other websites do.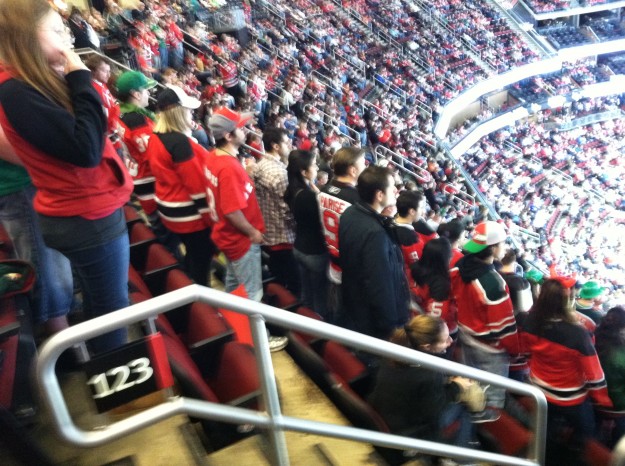 Instead, I listed what I think are the ten most memorable goals in New Jersey Devils history playoff wise. I was at four of these games, how many were you at? If you feel I missed one (or two) or you think I was spot on, be sure to let me know in the comments section below and also let us know which ones you were at: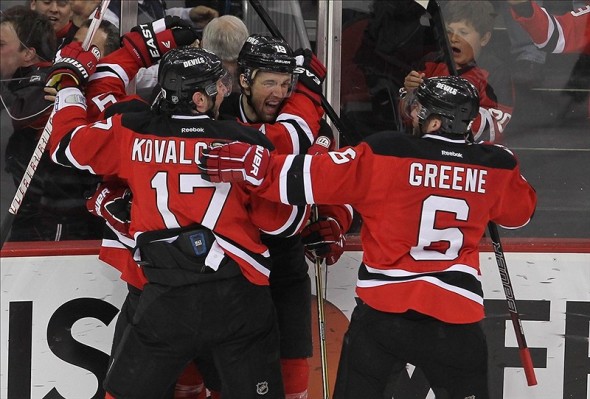 Claude Lemieux at Philadelphia June 11, 1995 (Game 5 of ECF)
The game was tied 2-2. The series was also tied 2-2 when Claude Lemieux came down the right wing boards at the Spectrum and blasted a shot past Flyers goalie Ron Hextall with 44.2 seconds left in regulation. I remember where I was watching and who I was with, truly a memorable moment in Devils' history. Lemieux's goal ended up as the GWG and two days later New Jersey would eliminate Philadelphia and clinch their first trip to the Stanley Cup Finals against the heavily-favored Detroit Red Wings.
Lemieux stuns the city of Brotherly Love:
Martin Brodeur vs Montreal April 17, 1997 (Game 1 of ECQF)
This was before the trapezoid was behind NHL nets (or as I like to refer to it: the idiot box). One of the reasons he eventually became legendary was Martin Brodeur's puck-handling ability. With the Canadiens down by two late in the game they pulled their goalie Jocelyn Thibault for an extra attacker and fired the puck into the Devils' zone. Brodeur retrieved it and quickly fired down the ice towards the empty Montreal net… and right in with 44.2 seconds left. Even though he had a mask on, you could see Brodeur smiling through his cage.
When you're ahead by 2, you can do this:
Patrik Elias at Philadelphia May 26, 2000 (Game 7 of ECF)
The Devils were attempting to make a miraculous comeback against the Flyers in the East Finals after falling behind 1-3. Game 7 of this series between the bitter rivals is usually most remembered for Scott Stevens' thunderous shoulder-check that left Eric Lindros out cold and concussed (again) on the ice. But late in the third period the best offensive player in team history — Patrik Elias — slipped a rebound past Brian Boucher with 2:32 left to give New Jersey a 2-1 lead/eventual win, completing the improbable comeback.
Elias makes quick work of Dan McGillis, and then Boucher:
Jason Arnott at Dallas June 10, 2000 (Game 6 of SCF)
Another game I remember exactly where I was, and Gary Thorne's call of the winning goal will always stick in my mind: "The New Jersey Devils have won the Stanley Cup! Jason Arnott with the Game-Winning Goal!!" A few nights earlier the Devils & Dallas Stars played an epic 1-0 triple-overtime game that Mike Modano ended in the wee hours of the morning and prevented New Jersey from winning the Stanley Cup on home ice. In Dallas, it took only two overtimes for Jason Arnott to bury a brilliant pass from Elias past Ed Belfour and clinch the second Stanley Cup in franchise history.
That one was for Sykora! Arnott's goal still gives fans chills:
Grant Marshall vs Tampa May 2, 2003 (Game 5 of ECSF)
This was by far the longest game I have ever attended, as I was a rookie reporter interning with a living legend. Sure the Devils were up on the Tampa Bay Lightning 3-1 in the series heading into Game 5, but that Lightning team was dangerous, as evidenced by their Stanley Cup championship the following year. Also of all people to score the goal, Grant Marshall was certainly not at the top of your list. But as he did his whole career he battled and was able to find a loose puck and put it past surprise starter John Grahame (thanks John Tortorella) midway through the third overtime in the second longest Devils' playoff game ever.
The unlikeliest of heroes clinches the series with his third of the series:
Jeff Friesen at Ottawa May 23, 2003 (Game 7 of ECF)
Jeff Friesen scored two goals during the first six games of the series against the Ottawa Senators and both were GWG's. In Game 7, on the road, New Jersey found itself down 2-0 by the midpoint of the game and the Sens appeared on their way to their first-ever Stanley Cup Finals. But the Devils' tied it 2-2 in the third period and Friesen who had drawn the ire of coach Pat Burns earlier in the period for mental mistakes found himself streaking down the middle of the ice alone before burying a pass behind Patrick Lalime on a two-on-one (with Marshall), capping another improbable Devils comeback, on the road, in a Game 7, to punch their ticket to the Finals.
How high did you jump after Friesen's goal?
Mike Rupp vs Anaheim June 9, 2003 (Game 7 of SCF)
Out of all of the goals on this list, this one is likely the least dramatic, but it certainly holds a place in the hearts and minds of Devils fans. New Jersey and the Mighty Ducks of Anaheim (yes that's what they were called back then) had split the first six games of the series, with each team winning its three home games. Joe Nieuwendyk was unable to play in the series with a back injury, so little used and little known Mike Rupp was used in his place and had the game of his life in Game 7. Rupp scored the first and third goals in a 3-0 whitewashing of the Ducks to clinch the third championship in team history. This was Brodeur's THIRD 3-0 win in the Finals but somehow he didn't win the Conn Smythe Trophy!
Rupp deflects Scott Niedermayer's shot right through J.S. Giguere's five-hole:
Travis Zajac vs Florida April 24, 2012 (Game 6 of ECQF)
The Florida Panthers were giving the Devils all they could handle in their first round series, so much so that the sixth-seeded Devils found themselves on the brink of elimination heading into Game 6 against the Southeast Division champions. Travis Zajac didn't play much that season due to an off-ice Achilles injury, but he certainly found his game in the playoffs, starting with his game 6 heroics to give his team a chance to play in a do-or-die Game 7 in the Sunshine State (see below). Zajac's goal was the first of four overtime-winning goals that New Jersey scored on their magic carpet ride through the Eastern Conference playoffs.
Hey! Everybody look at Ilya Kovalchuk, while I score this goal:
Adam Henrique at Florida April 26, 2012 (Game 7 of ECQF)
Already a familiar name in New Jersey, Adam Henrique really appeared on the NHL radar in the 2012 postseason, beginning with his double-overtime goal that propelled the Devils out of the first round for the first time since 2007. Sure Henrique was a Calder candidate after his breakout rookie season, but this goal (and his next OT winner) cemented his place in NHL history as a prime-time performer.
The legend of Henrique's mystique begins:
Adam Henrique vs New York May 25, 2012 (Game 6 of ECF)
Since 1994, fans of the New Jersey Devils have, for some reason, been haunted by Stephane Matteau's Game 7, double-overtime goal that pushed the New York Rangers into the Stanley Cup Finals for the first time in eons; a Cup they eventually beat the Vancouver Canucks for. I said 'for some reason' because after 1994 New Jersey won not one, not two, but THREE Stanley Cups, and appeared in another Finals (2001); the Rangers haven't been back since. After Henrique's quickie overtime goal in 2012 that sent the underdog Devils to the Finals, it's possible that those demons of 1994 have been put to bed. Even though New Jersey eventually lost to the Los Angeles Kings, Henrique's goal gave finally gave fans a comeback in the never ending dispute in the Rangers-Devils rivalry, and until the Rangers reach the Finals again, the upper hand.
Henrique! It's Over!!
Dan Rice can be reached via Twitter: @DRdiabloTHW or via Email: drdiablo321@yahoo.com
Dan Rice is in his 9th year of reporting for THW & has covered NJ Devils home games for 15+ years at various websites. He began his journey working for legendary broadcaster/writer Stan Fischler from 2002-04 & completed an internship at the ECHL; he also has been writing features for the NWHL (nwhl.zone) website since 2016.