Jimmy Lodge THW Close-Up:
Team: Saginaw Spirit (OHL) Hometown: Downingtown, PA, USA Height: 6'2″  Weight: 165lbs Position: Centre Shoots: Right THW Ranking: 39th CSS Final Rankings (North American Skaters): 21st TSN's Craig Button  Ranking: 48th   
Jimmy Lodge's 2012-13 OHL season can be broken down to two sections. Before the OHL trade deadline and after the OHL trade deadline.
Prior to the deadline he was having a very good season for the Saginaw Spirit, however it was following the deadline that his game took off. The Spirit traded away their captain and leading scorer in Vince Trocheck, and thrust Lodge into the spotlight to take over his role as the team's top centre. Lodge flourished, scoring 26 points in the next 15 games following the trade.  Finishing the year with 28 goals, he proved a lot to the Spirit coaching staff and himself.
Lodge was a key contributor in getting the Spirit into the playoffs, holding off the Windsor Spitfires for the 8th spot. Playing on one of the hottest lines in the OHL, flanked by Eric Locke and Garrett Ross, Lodge took the opportunity and not only ran with it but sprinted.
His coach, former NHL bench boss Greg Gilbert, has been quick to give him credit for the improvements in his game:
"Early in the season he had his ups and downs, and he was in the lineup and out of the lineup, and he's finally understanding how he has to play," Gilbert said, suggesting Lodge has the potential to be an outstanding player at the next level. "He's not going to be a crusher, but every player is responsible for finishing checks and playing hard without the puck as well as with the puck. He's understanding that [playing physically] is a part of the game that he has to add to his repertoire."
A talented playmaker and hard working, Lodge still has much room to grow, but with his second half and a good playoff performance he can raise his draft stock considerably. He has already put NHL scouts on notice with his finish to the season, now he has to remain consistent to stay on their radar.
Thought to go somewhere in the mid-2nd, early-3rd round of the draft, he has raised his status to an early 2nd round pick.
Scouts Honour:
"He can make plays offensively that not every player can….[He has] great vision, a good stick and knows how to get open in the offensive zone. He has a killer wrist shot from the slot, and he's an above-average skater with decent speed …" – NHL scout

"He (Lodge) is on a rabid scoring pace since the calendar flipped and has shown a more consistent game of taking the puck to the net and venturing into high traffic areas for those prime offensive chances. Lodge has all but eliminated those fly-bys that made him so ineffective and held him out of the play back in September and October while earning more ice time from his coach." – Dan Stewart, Scouting Director for Future Considerations
Statistics: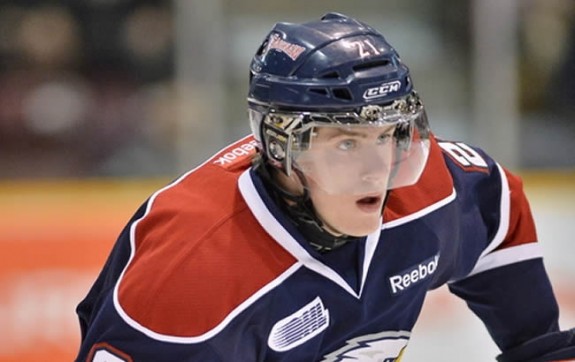 Interviews:
OHL Prospects interview – February 19, 2013
Hockeyprospect.com – January 27, 2013
International Tournaments:
2012 Ivan Hlinka Tournament – Team USA
NHL ETA:
2017-2018
Risk/Reward Analysis:
Risk 3/5, Reward 3/5
NHL Potential:
Depth NHL forward with 2nd line upside
Strengths:
Playmaking ability
Work Ethic
Vision
Wrist shot
Flaws/Aspects He Needs to Work On:
Strength & Conditioning
Decision-making
Defensive zone play
Consistency
Fantasy Potential:
Offensive 7/10, Defensive 5/10
THW's The Next Ones prospect profile template design architect: Chris Ralph
Follow Carl on twitter @maloney3383 for more articles
Carl covers the Edmonton Oilers for THW as well as providing additional prospect coverage. Follow him on twitter @carlTHW, connect on Facebook or contact at carl.maloney@hotmail.com for questions, comments or if you're interested in him writing for you.