Coming off four-straight gold medals at the World Under-18 Championships, the United States have selected the 23-man roster that will attempt to make it five straight first place finishes. The International Ice Hockey Federation (IIHF) annual World U-18 tournament is scheduled to commence on April 18th in Sochi, Russia when ten countries convene to vie for gold. Traditionally, the United States have dominated the World U18 Championships taking home a record nine straight medals (six gold, two silver, one bronze). Competing against the Americans in Group A is Finland, Czech Republic, Latvia and Russia. Canada headlines Group B consisting of Germany, Slovakia, Sweden and Switzerland. The tournament is a great opportunity for players eligible for the 2013 NHL Entry Draft to showcase their talents one last time against their draft peers. Unfortunately, Canada is unable to send many of their top players because of their ongoing participation in Canadian Hockey League playoffs.However, the Championship is a highly attended event in the scouting with loads of talented young hockey players  ready to leave a lasting impression.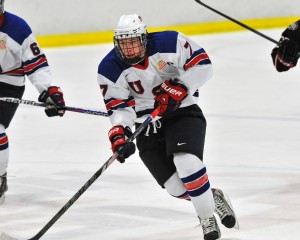 The Americans will be hungry to keep their win streak intact and Head Coach Don Granato is excited about the 13 forwards, seven defensemen and three goaltenders that will be donning the stars and stripes.
J.T. Compher, a two-way forward out of the USNTDP Under-18 program, is the top ranked draft eligible American skater on the team but he is joined by fellow draft eligible forwards and USNTDP teammates Michael McCarron, Hudson Fasching, and John Hayden.
The massive 6-foot-5 Michael McCarron certainly has appealing NHL size and his aggressive in-your-face style of hockey has drawn lots of interest. McCarron has racked up 166 penalty minutes in 51 games while registering 13 goals and 30 points.
Hudson Fasching, a big bodied forward, came into his draft season with lofty expectations because of his size and potential. Heading to the World Championships will provide Fasching with an opportunity to show off his high compete game and improve his draft stock. Fasching netted 11 goals and finished the season with 29 points playing for the illustrious NDTP Under-18 team.
John Hayden, a forward blessed with great size (6-3, 216) and physical strength, has shown a willingness to win battles and employ an effective net drive. The Americans will utilize Hayden's power forward game while he attempts to show scouts that his soft hands and offensive skills are worthy of being drafted into the National Hockey League. Hayden found the back of the net 16 times and added 16 assists for 32 points in his draft year.
Boston University commit, Jack Eichel, is the youngest player on the team at the ripe age of 16-years-old. Eichel is a highly touted prospect for the 2014 NHL Entry Draft and his success on the USNTDP U-17 squad is highlighted by his 19 goals and 34 points in 36 games.
On the blue line, USA Hockey will be led by draft eligible defensemen Steven Santini, Will Butcher and Keaton Thompson. Butcher was the offensive leader for the US UNDTP U-18 team providing nine goals and 33 points as the team's most dangerous offensive blueliner. Keaton Thompson is a solid two-way poised rearguard with an excellent first pass and the ability to get nasty as well. The team will rely heavily on defenseman Steve Santini, an intelligent shutdown defender that packs a solid point shot. Look for Santini, Butcher and Thompson to play tough minutes in Sochi as the team chases gold.
Here is the complete roster for the 2013 USA World Under-18 Roster:
*Eligible for 2013 NHL Entry Draft
Goaltenders
Thatcher Demko (USNTDP U-18)
Hunter Miska (USNTDP U-18)*
Blake Weyrick (USNTDP U-17)
Defensemen
Gage Ausmus (USNTDP U-18)*
Will Butcher (USNTDP U-18)*
Connor Clifton (USNTDP U-18)*
Clint Lewis (USNTDP U-18)*
Steven Santini (USNTDP U-18)*
Keaton Thompson (USNTDP U-18)*
Thomas Vannelli (USNTDP U-18)*
Forwards
Evan Allen (USNTDP U-18)*
J.T. Compher (USNTDP U-18)*
Dawson Cook, USNTDP U-18*
Jack Eichel, USNTDP U-17
Shane Eiserman, USNTDP U-18)
Hudson Fasching (USNTDP U-18)*
John Hayden (USNTDP U-18)*
Tyler Kelleher (USNTDP U-18)*
Kevin Labanc (USNTDP U-18)
Anthony Louis (USNTDP U-18)*
Sean Malone (USNTDP U-18)*
Michael McCarron (USNTDP U-18)*
Tyler Motte (USNTDP U-18)*
Follow @RossyYoungblood for all your NHL Draft and Hockey Prospect news.