Mirco Mueller THW Close-Up:
Swiss defenseman is anything but neutral
Date of birth: March 21st, 1995
Place of birth: Winterthur, SUI
Ht:6'4  Wt: 185
Shoots: Left
Position: Defense
NHL Entry Draft Eligibility: 1st time eligible 2013
*Click here for Notes Up Front for various topics covered below in the live updated NHL 2013 Entry Draft Guide – The Next Ones home page – your quintessential draft resource.
THW Ranking: 40 (January)
Other Rankings:
McKeen's: 17
NHL CSS: 12 (N. American Skaters)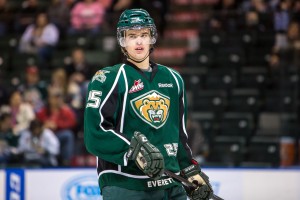 The Everett Silvertips went into this season looking to replace last year's second overall pick in defenseman Ryan Murray. A tall task indeed, and while they may never find anyone as good as Murray they were able to pick up a player who possesses several of the same skills. They selected Mirco Mueller in the CHL Import Draft (11th overall) and he has given the Silvertips everything they could have hoped for.
"You hate to make comparisons because Ryan's (Murray) a heck of a player," Everett general manager and coach Garry Davidson says. "But there are a lot of things you look at and say 'that's a lot of Ryan Murray there'."
Those comparisions start with how composed Mueller is on the ice. He doesn't get rattled, is sure of himself in his own end and is a very fluid and smooth skater. It does not take you long to notice him on the ice as he glides up ice with the puck. As the Everett season has worn on, and they've lost a number of defenseman, Mueller has taken a more offensive role with the Silverrtips and often will be manning the point on the power play. He is very smart with the puck and gets into good areas to help the offense move. Through 45 games with Everett, Mueller has put up five goals and 23 points.
Mueller projects to be a solid two-way defenseman in the NHL. He isn't going to put up gaudy scoring numbers but he will move the puck for you, chip in offensively and can play on both special teams. Many players coming to the CHL from Europe have a difficult time adjusting to the physical and chippy aspect of the North American game. Watching Mueller you see him going into the dirty areas and not being afraid to drop the gloves for his teammates.
"He's not intimidated by the rough going," Davidson says. "I'm not so sure he throws them very well yet, it certainly was foreign for him but he goes to all the tough areas and battles. Most nights he wins his one-on-one battles."
Davidson feels that the area Mueller needs to work on the most is continuing to adjust to the smaller ice surface in North America. Coming from Europe and the bigger surfaces Davidson feels that at times Mueller would skate too much east and west. Mueller is an excellent skater and one would assume that skating north and south will come with more time playing in the CHL.
Mueller has made his mark internationally as well, representing Switzerland in this winter's World Junior Championships (2 assists in 6 games) as well as the U-18 team and U-17 team. He also performed well in the CHL Top Prospects game.
Mueller has been gaining momentum as the season has progressed and while originally projected to be a third rounder his stock has slowly but steadily been rising up the draft charts. Don't be surprised to hear his name earlier than expected.
Scout's Honour:
"I think he's got a complete package. He can skate, think, he's got good size, great reach and I think he's got a very good hockey IQ. I think he's a real quality NHL prospect." Everett General Manager/Head Coach Garry Davidson
" Mirco Mueller of the Everett Silvertips displayed remarkable poise for a 17-year-old while handling a heavy load for Switzerland, impressive sixth-place finishers. The biggest riser on our midterms, Mueller led the Swiss with a plus-7 rating to rank fifth overall at the tournament – and then followed up with another striking effort at the Top Prospects Game." McKeen's Hockey
Statistics:
Bio/Interview(s)/Link(s):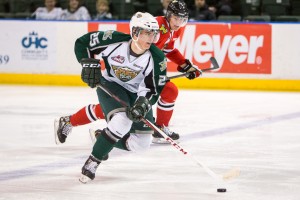 ETA = 2-3 yr
Risk-Reward Analysis:
Risk = 4/5   Reward = 4/5
NHL Potential:
Solid two-way defenseman, can chip in offensively and move puck.
Strengths:
*See "THW Close-Up" section above.
Smooth skater
Long reach
Good size
Hockey smarts
Calm demeaner, does not panic.
Flaws/Aspects He Needs To Work On:
NHL Player(s) Comparison:
Dan Hamhuis
Video(s):
Where he will end up in June:
Mueller has been rising up draft boards and most have him in the 30-50 range which would suggest 2nd or 3rd round. He continues to be impressive however and I feel that he will be a solid second rounder and would not be shocked if someone nabbed him late in the first round. He is a solid two-way defender, something that doesn't grow on trees. 
THW's The Next Ones prospect profile template design architect: Chris Ralph
Andrew writes about the WHL and NHL Draft Prospects. He also covers the Seattle Thunderbirds for 710 ESPN Seattle and spent two years with Sportsnet. Follow him on Twitter @andyeide.