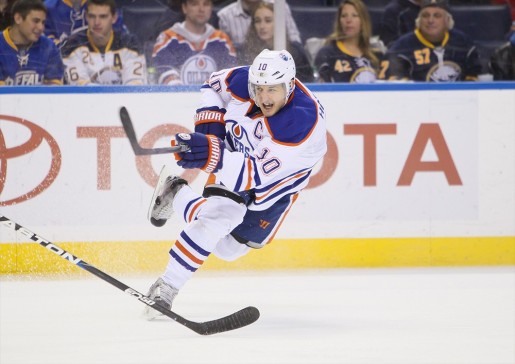 Recent injuries to Shawn Horcoff and Eric Belanger have left a hole in the lineup of the Edmonton Oilers.
Horcoff recently suffered a broken knuckle and is expected to be out at least a month.  Belanger is out indefinitely with a foot injury.
Both players were playing key roles for the Oilers as the third and fourth line centres.  They were two of the first players over the boards in penalty killing situations, played against the other team's top players and took any important faceoffs.
The team's top two pivots still remain in Ryan Nugent-Hopkins and Sam Gagner.  Both are playing well to start the season and can pick up some of the slack.  Horcoff and Belanger however, bring quite a different skill set than that of the young offensive centres.
Their offence may not be where it was in their younger days, but they brought a veteran presence and a steadying influence to a roster full of youngsters.
Their loss will be felt especially on the penalty kill and the faceoff circle. Especially with the fact Ryan Jones is still injured and the PK options are getting less and less.
Filling in their spots at least initially looks like it will be Anton Lander, who is already with the club and Mark Arcobello, just called up from Oklahoma City.
Coach Krueger projects 3-4 weeks on the shelf for Horcoff (hand); bench boss calls Arcobello "best player available" in OKC right now

— Edmonton Oilers (@EdmontonOilers) February 5, 2013
Lander is a young centre who did an admirable job filling in for Horcoff the game he went out injured in, but it's a lot to ask for him to do it night in and night out for a long period of time.  Arcobello is a solid AHL forward who can fill in on the fourth line and provide solid play in limited minutes, but is not an answer long term.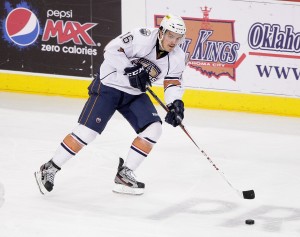 None of the four centres mentioned are exceptional in the faceoff circle and that is one area where the Oilers could get exposed.  They were already getting beat consistently as a team with Horcoff and Belanger in the lineup,  and one can only speculate on the percentages without them.  If RNH (41.8%) and Gagner (37.5%) have to take more draws, it could be a struggle.
Neither Lander or Arcobello will likely provide much of an significant upgrade in that area either.
In terms of the penalty kill, Arcobello and especially Lander will see time in Horcoff and Belanger's spots, but look for others, such as Eberle or Gagner, to see some time on it as well.
It also begs the question, if these injuries are long term, do the Oilers try and acquire some help?
In a shortened season even an injury of a few weeks could mean a large number of games.
There are a number of possible trade options the Oilers could look at, depending on who teams could make available.  They could also go the veteran free agent route and look at players such as Jason Arnott or Dominic Moore.
The Oilers will no doubt wait and see how Lander and Arcobello fare over the next few games to see if their hand is forced.
Best case scenario they are able to patch the holes until Horcoff and/or Belanger return.  That may be asking a lot as the Oilers are one of the most penalized teams in the league so far.  Add in inexperienced callups on the PK instead of the team's top two killers and the Oilers are playing with fire if they continue their current trend.