As one Czechoslovakian winger leaves Detroit, another steps in. Last night was Tomas Tatar's season debut in a Red Wings sweater against Calgary, and it was also Jiri Hudler's debut at the Joe in something other than a Red Wings sweater.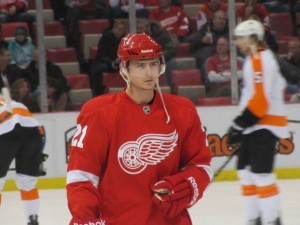 Interestingly enough, Tatar found himself competing against Hudler in his season debut, while at the time filling Hudler's old roster spot on the second line next to Pavel Datsyuk and Valtteri Filppula.
What's even more interesting is how much Tatar and Hudler have in common.
First, both are left-handed and both are left-wingers. Second, both of them were born in Czechoslovakia, though Tatar is Slovak and Hudler is Czech. Third, they were each selected by the Red Wings at almost the exact same spot in the draft. Tatar was taken in the 2nd round, #60 overall, in 2009 and Hudler was also taken in the 2nd round, #58 overall, in 2002. And fourth, they have almost the exact same build. Both men are about 5'11" 180 lbs.
Their similarities become even more apparent when you watch them play on the ice. Both Tatar and Hudler are known for their incredible offensive instincts and hockey sense, as well their soft hands, which they use to make good on those incredible hockey instincts.
So did the Red Wings bring Hudler 2.0 into the fold?
The answer is not exactly. Despite their strange similarities the two men do have some differences.
Tomas Tatar has faster wheels than Jiri Hudler, which allows him to play a more defensively responsible game. This has earned him a reputation as an extremely hard-working player, a reputation that Hudler has yet to earn. However, unlike Hudler, Tatar is not a proven NHL commodity. No one knows for sure if his talent will translate into the big leagues. He's only played 10 NHL games so far in his career, and definitely has some things to prove before he can be compared to Hudler's amount of NHL success.
Here's Tatar's first and only NHL goal.

Not quite a Nail Yakupov celebration, but the enthusiasm is still there.
Regardless of his greenness, Tatar is a very highly touted prospect who, at only 22 years old, is ready to graduate from Grand Rapids.
Tatar has an impressive 186 pts in 248 AHL games in his pro career. This season he is on his best pace yet with 39 pts in 44 AHL games.
While this year he will likely remain an injury replacement for the Wings, next year may be approaching do-or-die time for Tatar. Though he still has two years left on his contract, he has spent his last four years in the AHL and has hinted towards returning to Europe if he cannot crack the Wings lineup soon.
If Tatar ever does high-tail-it to Europe he would officially become Jiri Hudler's clone. The Detroit Red Wings are hoping that that is one of the points where the two forwards differ slightly.