Henrique!  It's over!  Henrique!  All over!  Save for a few deviations, most notably the absence of the two captains from a year ago, there was a similar feel from last year's Eastern Conference Final.  The Hudson River rivalry picked up right where it left off between the New York Rangers and New Jersey Devils.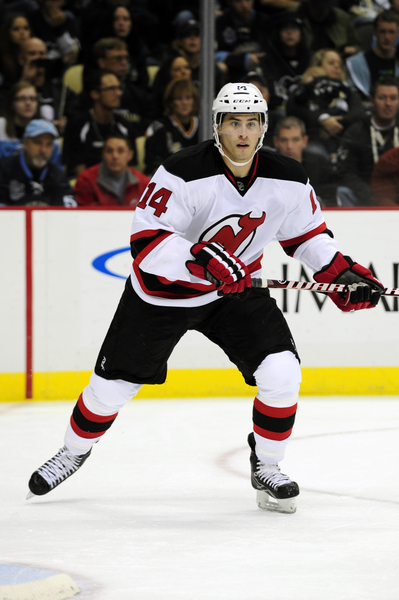 At the risk of being cliche, one couldn't have scripted it any more appropriately, as once again Adam Henrique showed a flare for the dramatic.  While Henrique set the tone, he wasn't even the best Devil on the ice.
That honor could've been bestowed upon David Clarkson or Patrik Elias.  Both helped setup Henrique's goal in the early first.  Clarkson digging the puck out along the boards and Elias serving up a sharp feed from behind the net for Henrique to bury and it was 1-0 Devils.
Speaking of sparkling performances, it was a bounce back outing for Martin Brodeur.  In that first frame, Brodeur stopped a streaking Rick Nash, before the net dislodged.  Then it was Brodeur helping stave off a four-minute high-sticking penalty by Andy Greene, stopping a shot from Marc Staal, spinning around and covering up in the crease.  New Jersey held New York to an 0-for-5 showing with the extra attacker.
Late in the first, more hustle and grinding by the Devils paid dividends.  Stephen Gionta canceled out a potential icing call and as he and Elias and Clarkson battled along the boards, it was Clarkson jumping on a loose puck in front, beating Henrik Lundqvist for a two goal advantage.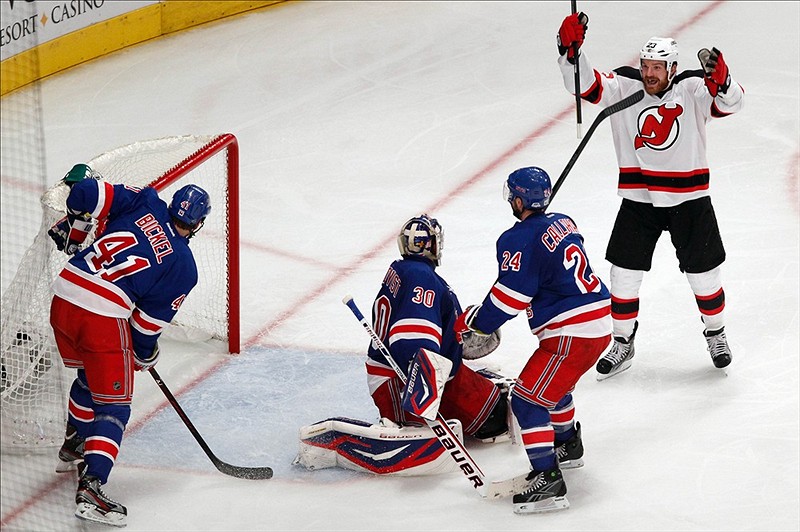 Although the Rangers picked up the play in the neutral zone in the second and out-shot the Devils 9-to-4 in the second, there was no movement on the scoreboard.
As the contest moved to the third, New Jersey cleaned up.  Topping off the scoring on the power play was Clarkson, banging home a rolling puck in front, off an Andy Greene drive and it was 3-0.  The goal was Clarkson's second of the game and seventh of the season.  Along with Elias and his three helpers, a three-point evening for Clarkson.   In case you're wondering, Clarkson is on pace for 37 goals thus far.
New York did manage to strike back shortly after, as Chris Kreider slipped in his first of the campaign, on a nice feed from Brad Richards.  Yet, 24 other shots, including a sweet snag off Carl Hagelin, could not stop Brodeur from capturing career win number 660.
What also stood out was the Devils taking a page out of the Rangers playbook.  Blocked shots favored New Jersey by a count of 14-to-8.  Adam Larsson, who threw his weight around, had three.  So too did Anton Volchenkov.  Greene and Mark Fayne blocked two as well.
In the end it was the relentless play of the Devils that made the difference.  One might say they were practically all over.