There's already some murmuring about going after another forward to fill in for Scott Hartnell/Wayne Simmonds.  A top six forward is always a welcome addition, but those don't come cheap.  Looking at the list of potential targets that Sam Carchidi of the Philadelphia Inquirer provided, there's no doubt that their availability (and pricetag) will depend on the standings closer to the trade deadline.
A look at some players who could be trade targets for offensively challenged #Flyers. http://t.co/BYiZmLE7

— Sam Carchidi (@BroadStBull) February 4, 2013
I would limit my search to either an "elite" center with some size, or a goal-scoring right wing to replace Jaromir Jagr for Claude Giroux.  Here are a couple names I would like to see on the back of a Flyers jersey:
Ryan Getzlaf:  Sam Carchidi nailed this choice.  From 2007 to 2010, Getzlaf averaged better than a point per game.  It was a different story last season, when he only scored 58 points – his lowest since his second year in the NHL.  However, his 58 points would have been more than anyone on last year's roster not named Giroux or Hartnell.  With 8 points in 8 games this season, he's back to his usual tricks.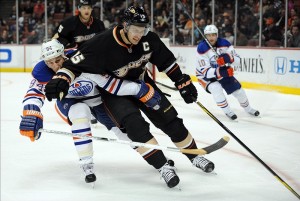 If you look back at the previous two Flyers teams to make it to the Stanley Cup Finals, you'll see that both teams packed a strong 1-2 punch down the middle with Lindros/Brind'Amour in 1997, and Richards/Carter in 2010.  (That 2010 team also had some guy named Claude Giroux as a bonus.) In addition to his offensive prowess, Getzlaf is solid in faceoffs and finishes checks like Hartnell.
Right now there's one little problem – The Anaheim Ducks are on fire.  They have only one loss in regulation, and they recently handed San Jose their first regulation loss.  The odds of him getting traded at this rate are slim, but he'll hit the open market as a UFA in the summer.
Peter Mueller/Wojtek Wolski:  I'm lumping these two together for one reason – Ruslan Fedotenko.
Let me explain:  Remember when the Flyers added Fedotenko in the summer, signing him to a 1-year, $1.75 million contract?  Well, both Mueller and Wolski were still available at the time, and would have provided much more upside than Fedotenko.  Both showed their potential early in their careers, but haven't reached their potential due to either an inability to stay healthy (Mueller) or a perceived lack of work ethic (Wolski).
Wolski signed with Washington for $25,000 more than Fedotenko, and Mueller signed for just $600,000. The Flyers could have offered Mueller twice as much, and still saved over $500,000.  But then again, this is the same team that is paying Jody Shelley $900,000 this year ($1.1M cap hit) to sit in the press box most of the time.  Obviously, money isn't an issue… but I digress.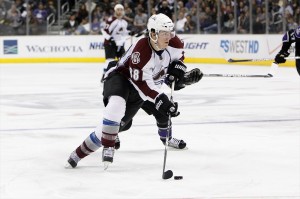 The teams that did gamble on their potential have reaped the benefits.  Mueller has 4 consecutive games with a goal, and Wolski is starting to come alive with 3 points in his last 4.
Though neither addition would make headlines (or contribute as much) as Iginla or Perry, they could be easier to acquire for much less.  Washington and Florida are currently at the bottom of the standings, and both players are signed to 1-year deals. Both teams would be receiving assets for players that could just walk from them.  If the Flyers feel they could be resign and extend one of the two, it would cost them significantly less than if they pursued the aforementioned Iginla or Perry.
Who would you like to see the Flyers pursue at the deadline?
After the Whistle…
Here are two ways to look at the Flyers slow start to the season:
After nearly 20% of the season has been played, the Flyers are tied for last in the division.  Only one of their victories have been against anyone who currently has a record over .500 (Tampa Bay).  They have a goal differential of -4.  The special teams have been mediocre on the powerplay, and poor defending it.  It's time to start imagining Seth Jones in Flyers orange and figure out how to finally get Bobby Ryan over to Philadelphia.
Or..
The Flyers are 6 points out of first place in the conference with 38 games to play.  That's a lot of time to make up 7 points since their entire schedule is within the conference.  The roster's already been shaken up by injuries, but that's nothing new – Flyers seem to drop like flies every season.  Danny Briere is looking better and better each game; his presence already is improving the powerplay which went 3 for 3 vs. Carolina.  The best player on the team has been Ilya Bryzgalov.  Seriously, the best player in Philadelphia right now is their goaltender. THIS NEVER HAPPENS!!!  Four players scored their first goals of the season against the Hurricanes, and Tom Sestito traded in his fists of fury for some silk mittens last night.  Did you see his pair of 5-hole backhands on Anders Lindback?  Here's a clip of his first beauty:

Those are two extremely different viewpoints from distant ends of the fan view spectrum. I feel that though it's obviously unfavorable to win 4 out of every 10, there's still time and potential to turn things around.  They're officially on their second winning streak of the season, and their next two games are both at home against Carolina and Florida – two teams they have already beaten.
The point is that it's not time to panic.  Bryzgalov has looked great, and the defense has been better than expected.  As the lines start to develop some chemistry, the scoring will come back.  If it doesn't, I think the Flyers would part with Voracek and/or Read and draft pick(s), depending on the return.  It's hard to see the Flyers trading Brayden Schenn after adding brother Luke, and I expect Sean Couturier will most likely remain "untouchable."