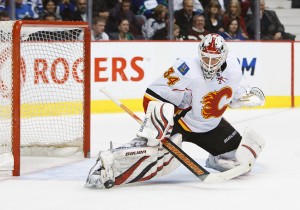 It was an evening of mixed results for the Calgary Flames on Tuesday.
The Flames played their second road game of the 2012-13 season and captured their second win by a 4-1 score over the Detroit Red Wings. Captain Jarome Iginla snapped a six-game goal-less drought and crept within one goal of the legendary Dale Hawerchuk on the all-time leaderboard.
On the other hand, erstwhile Flames starting netminder Miikka Kiprusoff left the game following the second period with what's being reported by the team as a "lower-body" injury. Backup netminder Leland Irving made six saves in the third period to preserve the Flames' win, moving the club to 2-3-2 on the year.
Leland Irving is taking over in net. Miikka Kiprusoff (lower body) will not return tonight.

— Calgary Flames (@NHLFlames) February 6, 2013
On Twitter, Flames broadcast host Roger Millions (of Sportsnet) suggested that Kiprusoff may have been hurt during an in-crease collision with Red Wings forward Johan Franzen late in the second period.
For what it's worth, #Flames goalie Miikka Kiprusoff walkedout of the room without a brace or cast or crutches.

— Randy Sportak (@SUNRandySportak) February 6, 2013
Following the game, Millions passed along word that the Flames won't know more about the injury until tomorrow.
Hearing won't know severity of Kiprusoff injury until at least tomorrow says team official — Roger Millions (@RogMillions) February 6, 2013
If Kiprusoff is unable to suit up on Thursday for Calgary's game in Columbus, another goaltender will need to be found. The Calgary Sun's Randy Sportak neatly summarized the Flames' options.
Flames have Joni Ortio signed but he's in Finland. Options would be sign one of the two guys in AHL, a trade or summon Brossoit (emergency)

— Randy Sportak (@SUNRandySportak) February 6, 2013
The Flames have a pair of veteran netminders in the American Hockey League with the Abbotsford Heat: Barry Brust (9-6-2, 1.69 GAA, .940 S%) and Danny Taylor (13-9-1, 1.77 GAA, .930 S%). However, neither are signed to an NHL contract. This situation does meet the criteria for an emergency recall from the major-junior ranks, in which case the Flames could bring in reigning WHL playoff MVP Laurent Brossoit of the Edmonton Oil Kings (26-6-5, 2.09 GAA, .925 S%). The only other goaltender under an NHL contract in the organization is Joni Ortio, who is way over in Finland with HIFK Helsinki on a long-term loan. If he was to be summoned, due to the logistics, it would take awhile to jet him over to Columbus for Thursday or Vancouver for Saturday.
If the Kiprusoff injury is short-term, I would expect Brossoit to be brought in for a game or two, as the Flames could avoid using up one of their 50 pro contracts – they have 47 players on NHL contracts of their 50-deal allotment. It should be noted, though, that Brossoit is likely to be signed to a entry-level contract anyway.
If the circumstances are more dire, the Flames would likely sign one of the AHL netminders – possibly Taylor due to his stellar play over a 14-month stretch in Abbotsford – or make a trade for an established NHL name.